Disclosure: I received a copy of The Red Velvet Lover's Cookbook to review and one to give away. All thoughts, opinions and new love for red velvet oreos are 100 percent honest and all mine. Post includes affiliate links.
As much as I love perks like behind-the-scenes visits to American Idol, partnerships with Diet Coke and all-expense-paid trips to Italy (I still need to write about that amazing experience), my most favorite thing about blogging is when an online acquaintance becomes a real-life friend. Deborah from Taste and Tell is one of those.
Not only is Deborah super talented in the kitchen, she is super (duper) nice in person. I couldn't have been more excited when I found out The Red Velvet Lover's Cookbook
was finally in print. I'm sure I've pinned every one of her red velvet recipes, so I jumped at the chance to share her cookbook with you.
.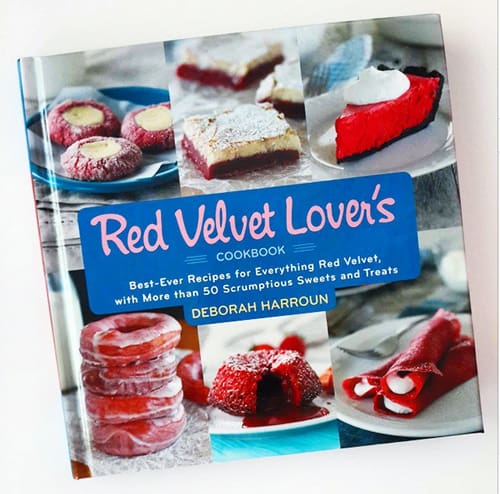 .
It was hard to decide which recipe to try because they were all super tempting. But I settled on the red velvet oreos because I knew my kids would be all over those. And I was right. They were calling dibs before I'd frosted them.
.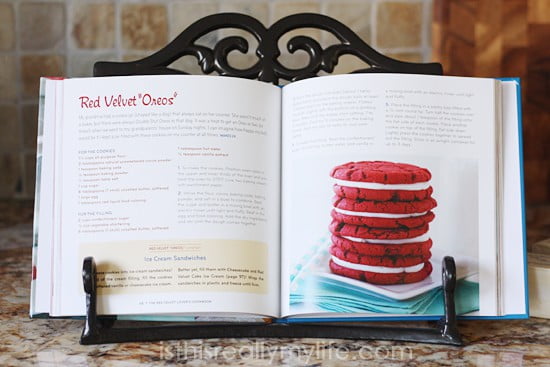 .
These red velvet oreos were much easier to make than photograph, but I totally blame the photography on Daylight Savings. It gets dark way too fast, and I knew if I didn't photograph these babies last night, they'd be gone by morning. Dang kids.
Okay, dang late-night snacking.
I did make a couple changes when making this recipe for red velvet oreo cookies. First, I used a medium cookie dough scoop, which made for slightly larger cookies (yay!). And second, I was much too lazy to pipe the filling with a pastry bag, so I used a small spreader and about 2 tablespoons of filling (2 to 3 times the filling called for in the recipe) per cookie.
What can I say? The more filling, the quicker the food coma.
.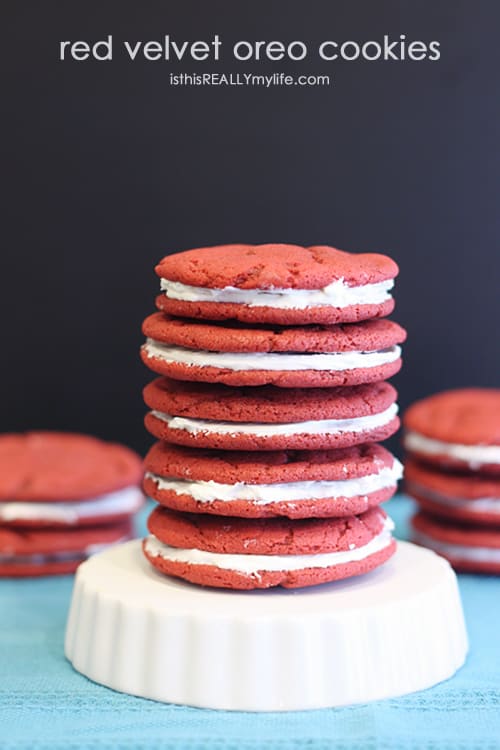 .
If you want to see another recipe from The Red Velvet Lover's Cookbook
, check out these delectable red velvet cream cheese muffins from Shawn over at I Wash You Dry.
I'm pretty sure Daylight Savings has no effect on her photos.
Printable recipe for red velvet oreo cookies below. Enjoy!
.

Red Velvet Oreos
These red velvet oreos are adapted from a recipe in The Red Velvet Lover's Cookbook and were a huge hit with the family. Super easy to make yet it looks like you've slaved all day. Best kind of dessert to take to a party! I like to use the medium cookie dough scoop, which makes 24 large cookies (i.e., 12 large red velvet oreo cookies).
Author:
Adapted from Red Velvet "Oreos" in The Red Velvet Lover's Cookbook
Ingredients
Cookies
1½ cups flour
2 T cocoa powder
1 tsp baking soda
¼ tsp baking powder
¼ tsp salt
1 cup sugar
½ cup unsalted butter, softened
1 egg
1 T red liquid food coloring
Filling
2 cups powdered sugar
½ cup shortening
½ cup unsalted butter, softened
1 T hot water
½ tsp vanilla
Instructions
Cookies
Position oven rack in upper third of oven. Preheat oven to 375 degrees. Line a cookie sheet with parchment paper.
Whisk flour, cocoa, baking soda, baking powder and salt in a medium bowl until combined.
Beat sugar and butter in a large mixing bowl until light and fluffy. Beat in egg and food coloring.
Add dry ingredients and stir until the dough comes together.
Form the dough into balls (about 1 T each) and place at least 3 inches apart on baking sheet. Flatten slightly with the bottom of a drinking glass.
Bake until edges start setting, 7 to 8 minutes. Cool for 5 minutes on baking sheet before transferring to racks to cool completely.
Filling
Beat powdered sugar, shortening, butter, water and vanilla in a large bowl with an electric mixer until light and fluffy. Use a spatula or small spreader to evenly spread 1 to 2 T of filling onto flat side of half the cookies. Top with the unfrosted cookies, flat side down. Lightly press together. Store in an airtight container for up to 3 days.
.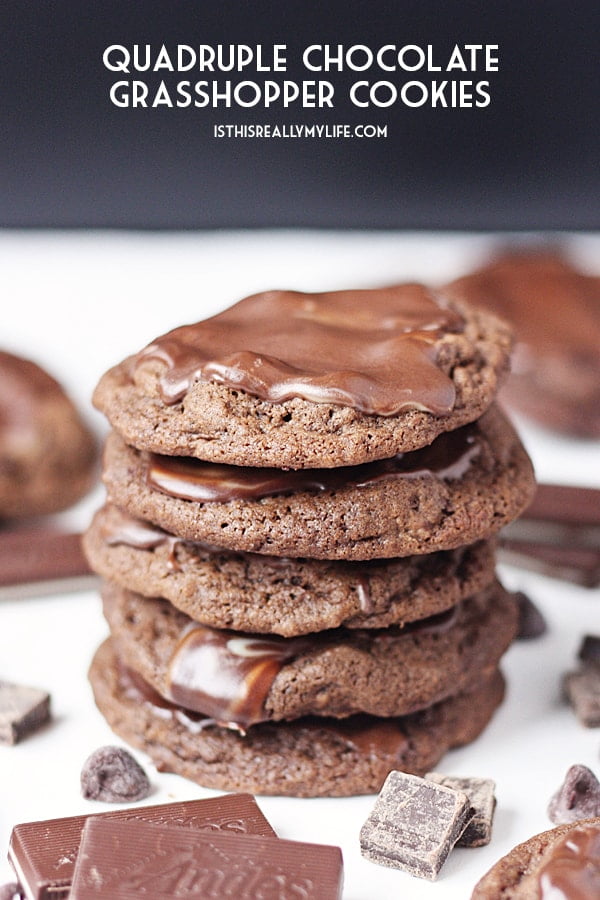 Quadruple chocolate grasshopper cookies
.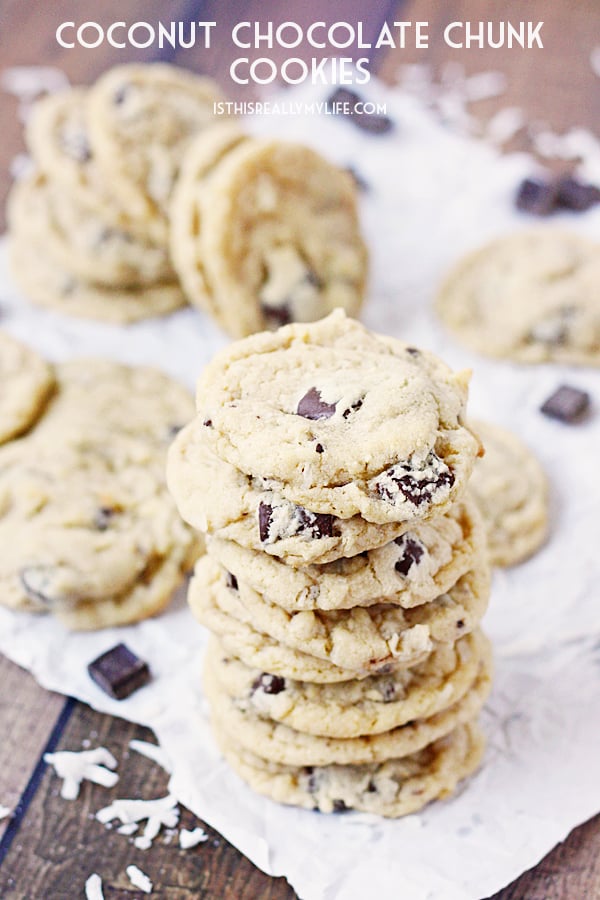 Coconut chocolate chunk cookies
.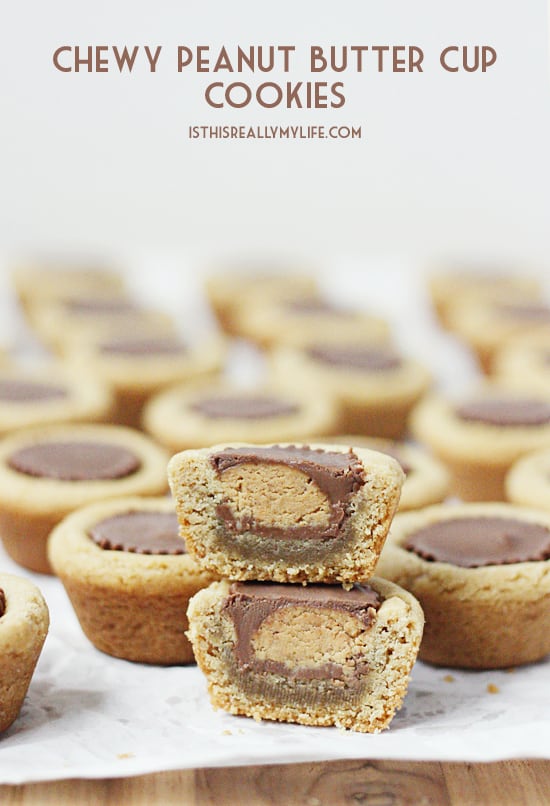 Chewy peanut butter cup cookies
.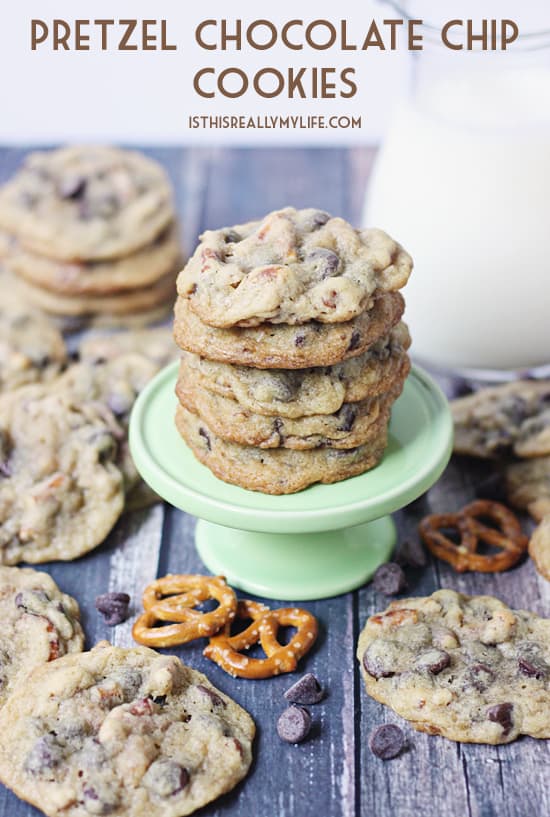 Pretzel chocolate chip cookies
.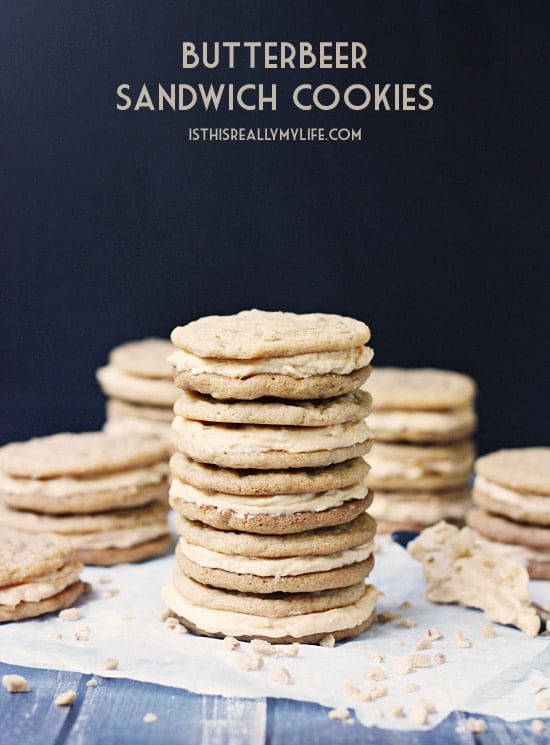 .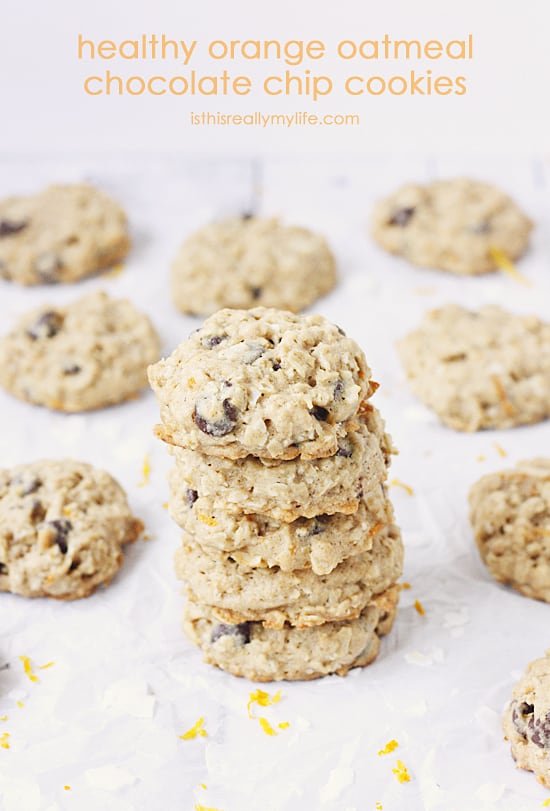 Post may include affiliate links to help support my Diet Coke habit.
Healthy orange oatmeal chocolate chip cookies
.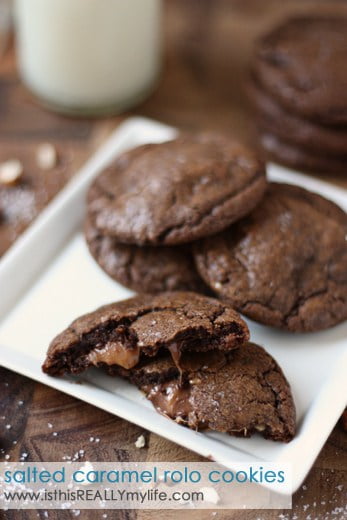 Salted caramel toffee Rolo cookies
.
.
If you're looking for more yummy recipes, you should browse my "best of" Pinterest board.
.
.

Feel free to "like" Is This Really My Life on Facebook. It won't earn you an extra entry in a giveaway but it will give you warm fuzzies.
Don't forget to sign up for free Is This Really My Life updates via RSS or email so you don't miss a single awesome post.
.