This is it! The grand finale of the recipe roundup posts from our church's annual progressive dinner and bake-off. So far I've featured my fave appetizer and drink recipes; my fave bread, soup, salad and side dish recipes; and my fave main dish recipes. (Have you tried the Butterfield Chicken recipe yet? To die for!)
Today I bring you my fave desserts from our 2010 recipes. Among them you'll find the ooey, gooey Magic Marshmallow Treats that quickly became a family favorite. If those don't become your family's newest go-to recipe, perhaps the Brown Sugar Pecan Cookies or Peanut Butter Popcorn will be!
…
Apple Nut Cake
Cake
1 1/2 cup oil
1 1/2 cup sugar
1/2 cup brown sugar, packed firmly
3 eggs
2 tsp cinnamon
3 cups flour
1 tsp baking soda
1/2 tsp salt
4-5 cups Granny Smith apples, peeled and diced (1″ size)
2 tsp vanilla
1 cup walnuts, coarsely chopped
Glaze
3 T butter
3 T brown sugar
3 T sugar
3 T whipping cream
For cake:
Heat oven to 325 degrees. Butter and flour a 10-inch tube pan. Combine oil, sugars and blend well. Add eggs one at a time beating well after each addition. Sift together dry ingredients then add into mixture and blend. Fold in apples, nuts, and vanilla. Spoon into pan. Bake until done about 1 3/4 hours. Cool in pan for 20 minutes then turn out onto wire rack and continue cooling while preparing glaze.
*Option: Bake in two bread pans for 1 1/2 hours.
For glaze:
Combine all ingredients in heavy sauce pan and boil for 1 minute, then spoon or pour over warm cake.
…
Brown Sugar-Pecan Cookies
Cookies
1 cup butter or margarine, softened
1/2 cup granulated sugar
1/2 cup firmly packed brown sugar
1 large egg
1 tsp vanilla
2 cups all-purpose flour
1/2 tsp baking soda
1/4 tsp salt
1/2 cup finely chopped pecans
Brown Sugar Frosting
1 cup firmly packed brown sugar
1/2 cup half-and-half (or evaporated milk)
1 T butter or margarine
1 1/2 to 1 2/3 cups sifted powdered sugar
60 pecan halves (about 2/3 cup)
For cookies:
Beat butter at medium speed with an electric mixer until creamy; gradually add sugars, beating well. Add egg and vanilla; beat well. Combine flour, soda, and salt; gradually add to butter mixture, beating well. Stir in chopped pecans. Cover and chill at least 30 minutes. Shape dough into 1-inch balls. Place 2 inches apart on un-greased baking sheets. Bake at 350 degrees for 10 to 12 minutes. Remove to wire racks to cool. Spread about 1 tsp Brown Sugar Frosting on each cookie and top with a pecan half. Yield: 5 dozen.
For frosting:
Combine brown sugar and half-and-half in a saucepan. Cook over medium heat, stirring constantly, until mixture comes to a boil; boil 4 minutes. Remove from heat. Stir in butter. Add 1 1/2 cup powdered sugar; beat at medium speed with an electric mixer until smooth. Gradually add enough remaining powdered sugar to make desired spreading consistency. Yield: 1 1/3 cups.
…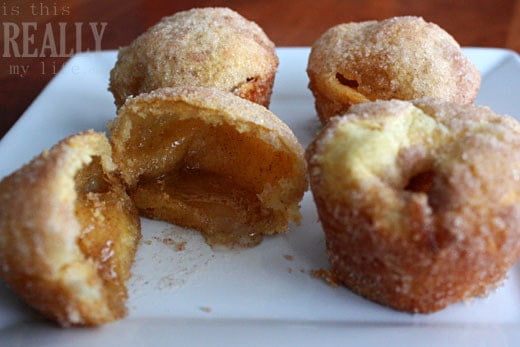 Magic Marshmallow Treats
(See recipe with step-by-step instruction and drool-worthy photos here.)
…
Peanut Butter Popcorn
2 bags microwave popcorn
1/4 to 1/2 cup butter
1/2 cup sugar
1/4 cup honey
1/2 cup peanut butter
Pop the popcorn. Strain out all un-cooked kernels and pour into a large bowl. Heat butter, sugar and honey until boiling. Add peanut butter. Mix well. Pour over popcornand mix well.
…
I doubt whether the world holds for anyone a more soul-stirring surprise than the first adventure with ice cream. ~ Heywood Broun