Melissa Chappell (a.k.a. Raw Melissa) never ceases to amaze me. Sure, she is beautiful (gorgeous hair, beautiful skin, contagious smile); has a fabulous personality (kind, generous, champion of all things healthy); and a kitchen that definitely puts mine to shame (not one can of SpaghettiO's in site), but what is crazy good about her is her ability to be all that while doing all this:
Manage a successful business (RawMelissa.com) that features healthy, nutritious, tasty food including THE BEST macaroons ever.
Offer childbirth education classes, doula services and doula training through her birthing blog.
Teach healthy and delicious cooking classes with Jen of Delightful Delicacies.
and
Help throw a fundraiser for Mama Baby Haiti, a non-profit organization dedicated to improving the health and well being of mothers and babies in Haiti.
…
Soon Melissa will head to Haiti to work with MamaBabyHaiti.org, an organization with the mission to "lower the maternal, fetal, and neonatal mortality rate in Haiti." Formed by a group of midwives and naturopathic doctors, Mama Baby Haiti provides free prenatal, birth, postpartum and pediatric care to women and families out of their birthing center and clinic in Haiti.

…
Though I am surprised at how Melissa manages to do it all, I am not surprised she is heading to Haiti to help these women and their families. It's just who she is. And I love her for it.
…
Please join Raw Melissa on Tuesday, February 22nd from 7:00 p.m. to 11:00 p.m. for an event celebrating Mama Baby Haiti with delicious food, good friends and a "whole slew" of talented solo musicians and bands.
…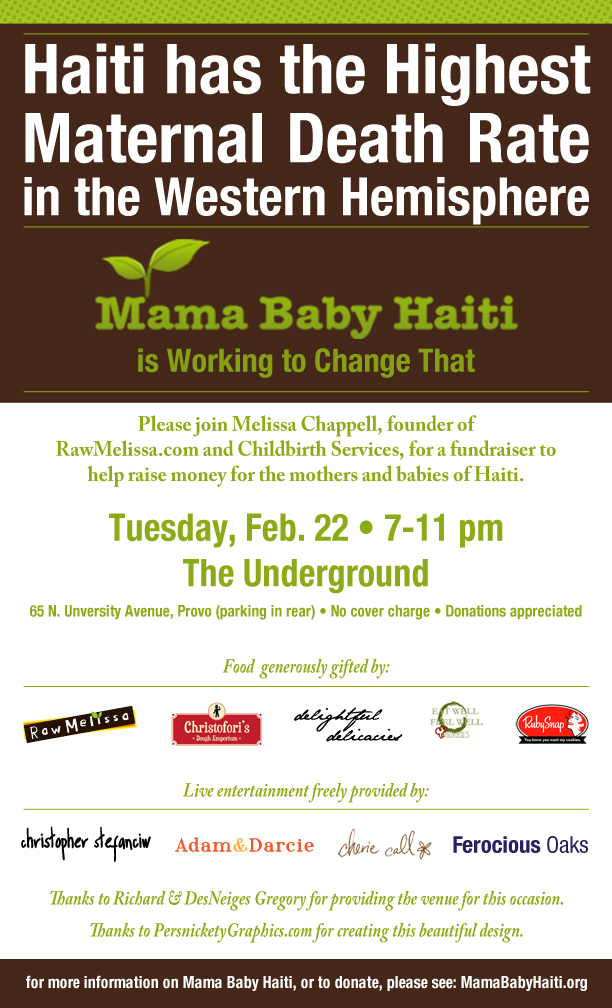 …
I know it's last-minute, but children are welcome to the event, so you won't need to find a babysitter. You could even count it as family night for the week! Or how about this:
The weather outside is frightful, so do something delightful…and support a worthy cause while you're at it!