My earlier post recapping my Technorati feature ("Food now, sex later") had me craving this quick and easy grilled cheese sandwich I made yesterday for lunch. I'm calling it low-cal because compared to other grilled cheese sandwiches, it is. This one checks in at about 250 calories—not bad for a fairly filling grilled cheese sandwich. Serve it with a side of sliced fresh fruit, mini carrots or a salad!
Low-cal Grilled Cheese Sandwich
1 Thomas' Bagel Thins bagel
2 slices Finlandia light cheese (pictured below so you know what to look for at Costco)
Light butter or margarine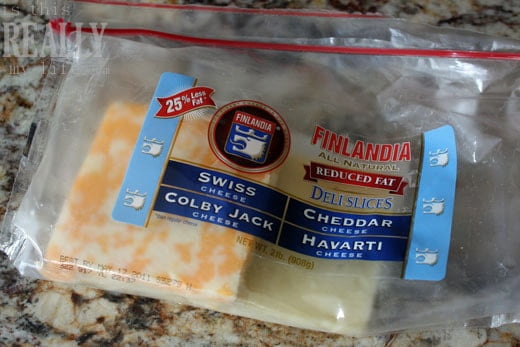 Definitely should have used my vacuum sealing trick on this package!
Heat a small skillet or pan on medium heat. Lightly butter the inside of each side of the bagel. Place one half of the bagel buttered-side down in the skillet.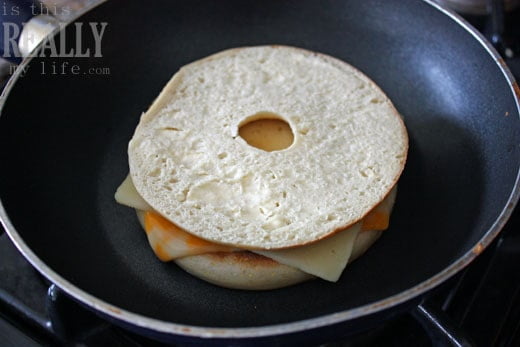 Top with sliced reduced-fat cheese and remaining bagel half (buttered side out). Once bottom is lightly toasted and cheese slightly melted, flip and toast the other side. Serve hot!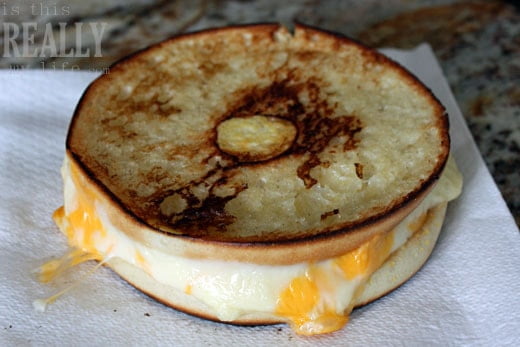 I used a mix of the Havarti (delicious and lowest cal out of the options) and Colby Jack, but Swiss and Cheddar would be good too or any combo you like!
P.S. I got the idea of the inside-out grilled cheese thing from Five Guys Burgers & Fries. (They take their yummy burger buns and flip them inside out! It's a great way to use extra hamburger buns, believe me.)