A couple weeks ago I called fabulous home chef Stephanie Hansen, a fellow Sassy, Twitterer extraordinaire and one of my favorites. I needed to find out if beef bouillon would be an okay substitute for au jus considering my two packets of au jus went missing somewhere between the checkout line at the grocery store and my pantry.
Steph quickly educated me in the complexity of au jus but told me the bouillon would do in a pinch—with a little added seasoning of course. Then she asked what I was making for dinner. What followed was my quick and easy recipe for homemade French dip sandwiches (no slow cooker pot roast needed).
Somehow I'd managed to impress Steph with my no-hassle French dip sandwiches and she fixed them the next evening. They were a hit with her boys and I believe she's made them at least once or twice since then. (Right, Steph?) After a few tweets, some Twitter friends were interested in the recipe so of course I had to make them again (darn it), snap a few photos and post the recipe.
A few things first:
Like most people, I cook dinner at night and

the lighting isn't the greatest

. Just know the pictures don't do these sandwiches justice.
These are quick and easy (i.e., non-gourmet), so

feel free to embellish the recipe

. Just come back and tell us the changes you made so we can try them too!
The recipe does not use specific amounts of Provolone cheese or roast beef; you can tailor it to your family's needs. I buy just over a pound, though I will probably double that next time. The amount of roast beef in these babies seriously looks pathetic. (I think the last time I made them my youngest two were still eating smashed food and a pound went much further.)

I prefer thinly sliced roast beef

. This time I went for thicker slices and didn't love them as much.
If you want to spice things up a bit,

try some Italian roast beef

from a brand like Boar's Head. YUM! In fact, I prefer this to good ol' regular roast beef.

Kids love these sandwiches

due to the whole dipping-in-au-jus thing. George was lovin' the dippin' while Livi…well, she preferred dipping her fingers to dipping the sandwich.
And now for the recipe. (Did I mention it's quick and easy?)
Homemade French Dip Sandwiches
French rolls (or your favorite sandwich roll)
Sliced Provolone cheese
Sliced roast beef
1 package au jus mix plus amount of water specified
Butter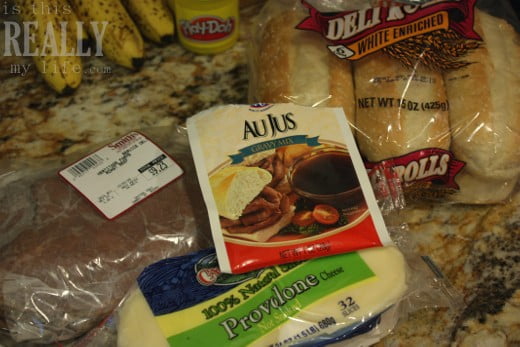 Play-doh not necessary but it combined with the quickly ripening bananas does add a nice touch, don't you think?
Set your oven on broil and place rack near top. Open the sandwich rolls and spread a thin layer of butter on both sides. Then have your three-year-old daughter stick her finger in each one to make sure they're thoroughly coated.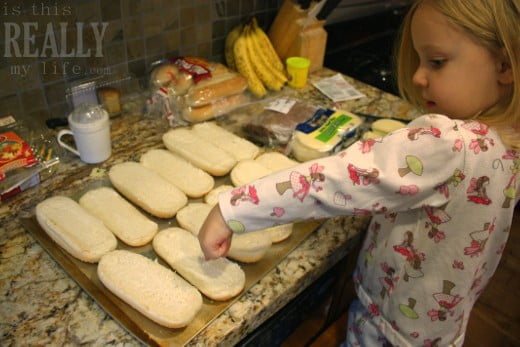 Kind of makes you want to come over to my house for dinner, doesn't it?
Empty contents of au jus packet into a large saucepan and follow the directions for making the au jus. Once au jus is simmering, place rolls under broiler and broil until light golden brown. Remove rolls from oven and top both sides with sliced Provolone cheese. If you prefer less cheese, only top one side of each roll…but really, who prefers less cheese?
Do you see what I see? I see a parachute man and a half-eaten package of Starburst.
Now here's what makes these sandwiches really, really good. Take your sliced roast beef and slowly add it to the simmering au jus. Let it simmer and soak up those juices until heated through.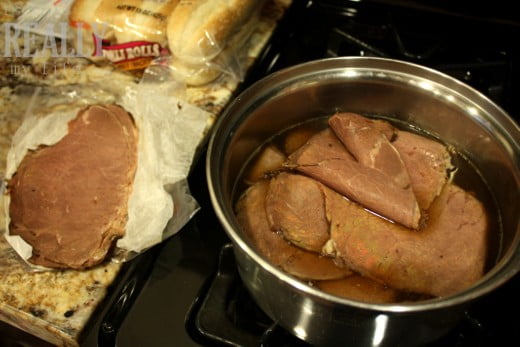 I guess this is a cheater's version of slow cooker roast beef. At least I only cheat when it comes to cooking…and sugar-free diets..and maybe my budget.
Return rolls to oven and broil until cheese is melted and rolls are a deep golden brown. Remove.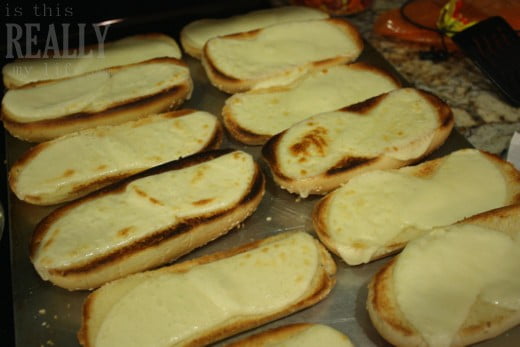 A little more than "deep golden brown" but holy cow, they still look good!
Using tongs or a fork so excess liquid drains into the saucepan, take the slices of roast beef and layer them on the bottom half of each roll. Immediately top with other half, leaving rolls on the hot pan to keep them warm.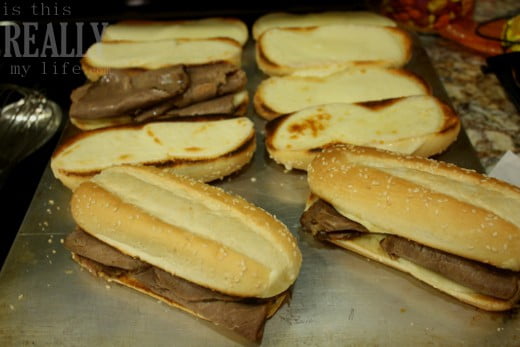 I couldn't think of anything witty for this one. I'm too distracted by the saliva dripping down my chin and onto my keyboard.

Do the Fancy Nancy thing and slice the sandwiches on a diagonal. Serve immediately with a side of the hot au jus.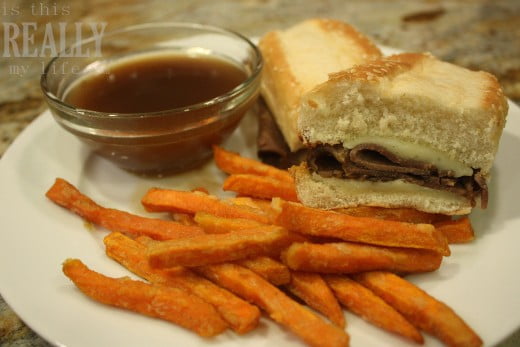 Like I said earlier, I'm buying two pounds of thinly sliced roast beef next time.