To both.
Of course, if you can only make it to one, make it to SNAP! It is THE conference for bloggers who are all about modern handmade, contemporary craft, mind-blowing events and home DIY. SNAP! is happening next weekend (April 19-21) at Thanksgiving Point.
...


I forgot to mention it's SOLD OUT. My bad.
If you can't make it to SNAP! because you didn't buy your ticket before it sold out (it TOTALLY sold out), then for sure make it to the Queen Bee Market, which is totally not sold out and open to the public.
I like open-to-the-public stuff!
The Queen Bee Market is based in San Diego but is hosting their spring market at SNAP! The boutique is a "fun, fresh handmade market featuring the best in home decor, accessories, baby, clothing and more" and features an impressive list of vendors sure to get you itching to do some spring spending.
Am I the only one itching to spend?
...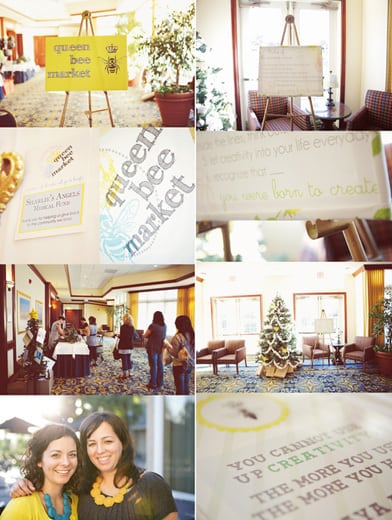 Image by Heather Starr Photography from the Queen Bee Market website.
...
Here's a snippet about Queen Bee from the SNAP! site:
We are excited to partner with one of the nation's premiere handmade markets. Forget dimly lit and cramped. The hallmark of Queen Bee is the number of incredibly amazing, dramatically done vendor booths.
...
Queen Bee Market at SNAP!, is set to showcase the very best in modern handmade, carefully selected just for you. Get ready to shop an incredible inventory of items—from jewelry and home goods to a variety of other one-of-a-kind treasures.
And get this, vendors were chosen using a juried application process that started last winter!
This is going to be some seriously good boutique shopping, girls.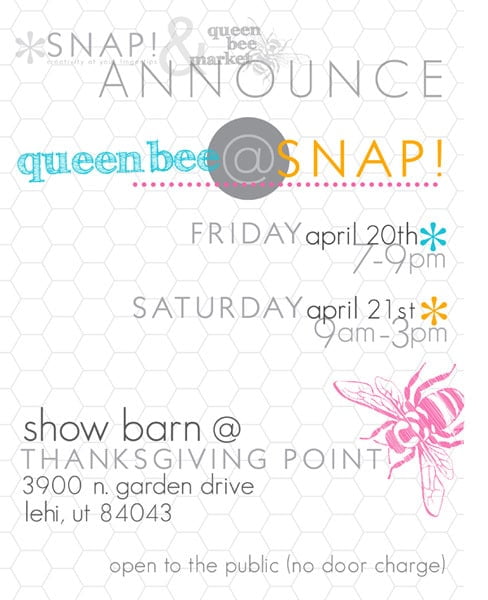 Like I mentioned, Queen Bee Market is open to the public, but if you want to mix and mingle with other bloggers, Friday night is your best bet. (I heard that from a trusted source, so I'd go with it.)
If you peruse the list of Queen Bee Market vendors, you'll find some of my faves like the r house couture, Love Stitched, Whippy Cake and Hoop-La Earrings. And those are only 4 out of the over 35 vendors on tap at the market.
Go. Seriously.
I'll be there.
And I love shopping buddies.