Never wanting to waste some leftover canned pumpkin, I searched for an alternative to the classic pumpkin chocolate chip cookie and found this recipe. Not being a huge fan of dried cranberries, I was more than happy to replace them with chocolate chips. More than happy, trust me.
The result was a slightly heartier and healthier-tasting pumpkin cookie and a new family favorite. You could make them even healthier by substituting 1 cup of wheat flour for 1 cup of white. (I meant to do that but was in such a hurry to eat make these, I totally forgot.)
…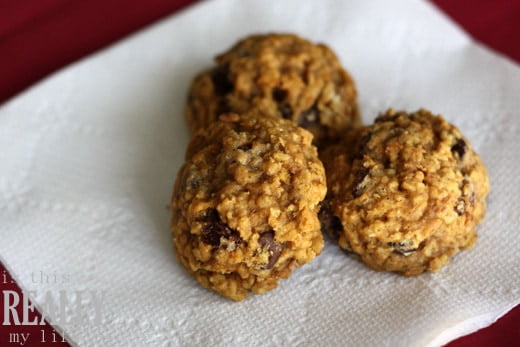 …
Pin It

Pumpkin Oatmeal Chocolate Chip Cookies
A fun take on the classic pumpkin cookie. Whole wheat flour and rolled oats make them (almost) healthy!
Author:
Emily ~ isthisREALLYmylife.com
Ingredients
3 cups rolled oats
2 cups all-purpose flour (or 1 cup white and 1 cup wheat)
1 tsp baking soda
1 tsp cinnamon
½ tsp ground cloves
½ tsp salt
1 cup butter, softened
1 cup brown sugar
½ cup white sugar
1 egg
1 tsp vanilla
1 cup pumpkin puree
1 cup semisweet chocolate chips
Instructions
Preheat oven to 350 degrees. In a medium bowl combine oats, flour, baking soda, cinnamon, cloves and salt. Set aside. Using an electric mixer, combine butter and sugars and cream together until light and fluffy. Add eggs followed by vanilla and pumpkin. Add flour mixture and mix until combined, then stir in chocolate chips.
Drop tablespoon-size spoonfuls onto baking sheets. Bake for 10-12 minutes or until set. Cool two minutes on baking sheet; remove to wire rack and cool completely.
. .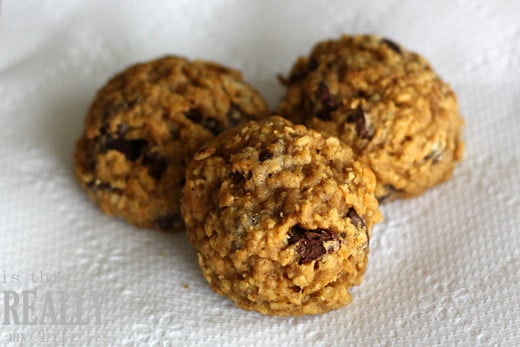 … Pin It
…
I still have a cup of pumpkin puree leftover. I have a feeling we'll be eating these again later this week.
P.S. Like other cookie recipes I've posted, these freeze well. Love me a late-night chilled cookie snack!