Disclosure: I was provided with a couple boxes of Honey Bunches of Oats Morning Energy and a few other goodies in exchange for this post. All thoughts, opinions and recipes for protein energy bites are 100 percent honest, yummy and all mine.
Almost a year ago today I whipped up a batch of peanut butter oatmeal protein bites and promptly ate half the batch.
What can I say? They're extremely hard to resist even though they're considered a healthy snack. The same goes for these protein energy bites I created using the new Honey Bunches of Oats Morning Energy Chocolatey Almond Crunch.
I'm pretty sure it should be "chocolaty" but who am I to tell Post how to spell the names of their cereals?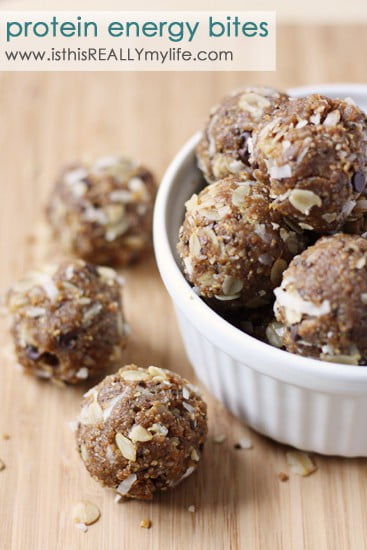 These protein energy bites are packed with protein (duh), fiber and whole grains. I threw in some semi-sweet chocolate chips for added antioxidants and flavor. Some people think chocolate chips are optional.
I'm not one of those people.
I found these protein bites didn't "roll" as easily as the peanut butter oatmeal protein bites. I used a medium cookie dough scoop to scoop the dough into my hand and then I pressed it into a ball shape. Rolling only made the dough crumble apart.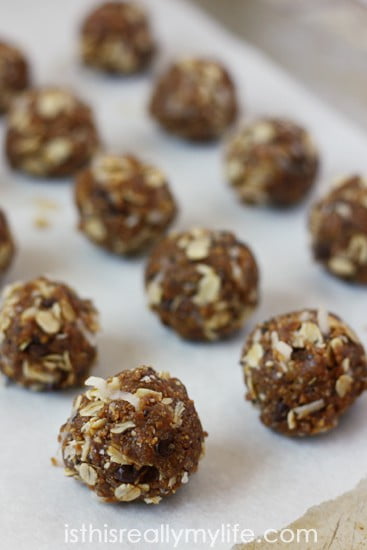 Printable recipe for protein energy bites below.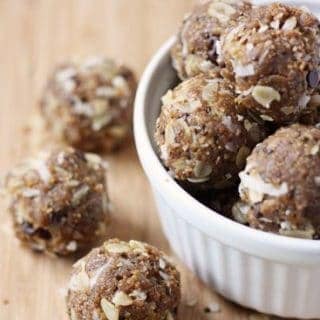 Protein Energy Bites
These protein energy bites are packed with energy in the form of protein, fiber and whole grain goodness. NOTE: They don't roll very well so you'll need to press them into a ball shape. Makes approximately 12 to 18 protein bites depending on size.
Ingredients
1 ¼ cups Honey Bunches of Oats Morning Energy Chocolatey Almond Crunch
⅓ cup chopped walnuts
1 tsp chia seeds
3 ½ tsp ground flax seed
¼ cup all-natural peanut butter
2 T honey
2 T pure maple syrup
1 tsp vanilla
¼ tsp coarse sea salt
¼ cup rolled oats
¼ cup coconut
2 T mini semi-sweet chocolate chips
Instructions
Place the cereal in food processor and process until finely ground.
Add walnuts, chia seeds, ground flax seed, peanut butter, honey, maple syrup, vanilla and sea salt. Process until well blended.
Scoop dough into a small bowl and add oatmeal, coconut and chocolate chips. Mix until thoroughly combined. Dough will be slightly crumbly.
Using a medium cookie-dough scoop or large spoon, scoop approximately 1 ½ to 2 T of dough into your hand and press into a ball. Place balls on wax paper-lined cookie sheet. Transfer to an air-tight container and keep refrigerated.
Notes
FOLLOW HALF-SCRATCHED ON INSTAGRAM (@half_scratched) and share the recipes you're whipping up in the kitchen. Don't forget the #HALFSCRATCHED hashtag so we can see what you've made!
Nutrition Information:
Yield:

16
Serving Size:

1
Amount Per Serving:
Calories:

82
Total Fat:

4g
Saturated Fat:

1g
Trans Fat:

0g
Unsaturated Fat:

1g
Cholesterol:

0mg
Sodium:

57mg
Carbohydrates:

11g
Fiber:

1g
Sugar:

6g
Protein:

2g
We've been fans of Honey Bunches of Oats in all its flavors for years.
Love the crispy flakes and clusters of oaty goodness. Throw in slivered almonds and it's a great start to my day.
Though I often buy the generic version of many cereals (Cinnamon Life, Chex in all its varieties), I stick with Post when it comes to Honey Bunches of Oats.
The new Honey Bunches of Oats Morning Energy comes in two flavors: Chocolatey Almond Crunch, which includes delicious chocolaty morsels and almond slivers, and Cinnamon Crunch, which is packed with sweet, crunchy cinnamon clusters.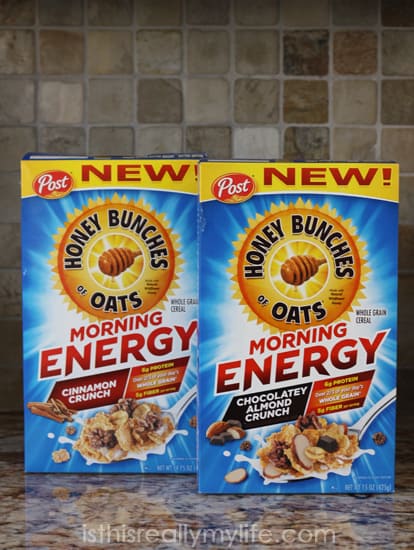 Lauren tried the Chocolatey Almond Crunch first (that's my girl!) and was a fan.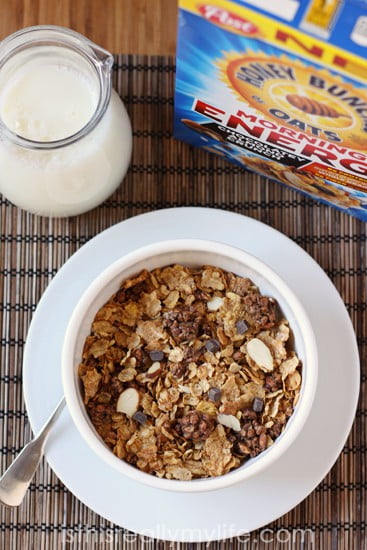 Both flavors offer 6 grams of protein (10 when served with fat-free milk) and 5 grams of fiber per serving. They are also heart healthy with zero grams grans fat, 1 gram saturday fate and zero cholesterol. Even better, Chocolatey Almond Crunch gives you 35 grams of whole grain per serving (over ⅔ your day's whole grain) and Cinnamon Crunch gives you 33 grams (also over ⅔ your day's whole grain).
The only thing that gives me pause is the 220 calories per 1-cup serving. I have a hard time with anything over 140 calories or so per serving.
This is why Post Grape Nuts cereal kills me. I love Grape Nuts so much and a ½-cup serving is nearly impossible.
Of course, if a bowl of cereal is all you have time for in the morning, Honey Bunches of Oats Morning Energy is the way to go. It ought to keep you fueled and fired up until lunchtime...or until your first Diet Coke.