Pretzel chocolate chip cookies are soft, chewy, and chocolaty with the right amount of crunch! The combination of crunchy, salty, sweet is simply irresistible!
.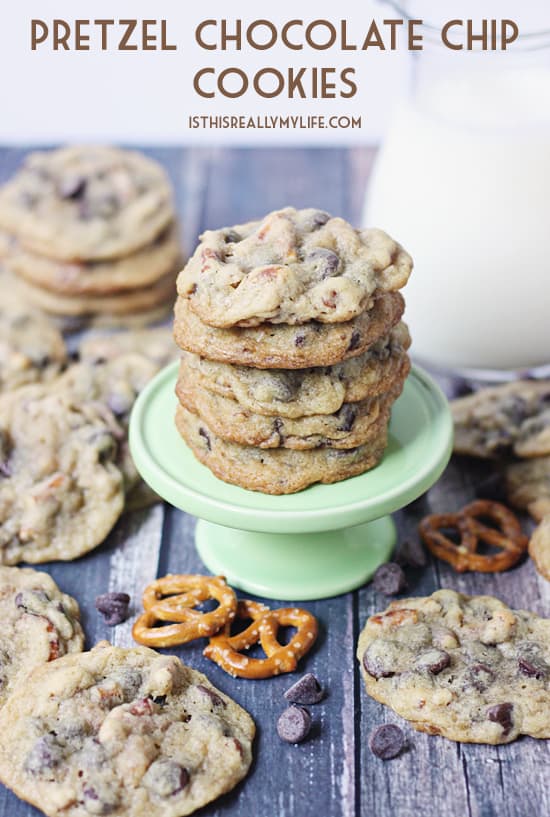 .
This post was sponsored on behalf of Zenni Optical via One2One Network. All thoughts, opinions and insatiable love of reading are my own. Post may include affiliate links to help support my Diet Coke habit.
.
A few weeks ago I shared purple polka-dotted cream cheese sugar cookies inspired by one of our favorite picture books, I Like Myself. We had so much fun turning that beloved story into a baking session, we did it again with one of George's favorite pictures books, CookieBot!
.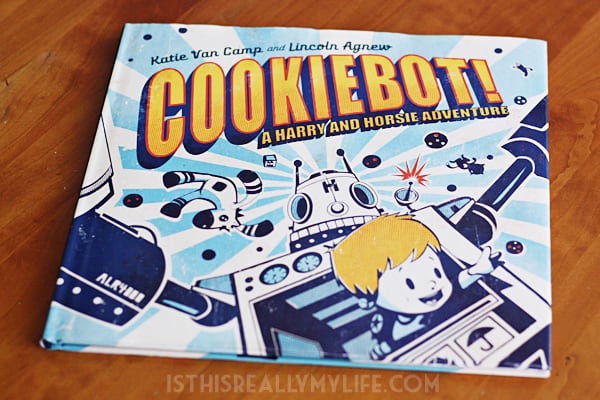 .


.
We have both Harry & Horsie books and I love them as much as—if not more than—the kids.
I find this true with a lot of the books in their collection.
We took CookieBot's love of the classic baked treat and turned it into a new baked treat with these pretzel chocolate chip cookies. They are SO good!
.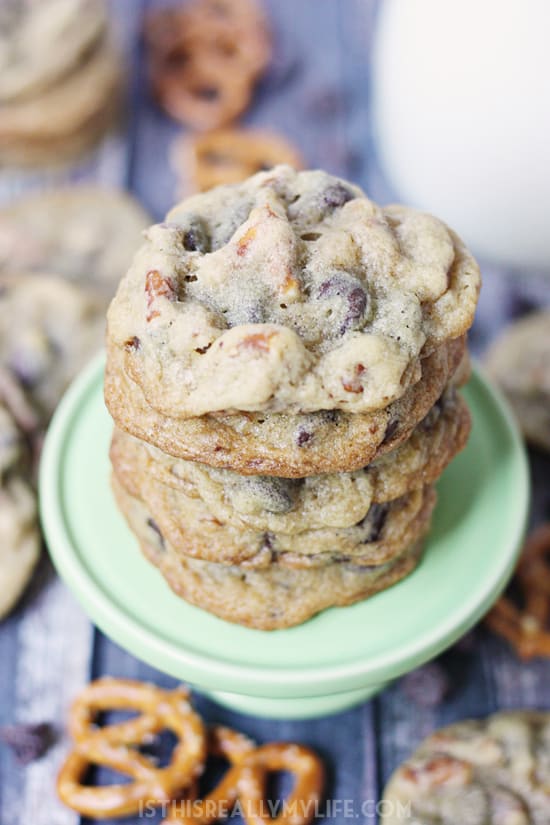 .
The dough bakes up slightly crisp on the edges with a chewy center while the combination of semisweet chocolate and salty pretzel makes each bite divine.

Let's be honest, I pretty much think every cookie is divine.
.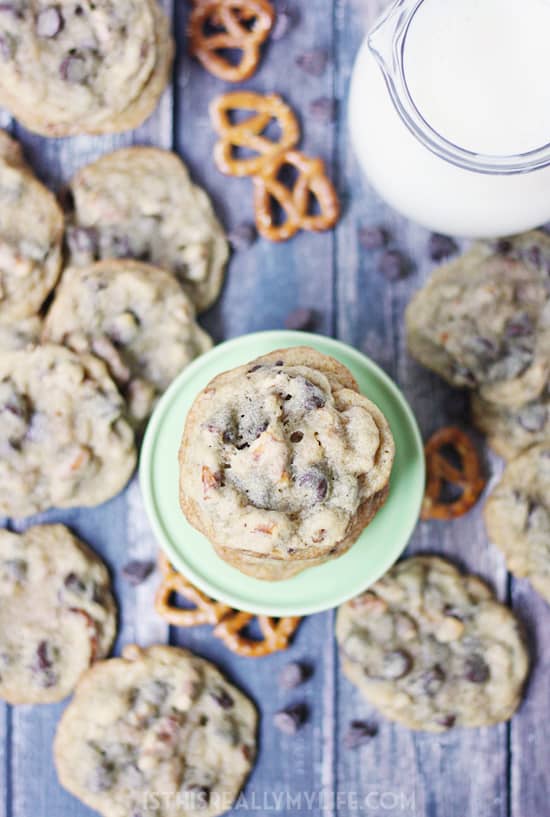 .
Not surprising, whipping up a recipe inspired by a classic read is one of the best ways to making reading engaging and interactive. This is good news for those who are looking to encourage their kids to dive into more books when school's out for the summer. I found quite a few books on the shelf that would make for some yummy time in the kitchen together.
.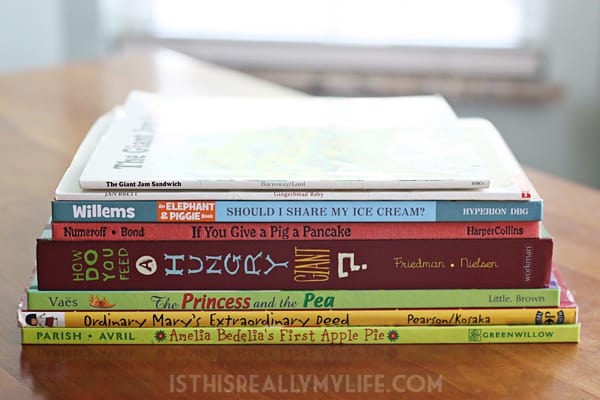 .
Just imagine what you could make: apple pie, ice cream, pancakes, gingerbread babies, blueberry muffins, homemade bread and jam… It's a smorgasbord of book-inspired deliciousness. In fact, I bet you have enough books on your bookshelves to make a recipe a week until school's back in session! But first you should make these pretzel chocolate chip cookies.
.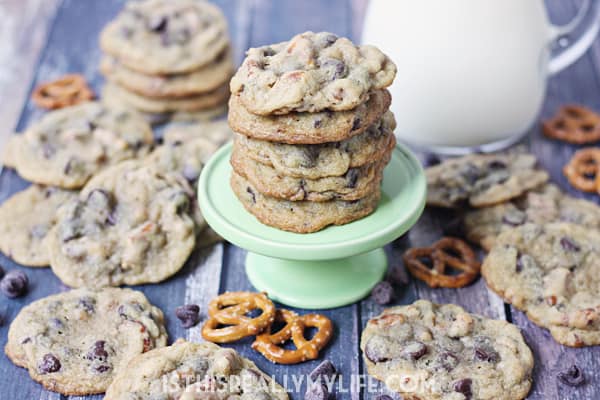 .
Printable recipe for pretzel chocolate chip cookies. Enjoy!
.

Pretzel Chocolate Chip Cookies
CookieBot would have no problem inhaling these pretzel chocolate chip cookies. They're soft, chewy and chocolaty with the right amount of crunch! Makes approx. 3 dozen.
Author:
Emily ~ isthisREALLYmylife.com
Ingredients
1 cup plus 2 T unsalted butter, softened
½ cup plus 2 T sugar
1 cup brown sugar, packed
2 eggs
2 T water
1½ tsp vanilla
2½ cups flour
¾ tsp baking soda
½ tsp salt
2 cups broken pretzel pieces
2 cups semisweet chocolate chips
Instructions
Preheat oven to 350 degrees.
Cream butter and sugar in large bowl until well mixed. Add eggs, water and vanilla. Beat until fluffy.
Add flour, baking soda and salt and mix until thoroughly combined.
Fold in pretzel pieces and chocolate chips.
Scoop a large tablespoon of dough onto ungreased cookie sheet. Flatten slightly with a glass or your fingers. Bake 10 to 12 minutes until edges are golden brown and center is set.
.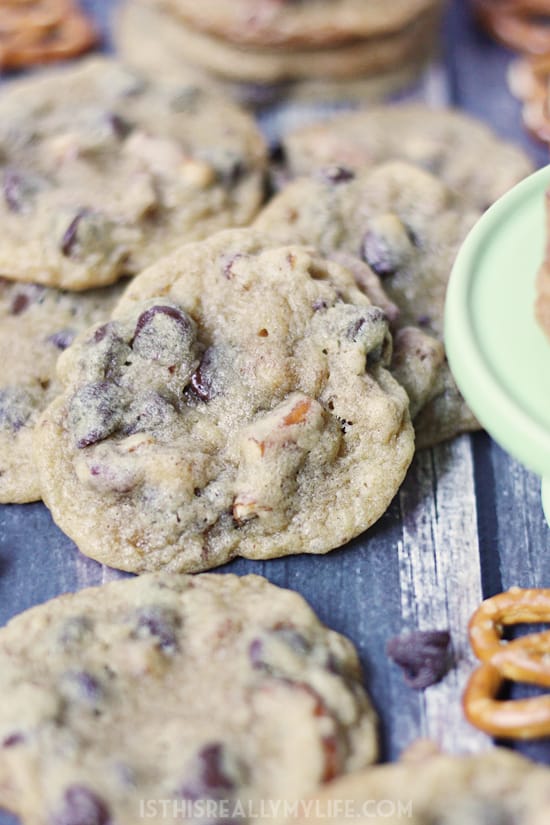 .
We've shopped Zenni Optical and found a ton of styles we loved. Zenni provides on-trend (i.e. super cute), quality eyewear for the entire family at affordable prices, plus they have prescription and non-prescription eyeglasses and sunglasses. That means you can read anywhere, anytime, even at the beach! Just remember to pack your freshly baked pretzel chocolate chip cookies for an afternoon snack!