Remember the Raw Melissa Project series starring Melissa Chappell (aka Raw Melissa) and her fabulously tasty yet healthy dishes, not to mention her love for all things local and fresh? And don't forget those drool-worthy photos of the recipes she "cooked" up in her fresh food workshop.
Just thinking about that workshop has me jonesing for some homemade almond butter. Unfortunately that was one of the recipes I couldn't share with you from the workshop, though there were a few others Melissa let slide just for my Raw Melissa Project, Part 3 post. But you're in luck because I believe that recipe along with other lick-the-bowl-clean recipes is found in her new cookbook, Faves: Fruits and Veggies, Energy's Secret.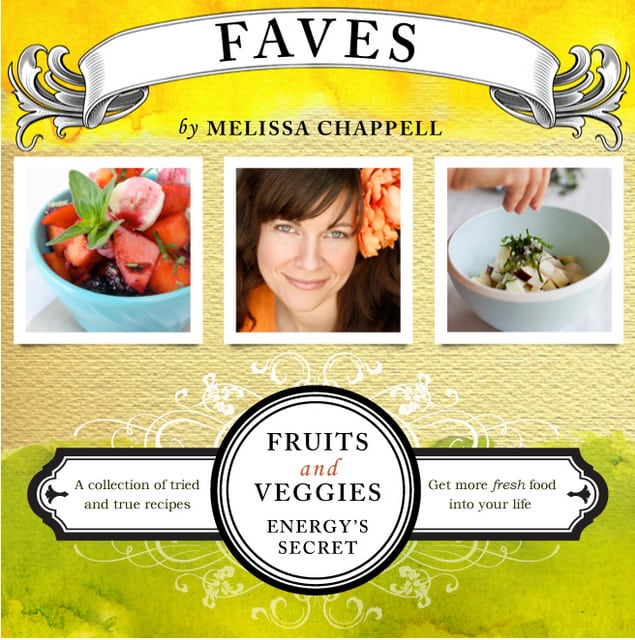 The cookbook is a smaller pocket-size style, much lighter (thank heavens) than your red and white check Betty Crocker cookbook above your stove. Paperback and standing about a half-inch thick, this little goody has a true bind and thick, "raw" paper. Faves is filled with beautiful color photos taken by three different professional photographers (Quinn is one of them), several black and white photos and a handful of whimsical illustrations as well.
Melissa Chappell's cookbook groups recipes into six different categories:
light meals
desserts
salads
salsas
sauces
dips and smoothies
"…all fresh and delicious."
What I'm most excited about are the pages of facts, history and lore about different ingredients used in the recipes. Nothing like a little learning with your Lime Mousse!
With scrumptious photography by my talented friend Quinn and recipes sure to surprise you because they're good for you and delish, Faves is a must-have book in your cookbook collection. (Admit it, you have a collection that rivals Barnes & Noble.)
So how can you get your hands on this baby for only $12.95 before the price goes up to $15.95? Take advantage of the pre-sale NOW because it's only good until tomorrow, September 10th! Melissa's making it easy for you to get your holiday shopping done. Just think what a fantastic stocking stuffer/neighbor gift/friend gift/favorite blogger give (hint: me) this would be!
You can purchase your pre-sale copy of  Faves: Fruits and Veggies, Energy's Secret by clicking on the PayPal button below. Do it now. Seriously. But you seriously don't have to buy a copy for me. I'm already getting myself one, but feel free to send me something else for the holidays. (Kidding. Sort of.)
…
Did you click on it yet? No? What if I told you you'll find Raw Melissa's Thai Nut Sauce, Winter Tomato Sauce, Raspberry Basil Smoothie and No Bake Chocolate Cookies inside? Yeah, that's what I thought. (I can't guarantee the almond butter but I'm keeping everything crossed it's in there.)
P.S. Melissa will be at the American Fork Good Earth Natural Foods on September 18th from 11:00 am until 4:00 pm signing copies and giving out free vanilla and chocolate- covered macaroons! If you purchase a cookbook at the discounted pre-sale price, you can pick it up that day (Hello! Macaroons!) or you can pay for shipping (one of the options listed in the pull-down menu) and she'll ship it to you. Just be sure to include your name and address when checking out!