I actually learned two really good lessons while making this potato salad recipe. One, kosher salt is not the same as table salt; and two, trust your intuition.
I must give Chef Tom (aka Tom Woodbury) the credit for teaching me the difference between kosher salt and table salt. After making this potato salad and  realized it was way too salty (and peppery), I ran the recipe past Chef Tom. We discovered not only did I make the mistake of using table salt rather than kosher salt, but it asked for twice the salt and pepper needed.
And that's where intuition comes in. As I made the potato salad and added the second round of salt and pepper, I knew it was going to be too much. But being that I'm one of those serious recipe followers (and lack serious confidence when it comes to varying recipes), I went with it. That's when I made what was quite possibly the saltiest, most peppery potato salad ever.
Fortunately I had a couple friends who love salty, peppery salads and helped polish off the potato salad.  (Thanks, Kelli and Brooke!) Next time I'll stick to this tweaked version of the potato salad recipe and lick the bowl clean—without pickling my tongue.
When made correctly, it is absolutely delicious.
I used red potatoes but feel free to use small white potatoes or Yukon gold potatoes. If you're not a fan of dill, cut the quantity in half or leave it out entirely. I don't recommend leaving out the bacon because bacon makes the world go around, but the choice is yours. I'm sure you're braver than I am, so tweak away!
Printable recipe for potato salad below.
...

Potato Salad
Love this take on the classic potato salad using red potatoes, dill and bacon.
Author:
Emily ~ isthisREALLYmylife.com
Ingredients
3 pounds red potatoes
1 cup mayonnaise
¼ cup buttermilk
2 T Dijon mustard
2 T mustard
¼ cup chopped fresh dill
1 tsp kosher salt
1 tsp ground black pepper
½ cup chopped celery
½ cup chopped red onion
½ pound bacon, cooked and diced
Instructions
Place the potatoes and in a large pot of lightly salted water. Bring to a boil.
Lower the heat and simmer for 10 to 15 minutes or until the potatoes are barely tender when pierced with a fork.
Drain the potatoes in a colander and place the colander with the potatoes over the empty pot. Cover with a clean, dry kitchen towel and allow to steam for 15 to 20 minutes.
In a small bowl, whisk together mayonnaise, buttermilk, Dijon mustard, mustard, dill, kosher salt and pepper. Set aside.
When the potatoes are cool enough to handle, cut into bite-size pieces and place in a large bowl.
While the potatoes are still warm, add dressing , celery, red onion and bacon. Toss well. Add more salt and pepper to taste.
Cover and chill for at least 4 hours or overnight before serving.
...
Here are a few other summer salads you might enjoy.
The photos of the last two don't do those salads justice. Just trust me when I say they're super yummy!
...
...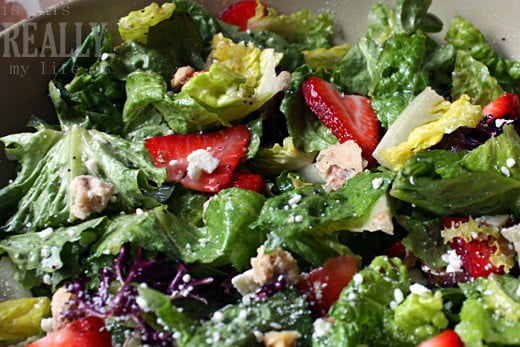 Strawberry & walnut spinach salad
...
...
Can you tell I love chicken and bowtie salads? Always so easy and so yummy!
...


Feel free to "like" is this REALLY my life? on Facebook. It won't always earn you an extra entry in a giveaway but it will give you warm fuzzies.
Don't forget to sign up for free is this REALLY my life? updates via RSS or email so you don't miss a single awesome post. ...