Have you ever made a popcorn salad? We have put together a round-up of the best recipes to enjoy this whole grain in new creative fun ways with your whole family.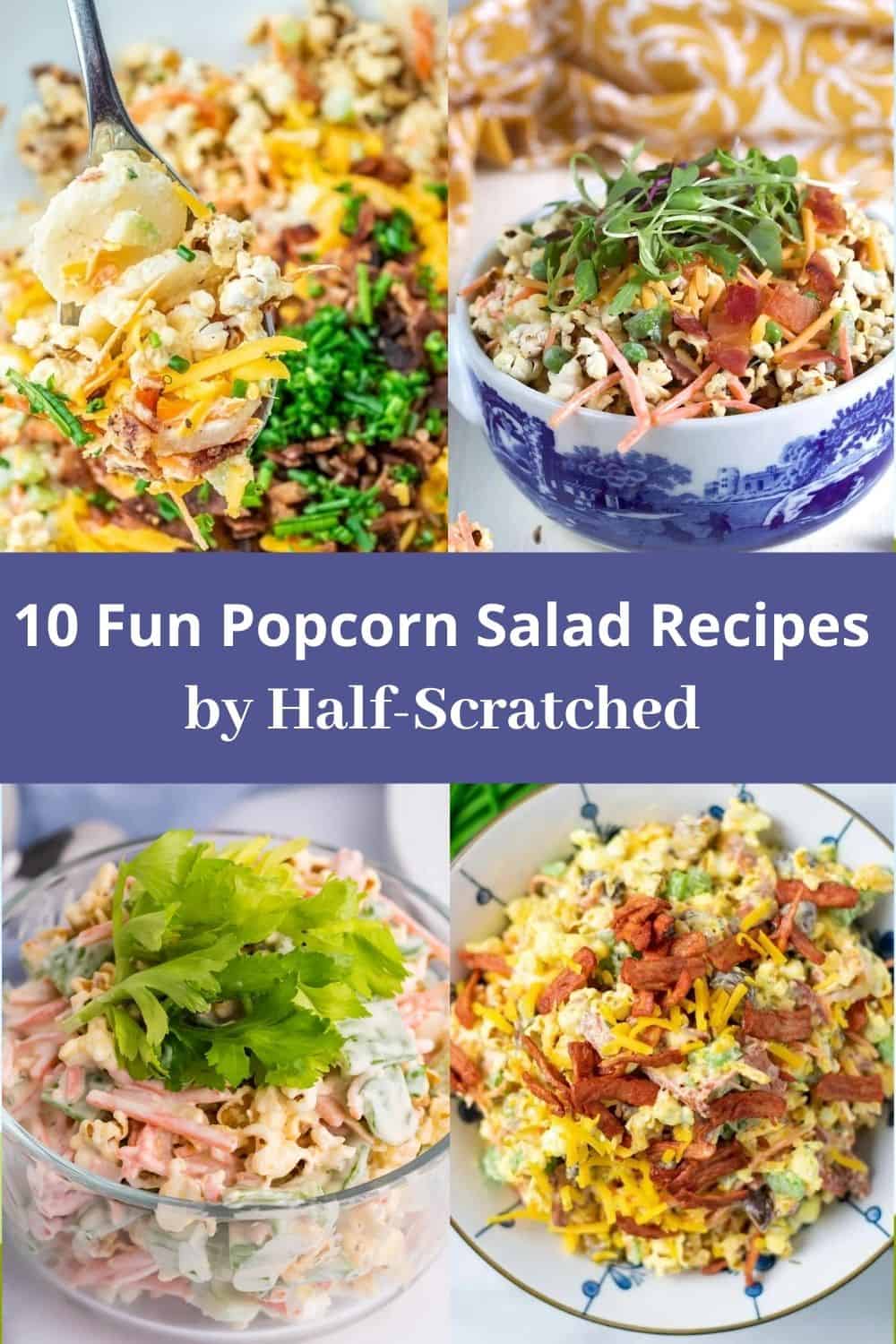 Popcorn Salad has recently found popularity when featured by cookbook author and blogger Molly Yeh but it's not a newly invented dish. There is a reference to a popcorn salad since the 1920s when American housewives used to make banana and popcorn salads which consisted of a mix of popcorn, banana, lettuce leaf and mayonnaise.
The nowadays classic popcorn salad recipe is usually a mixture of bacon, water chestnuts, carrots, celery, chives, cheddar cheese, mayonnaise and popcorn.
It's easily adaptable and you can put your very own spin on it. If you are wondering about the popcorn becoming soggy in the salad, don't worry. The trick is to add the popcorn just before serving to retain its crunchy texture. Scroll down for some exciting popcorn salad recipes to try.
1. Popcorn Salad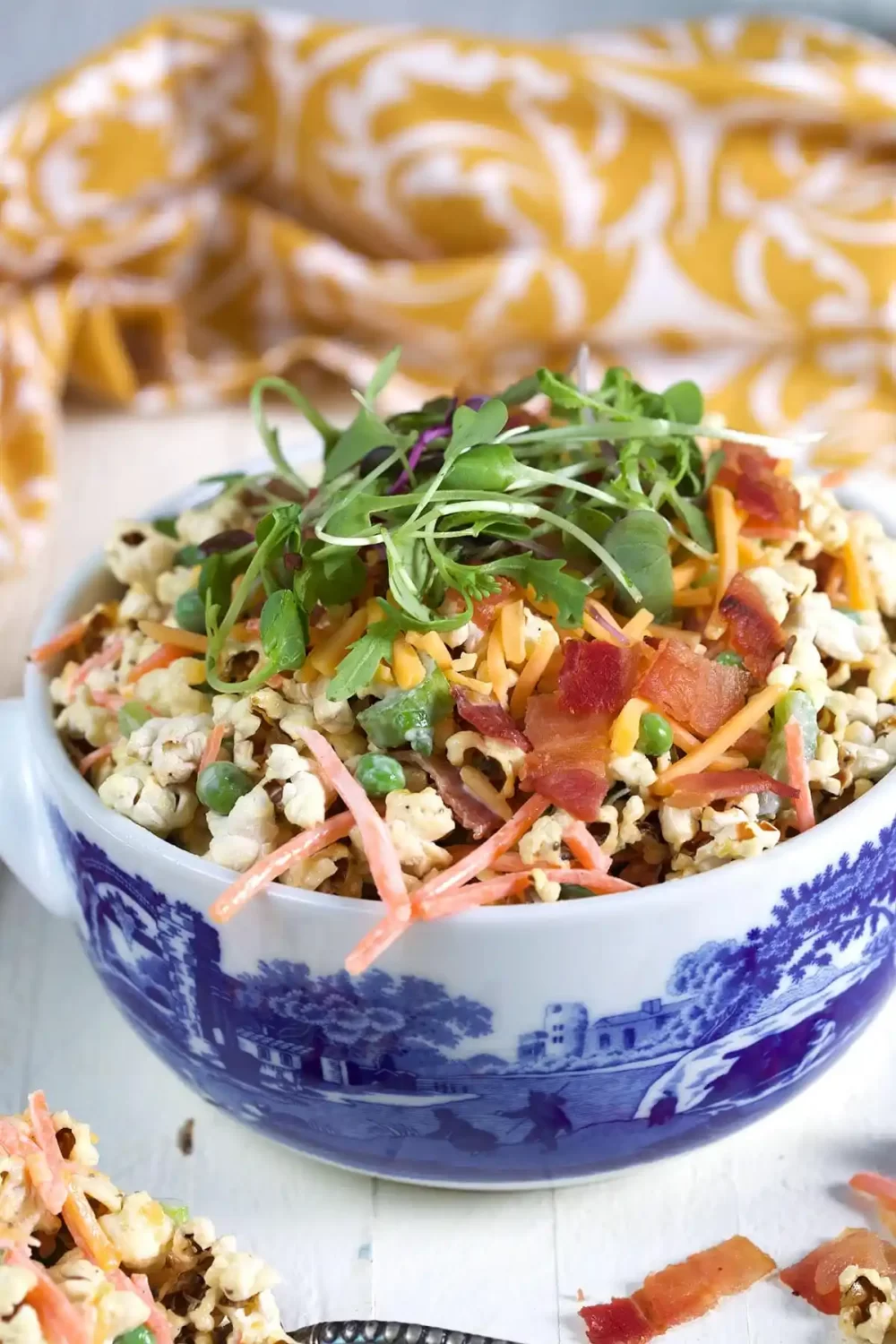 The sweet and salty flavors in this Popcorn Salad by Suburban Soapbox make this salad rather enticing. We love the addition of honey, bacon, sweet peas and scallions. We are sure this salad is as moreish as it looks.
2. Crunchy Popcorn Salad with Snap Peas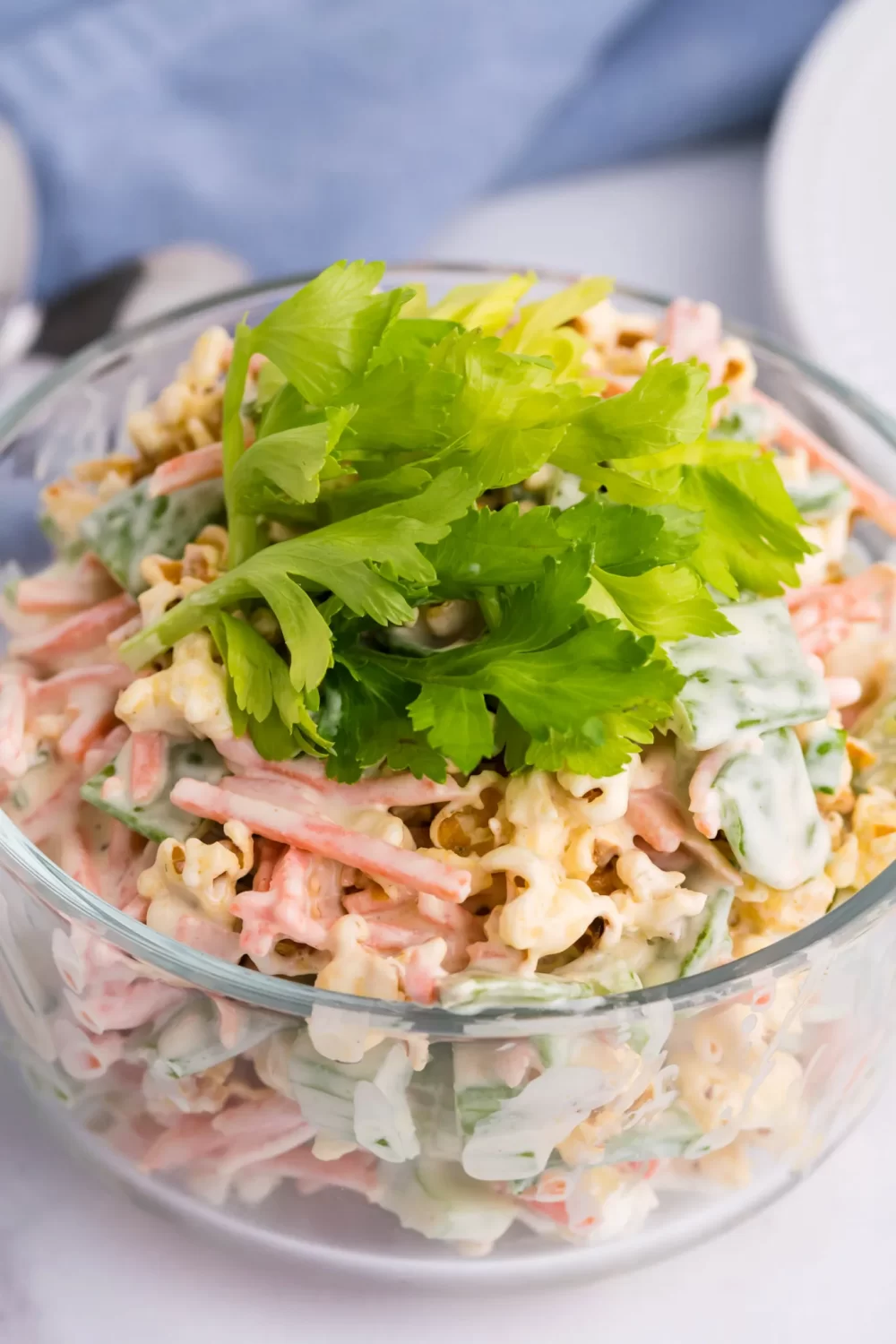 This Crunchy Popcorn Salad with Snap Peas by 4 Sons 'R' Us is light, crunchy and summery. With delicious ranch seasoning and dijon mustard dressing, it will make a fabulous addition to a summer barbecue party.
3. Popcorn Salad Recipe inspired by Molly Yeh's Viral Salad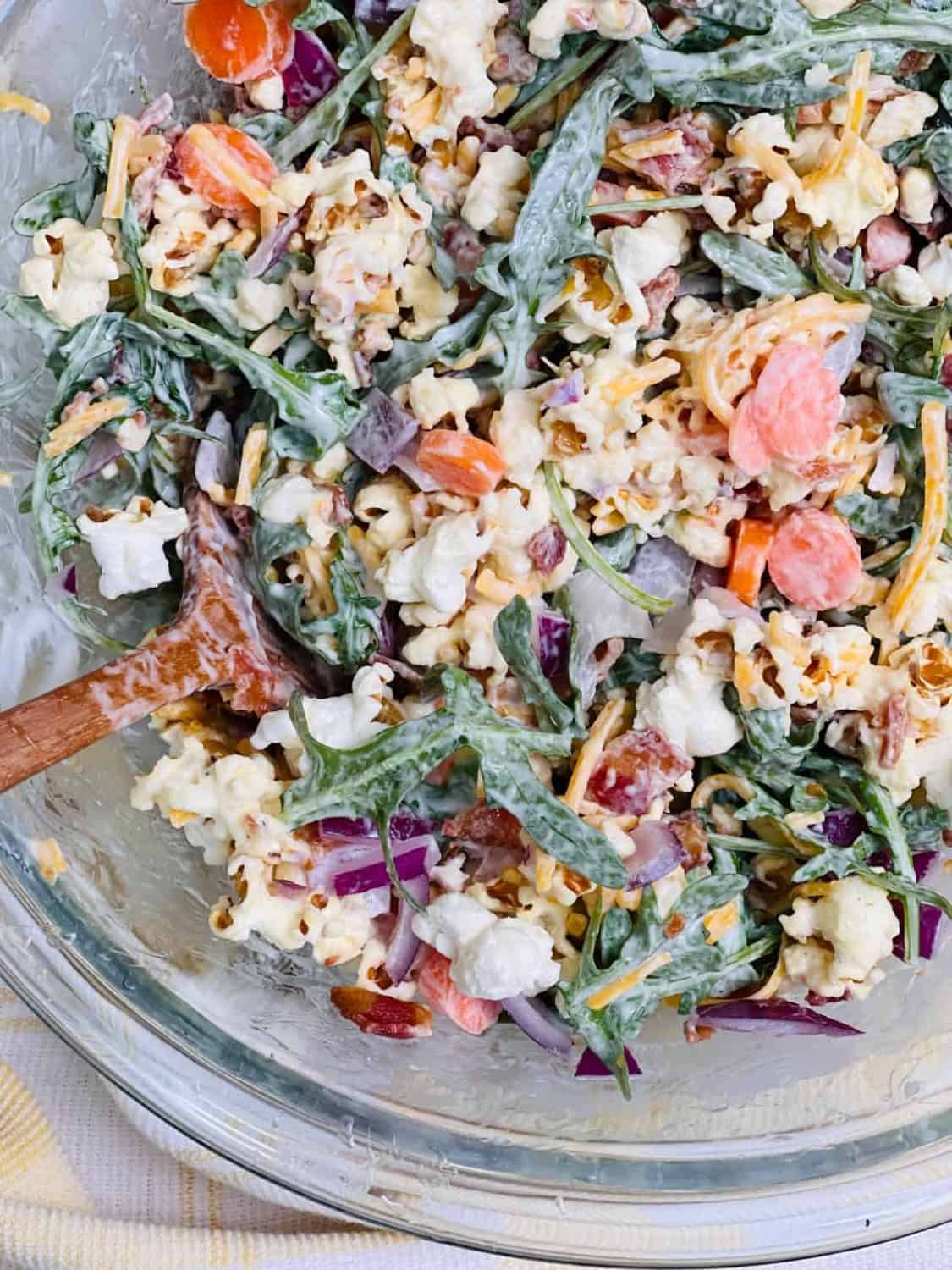 You might think popcorn salad is rather an unusual recipe, but this delicious crunchy Popcorn Salad by Hello Yummy could surely win your heart. With the addition of bacon, arugula and red onion with mayonnaise, sour cream, apple cider vinegar and Dijon mustard dressing what's not to love.
4. Vegan Popcorn Salad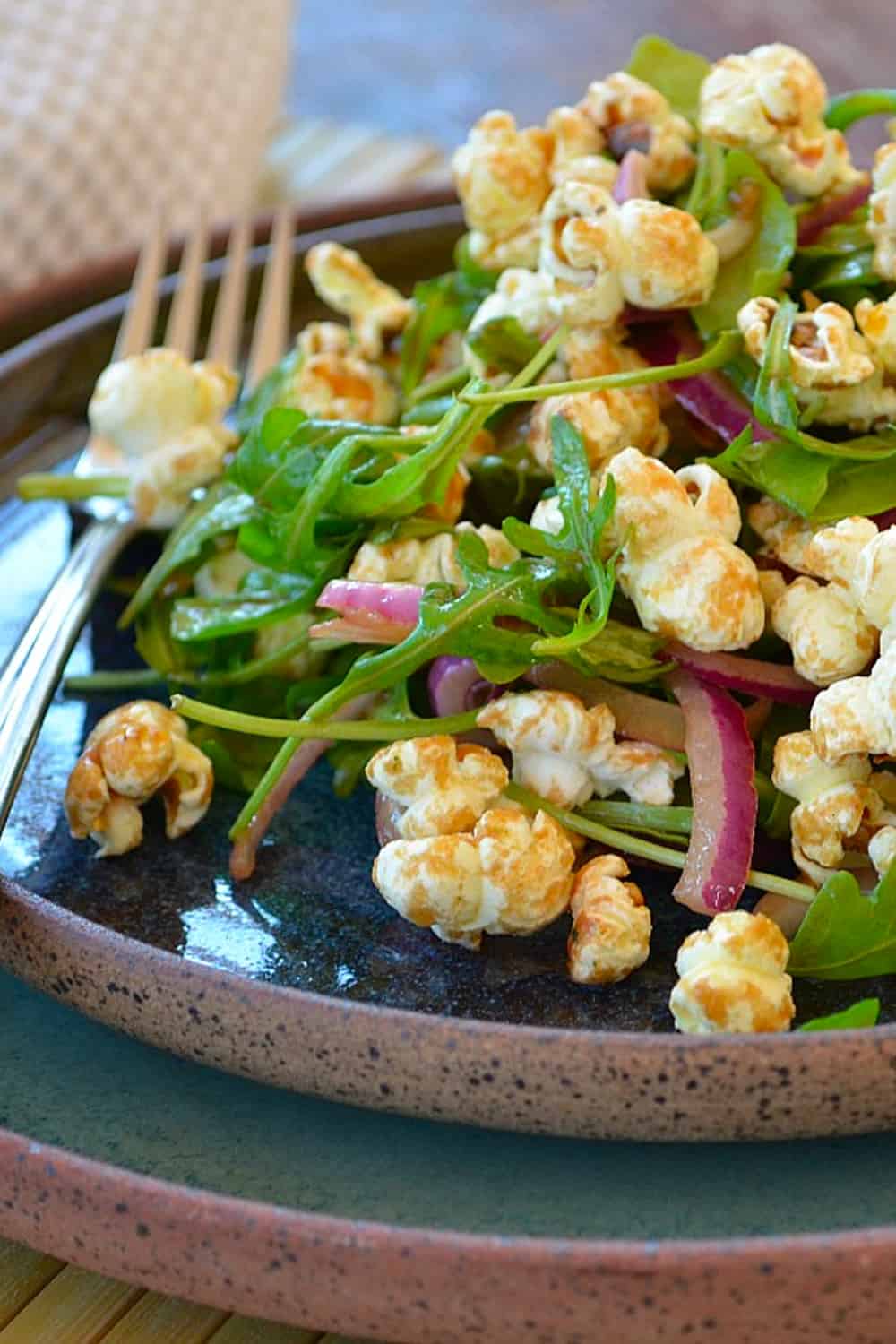 If you fancy a lighter vegan version then this Vegan Popcorn Salad recipe by Three Many Cooks might be the one to try. Throw this salad together with only a few ingredients of arugula, red onion, popcorn and quick extra virgin olive oil, balsamic vinegar and Dijon mustard dressing.
5. Popcorn Salad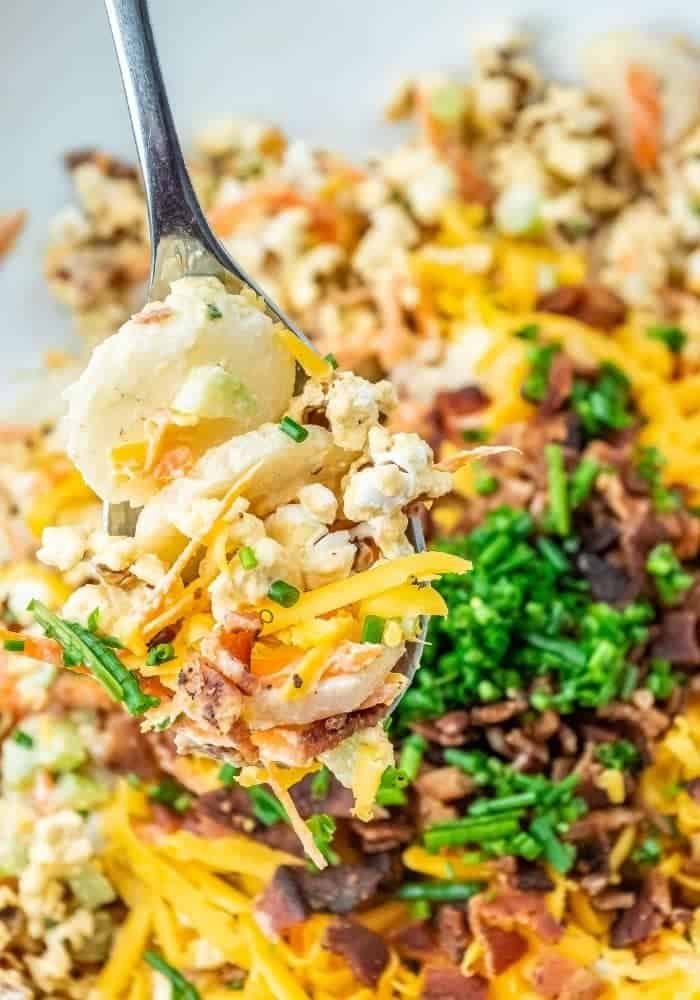 This classic Popcorn Salad by 100K Recipes is so inviting, we want to dive right in. This classic version is made with bacon, water chestnuts and mayonnaise, Greek yoghurt and red wine vinegar dressing. Fancy bringing a bowl to your next potluck or party?
6. Double Corn Salad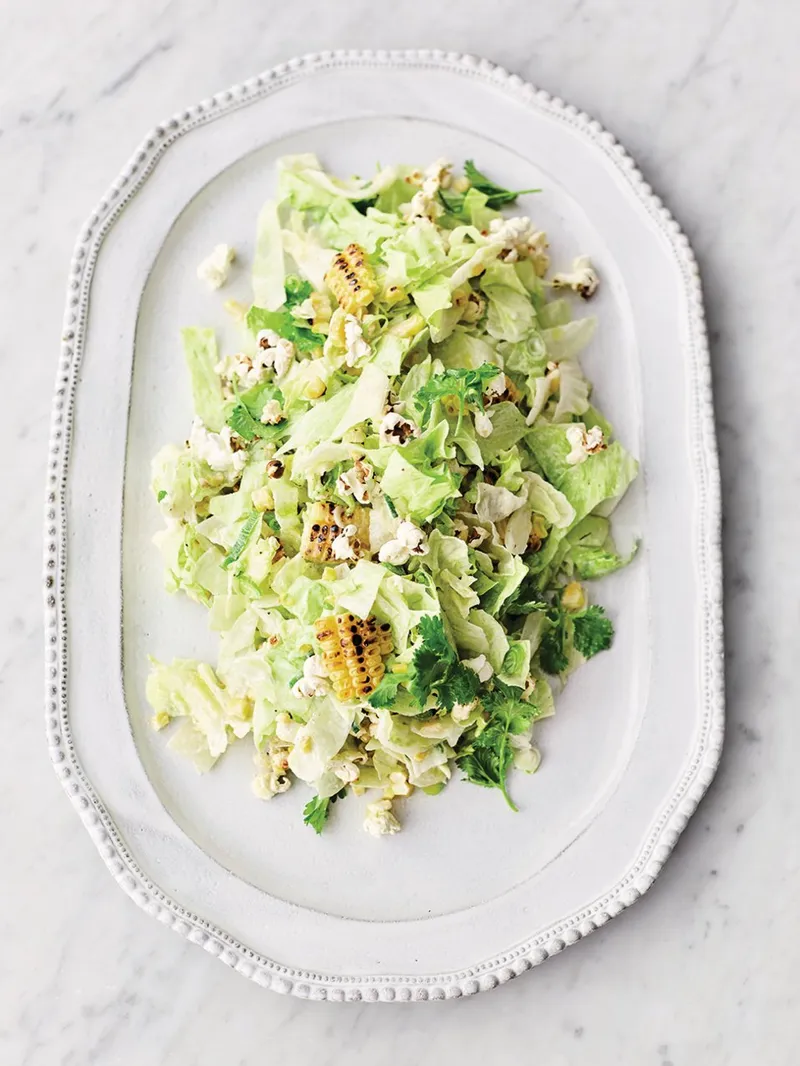 This Double Corn Salad by Jamie Oliver would make a wonderful addition to any meal. Create your own with grilled corn, lettuce, spring onions, cheddar cheese, blue cheese, fresh coriander, popcorn and yummy signature dressing to tie everything together.
7. Vegan Popcorn Salad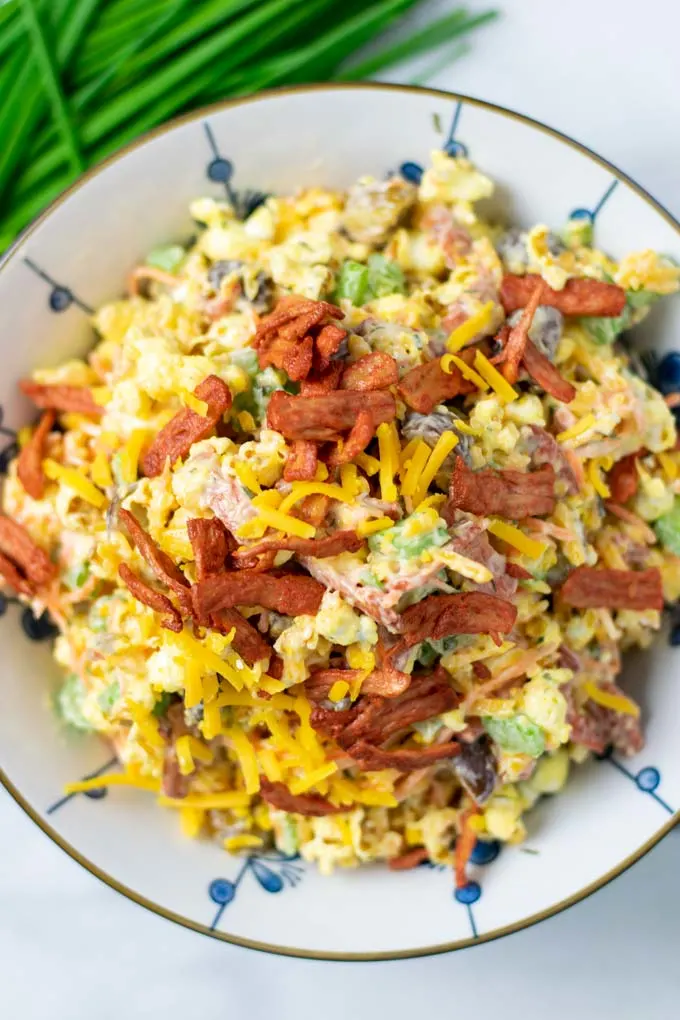 We couldn't be more excited to see a vegan version of the classic Popcorn Salad recipe created by Contentedness Cooking. This plant-based version is using a mixture of vegan bacon, water chestnuts, crunchy veggies, vegan mayo, parsley and dill.
8. Mango Salad with Popcorn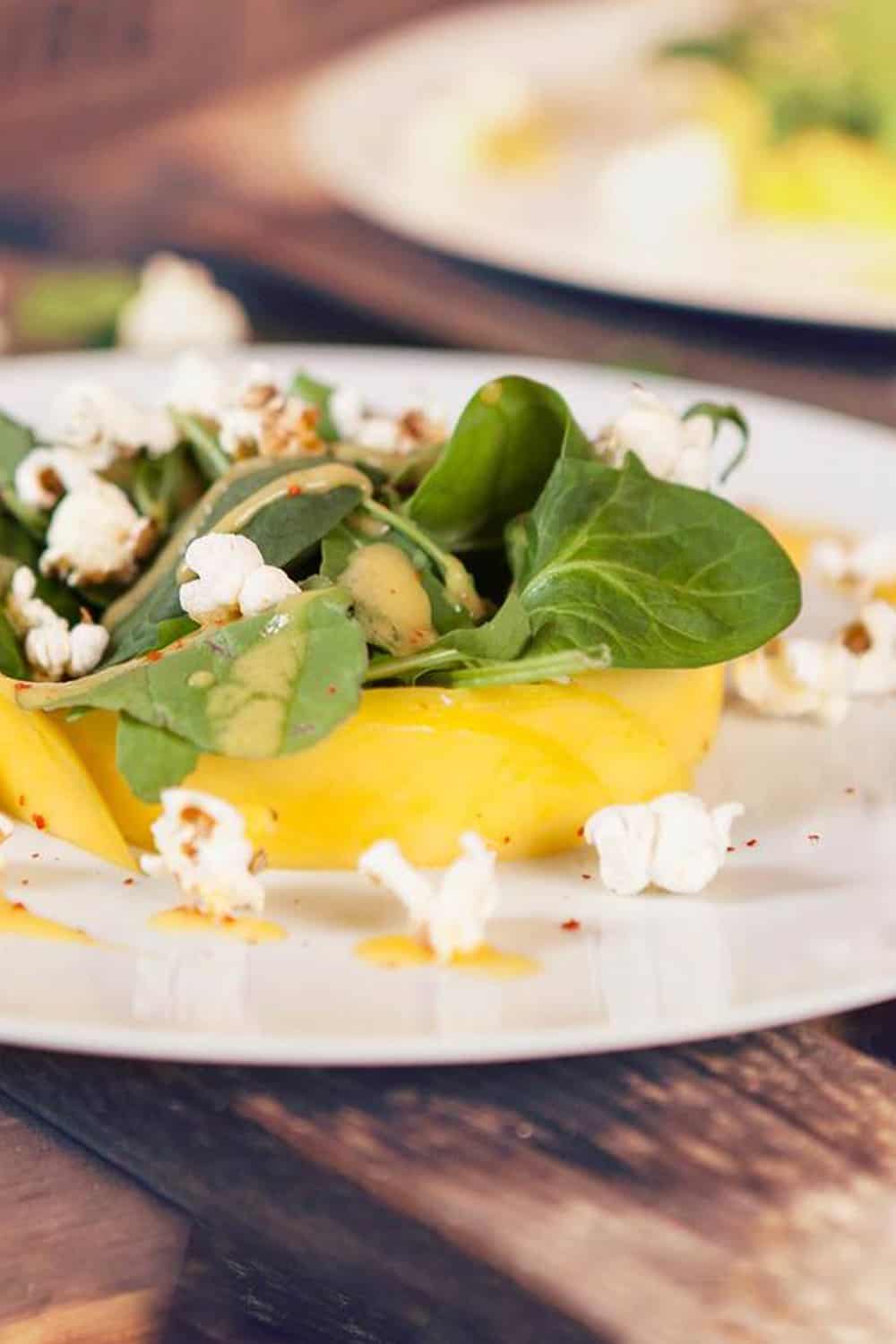 Look at this stylish Mango Salad with Popcorn by Kitchen Stories. This light fresh-looking combination of mango, curly leaf lettuce, pine nuts and popcorn looks as beautiful as is appetizing. We think this could almost pass as a dessert.
9. Popcorn Salad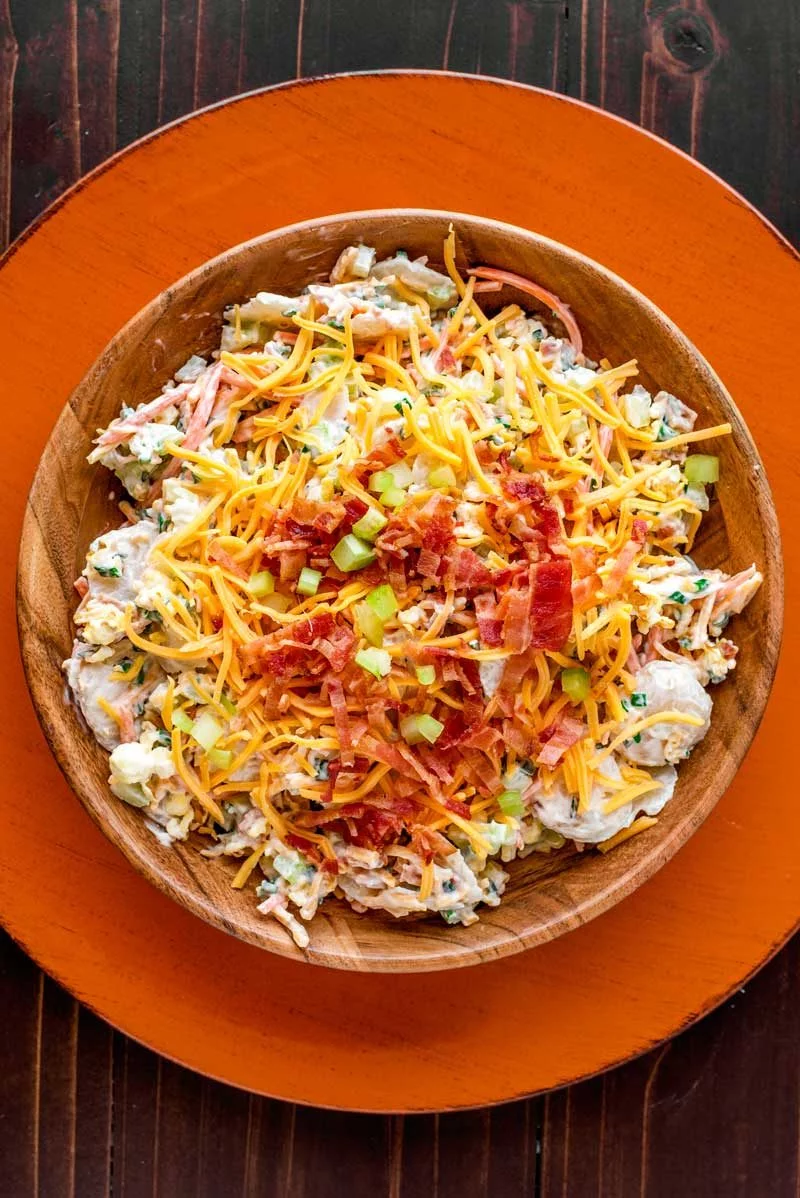 The simple classic version of Popcorn Salad by Homemade Hooplah is so inviting. Creamy with lots of flavors and textures it might just become your next favorite family meal.
10. Vegan Red Curry Popcorn with Cashews and Cabbage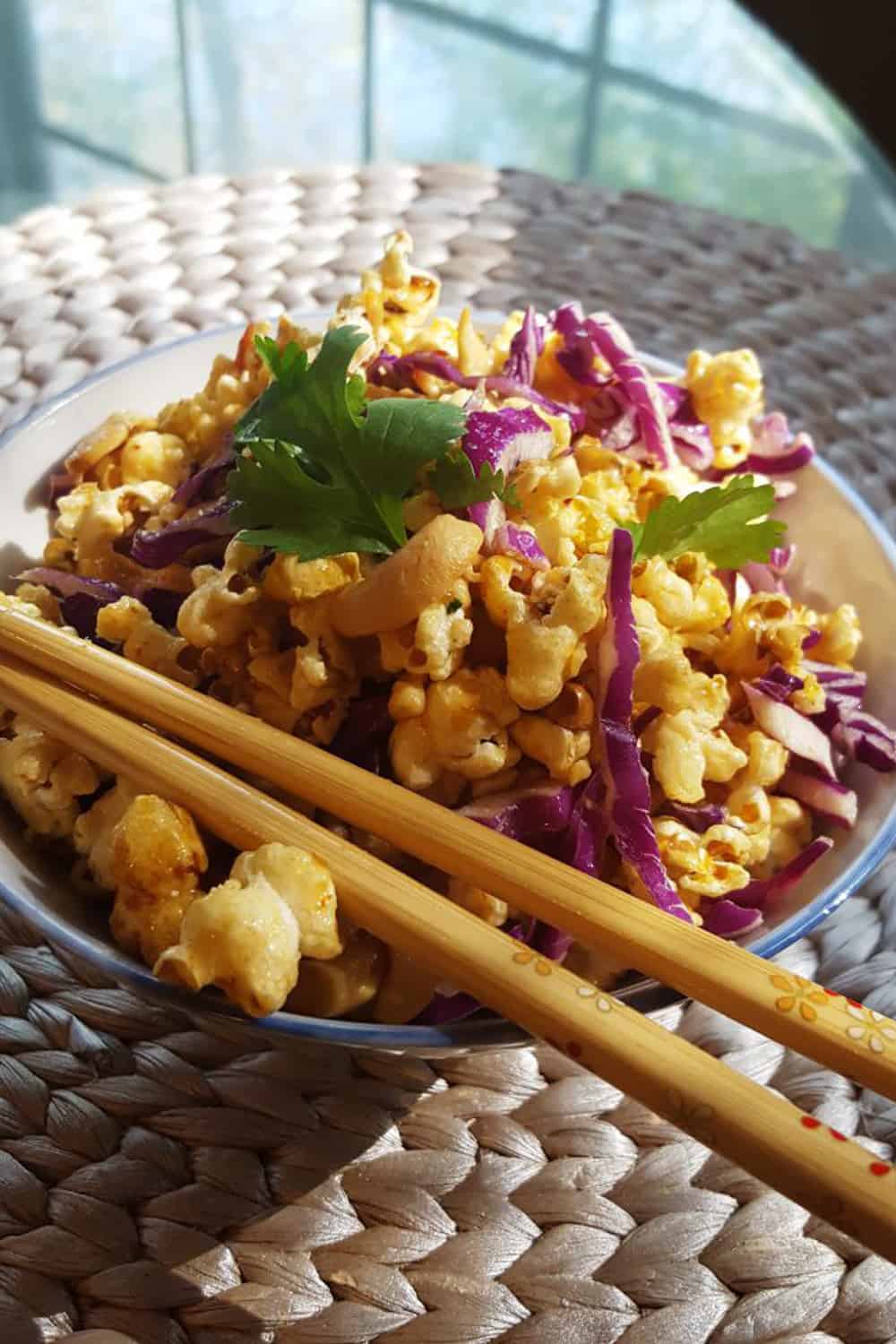 If you fancy a little Asian twist then this Vegan Red Curry Popcorn with Cashews and Cabbage by The Blooming Platter is for you. Made with shredded purple cabbage, roasted cashews, Thai red curry paste and vegan sour cream.