I decided to make homemade cranberry sauce this year after seeing Steph's delicious cranberry sauce recipe. Mentioning my adventure on Twitter, @lesliehatch gave me the fabulous idea to use pomegranate juice in place of the water.
It was delicious.
Just as delicious was the deep, gorgeous red it turned the cranberry sauce—perfect for a holiday table.
…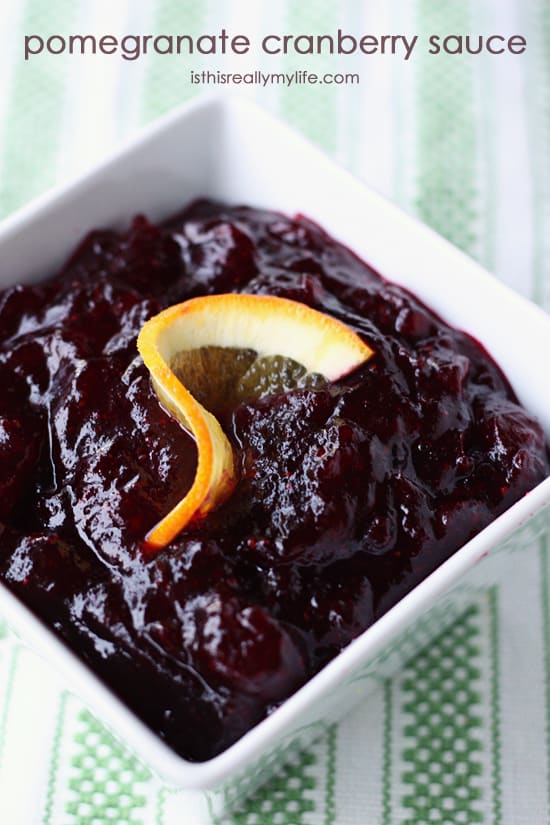 …
My pomegranate cranberry sauce was a little thick, but I chalk that up to having too many things going on at once in the kitchen. I'm sure I boiled it longer than necessary. The nice thing about cranberry sauce is you can make it a good week in advance to avoid the craziness of Christmas cooking, baking and hosting.
Printable recipe for pomegranate cranberry sauce below.
…

Pomegranate cranberry sauce
A delicious take on the typical cranberry sauce. Delicious flavor and color!
Author:
Emily ~ isthisREALLYmylife.com
Ingredients
1 cup granulated sugar
1 cup 100% pomegranate juice
1 12-ounce package fresh cranberries
1 tsp orange zest (or to taste)
Instructions
Combine sugar and pomegranate juice in a medium saucepan and bring to a boil.
Add cranberries and return to a boil.
Add orange zest; reduce heat and boil gently for 10 minutes, stirring occasionally. Cover and cool completely at room temperature.
Refrigerate until ready to serve.18
…

Feel free to "like" is this REALLY my life? on Facebook. It won't always earn you an extra entry in a giveaway but it will give you warm fuzzies.
Don't forget to sign up for free is this REALLY my life? updates via RSS or email so you don't miss a single awesome post.
…