Disclosure: This post is sponsored by FitFluential on behalf of Polar.
Last week I shared the "first" that is my first high school graduate as part of the Polar #DiscoverYourFirsts campaign. Right now we're in the middle of college and scholarship applications—I'm in a constant state of denial Madison is headed to college next year. With this imminent change, I'm holding tight to constants like my addiction to heart rate monitors like my new Polar A360.
How's that for a segue?
No really, I go through withdrawals when I don't know my heart rate during spin class or calories burned after a double workout of Pilates and Zumba. My go-to heart rate monitor used to be the Polar F6 and it looked something like this. (The calories burned are from a 90-minute endurance cycling class. I wish they were from going to lunch with friends.)
Since then I've upgraded to the Polar A360 a waterproof fitness tracker that is Polar's first wrist-based heart rate monitor. Basically that means it doesn't have a chest strap. Did you catch that? NO CHEST STRAP NEEDED.
That feature is quite possibly my favorite thing about this Polar heart rate monitor.
When it's sitting quietly on my wrist (i.e., before or after spin class), it looks something like this.
When you're about to get started with your exercise, you can choose from a range of options like group fitness class, running, swimming and cycling.
When you're in the middle of your activity, or in this case a cool-down, it looks something like this (and this photo is only one of at least three different views).
You can also see what percentage of your activity was in your various zones, or total calories burned or time you started and duration of exercise.
When you're all done, you get a nice little summary that includes details like average heart rate, highest heart rate, calories burned (my favorite) and the type of training (mine is usually tempo training in spin).
One of my favorite surprises—and I say surprises because I didn't read the manual in its entirety—was the reminder to get up and get moving after sitting too long at my desk.
Of course, I got moving into the kitchen for more Diet Coke and a fun size Twix.
The Polar A360 even has changeable wristbands. Yep, that chic little face pops right out of its silicone wristband making it easier to keep the wristband free of dried sweat and recharge the fitness tracker.
.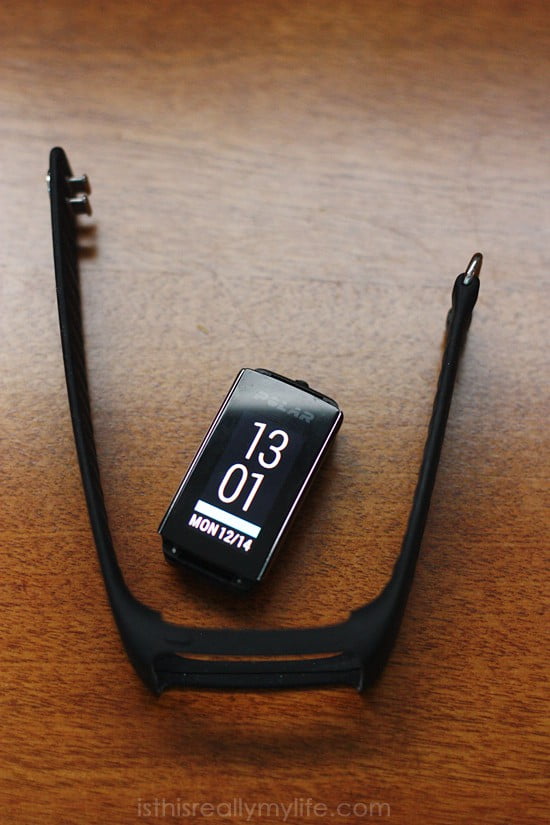 After a solid three weeks of using the Polar A360, here's what I love about this fitness tracker:
Chest strap-free heart rate monitoring (did I already mention that?)
Continuous activity tracking, which includes total steps (I love this!)
High-res color touch screen and easy navigation
Bluetooth communication with the Polar Flow app on my smartphone
Notifications when I've been inactive for too long
A higher overall calorie count after spin class (here's to hoping it's because the A360 is more accurate than the F6!)
.
And here's what I don't love:
For a secure fit and more accurate reading, the wristband needs to be fairly tight. Once in a while it got a little uncomfortable.
Sometimes there was a noticeably delayed or incorrect heart rate. I've seen it off by nearly 20 beats, but in the end it seemed to report an overall fairly accurate reading.
The display should light up when you move your wrist, but I found myself having to press the button to activate the display multiple times during class even when I moved my wrist.
The ability to get notifications for incoming calls, messages and calendar works only with iOS 8, so Android users like myself don't get to be as cool as our Apple counterparts.
.
I didn't try the sleep tracker but the Polar A360 will help you analyze the quantity and quality of sleep, though I've heard the display can be rather bright at night so you may want to wear a sleep mask.
Although the A360 is currently available in only black and white, additional colors may be available early 2016.
I'm keeping all things crossed for hot pink.
You can learn more about the Polar A360 online and check out Polar's entire line of fitness trackers and monitors. It's not too late to gift yourself one for New Year's—just in time to kick off those New Year's resolutions for better health and improved fitness!