I always wondered what kind of challenges I would face in life. It's been pretty smooth sailing overall, for which I am most grateful. But this parenting thing is kind of kicking my a** right now.
Thank heavens for family, especially a sister who has a Master of Social Work, and friends who've been there, done that.
It really does take a village.
I'm having moments where I feel a bit lost, but in those moments I try to ask myself just what it is I'm supposed to learn. Patience is definitely at the top of the list...followed closely by humility.
This thought came to mind yesterday and I had to write it down.
I may need to tattoo it on my inner arm to serve as a constant reminder there is joy to be found in the journey.
...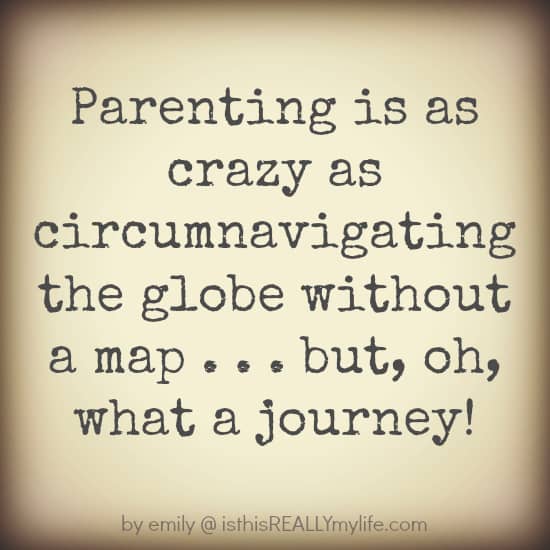 ...
Perhaps it will bring a bit of comfort to those trying to navigate the sometimes (often) tempestuous waters of parenthood.
My advice? Stock up on Dramamine and motion sickness bags.
...


Feel free to "like" is this REALLY my life? on Facebook. It won't always earn you an extra entry in a giveaway but it will give you warm fuzzies.
Don't forget to sign up for free is this REALLY my life? updates via RSS or email so you don't miss a single awesome post.
...