When I first came up with the idea for this post, I was having one of those moments where I felt like I would never measure up. Thanks to Pinterest, my kitchen cupboards would never be stylish, my recipes never photographed well enough, my home never decorated as beautifully or my projects as creative.
Who am I kidding? I don't craft…and that too was a problem.
The only subway art in my home was purchased, my mason jars didn't have handmade tags, my girls didn't have super cool ombre braided hairstyles and my family didn't have gourmet meals every night (unless you count using French bread instead of wheat bread for grilled cheese sandwiches).
…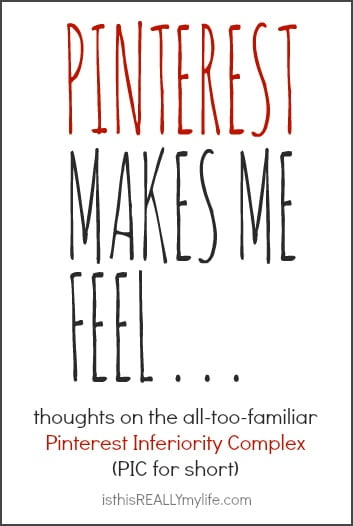 …
I was having a serious Pinterest Inferiority Complex moment, so I reached out via Facebook and Twitter to find out if Pinterest was causing anyone else to feel the same. Here are your responses when I asked you to fill in the blank.
…
Pinterest makes me feel ____________________ .
Inspired (x4)
Organized (x2)
Punchy or like I am quickly getting search results I actually want/need
Picky
Unskilled in ways I never thought possible
Jealous. Crafty.
Motivated, inspired, energetic
Inadequate (x6)
Like I have tons of options
Intimidated
Overwhelmed (x4)
Like I've been living like an animal
Relieved (because I don't have to reinvent the wheel) & grateful (that creative people share their ideas)
Angry
Is WTF a word?
Lazy
Ill
Nothing. I don't love it, but I don't hate it.
All the things. Happy. Sad. Angry. Obsessed. Lame. etc etc
Creative (x2)
Hungry and inspired to bake
Inferior
Hungry
Like Chevron print and pallets needed to go, like, the years ago
Like I can do anything!

Conflicted

Happy
Pinteresty
…
My favorite responses were "unskilled in ways I never thought possible" and "is WTF a word?"
Someone even shared this eCard:
I Skyped a friend about my predicament, and she wisely asked if I were really interested in being crafty or handy (DIY farmhouse table, anyone?) or any of these skills I envied on Pinterest. And to be honest, I'm not. I would rather spend my time cooking, baking, chatting with friends and going to lunch. So really, as usual, it was self-inflicted misery.
Since then I've become much better at not letting all I see on Pinterest make me feel less than I am.
That doesn't mean I don't envy my friends who can whip up pallet art in a half a day or create some seriously amazing, mouthwatering dishes. But the feeling doesn't last long. Life is way too short.
I'm seriously considering using Pinterest solely for research like my friend Molly. I'm sure this concept isn't new to most of you, but it is to me. There are people out there who log on to Pinterest solely to create boards for research—how to refinish a dresser, what color to paint a kitchen, which dessert to serve on Valentine's Day. Having a purpose, and then backing away when done, may be the best solution to suffering from PIC (Pinterest Inferiority Complex).
I'd love to know your thoughts about Pinterest. Do you use it and if so, what do you use it for? Have you ever experienced feelings similar to the responses above?
…


Feel free to "like" is this REALLY my life? on Facebook. It won't always earn you an extra entry in a giveaway but it will give you warm fuzzies.
Don't forget to sign up for free is this REALLY my life? updates via RSS or email so you don't miss a single awesome post.
…