I had the best Sunday morning the other day.
Madison found these lemon poppy seed pancakes from Joy the Baker and whipped up a batch for everyone.
...
...
And then she took the photos.
That kid rocks.
Maybe she's a food blogger in the making? She'll have to fit the baking and photography somewhere in between school, cello and swim team. Of course, there's always room for anything food related, don't you agree?
...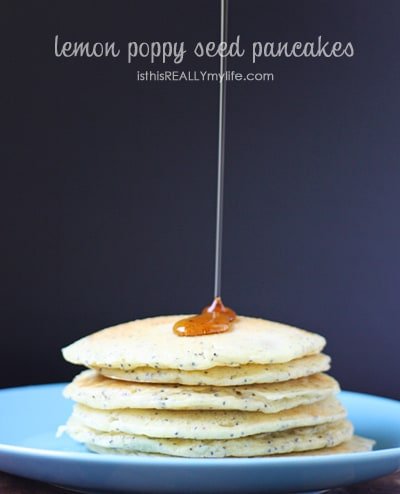 ...
Madison adapted the recipe slightly (less vanilla and lemon zest) and I thought it was perfect. Any more lemon and it would have been too lemony for my taste.
Printable recipe for lemon poppy seed pancakes below.
...

Lemon Poppy Seed Pancakes
The 16YO found these on Pinterest and whipped up a batch. She even took the photos. They were so yummy! Recipe adapted from Joy the Baker's Lemon Poppy Seed Pancakes.
Author:
Emily ~ isthisREALLYmyilfe.com
Ingredients
2 T sugar
Zest from 1 lemon
2 cups flour
2 tsp baking powder
1 tsp baking soda
1 tsp salt
2 cups buttermilk
2 large eggs
½ T vanilla extract
2 T fresh lemon juice
4 T unsalted butter, melted
2 T poppy seeds
Instructions
Combine granulated sugar and lemon zest in a small bowl, rubbing together with your fingers until sugar is fragrant.
Whisk together flour, baking powder, baking soda and salt in a large bowl. Fold in the lemon sugar.
Whisk together buttermilk, eggs, vanilla extract, lemon juice and melted butter in a separate bowl. Add wet ingredients all at once to dry ingredients. Fold in poppy seeds and stir to combine. Let batter rest for 10 minutes while.
While batter rests, preheat griddle or nonstick skillet over medium heat.
Place a griddle, or a nonstick saute pan over medium heat. Spray lightly with nonstick cooking spray. Pour about ¼ cup of batter onto griddle for each pancake. Cook until golden brown on the bottom and and bubbling on top. Flip once and cook until golden brown on each side.
Serve with butter and powdered sugar or syrup.
...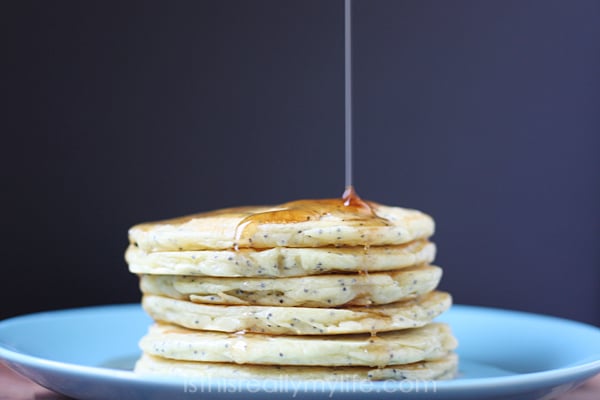 ...
Check out other breakfast recipes I've pinned by browsing my breakfast recipes board:
...
Follow Emily Hill's board breakfast recipes on Pinterest.
...
Previous pinned & prepped features:
...

Feel free to "like" is this REALLY my life? on Facebook. It won't always earn you an extra entry in a giveaway but it will give you warm fuzzies.
Don't forget to sign up for free is this REALLY my life? updates via RSS or email so you don't miss a single awesome post.
...