This week's pinned & prepped Pinterest pin (say that quickly ten times) is a batch of no bake peanut butter s'mores bars from my food board. I was dying to make a yummy dessert, so I browsed my food pins to find something for which I had all the ingredients on hand.
And who doesn't love peanut butter and chocolate? (If you don't love peanut butter and chocolate, don't tell me or we can't be friends.)
…
…
Here's my take on these s'mores bars (original recipe from The Wannabe Chef):
They're extremely decadent and delicious.
The recipe calls for 16 graham crackers. We learned this means 8 sheets (16 squares). Guess how much fun it is to double the crust when you've already put it in an 8×8-inch pan? Super fun.
I could not get the chocolate to melt to a "smooth and runny" consistency with the butter. Trust me, I tried both in the microwave and over low heat on the stove. Just look at the casualties:
…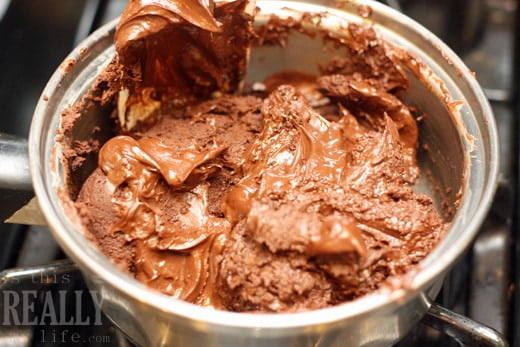 …
Yep, that chocolate seized more than once.
Also, because my chocolate never got smooth and runny (i.e., pourable), I needed twice as much to cover the peanut butter and marshmallows in the pan. My advice? Double the amount of chocolate chips and melt them without the butter. (For info on how best to melt chocolate, check out this tutorial.) Then pour what you have over your marshmallows. It should look something like this after it's set:
…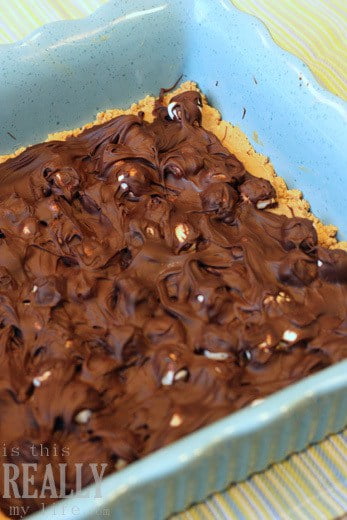 …
If it's winter and you live in northern Utah, you can place the pan on the back porch for 10 minutes to set—maybe even less—and serve no bake peanut butter s'mores bars to the family in record time (after spending hours trying to get the *@#% chocolate melted).
And they'll polish off an entire pan in one sitting. Trust me.
…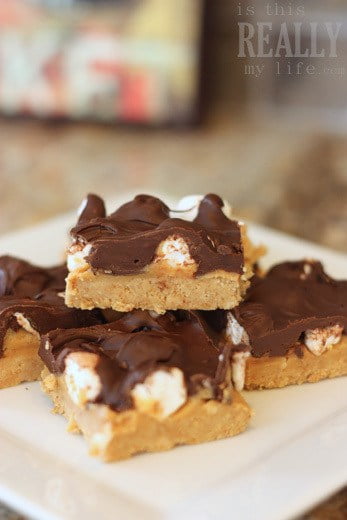 …
Ingredients you'll need for this dish:
Graham crackers
Butter
Peanut butter
Powdered sugar
Mini marshmallows
Chocolate chips
You'll also need a double batch if you want any leftovers for breakfast—I mean, dessert—the next day.
…
Previous pinned & prepped recipes:
…
Want to see what else I'm pinning other than food and crafts? Find me on Pinterest here.