This copycat Chick-fil-A nuggets and Chick-fil-A sauce recipe comes super close to the original and is super fun to serve to kids of all ages!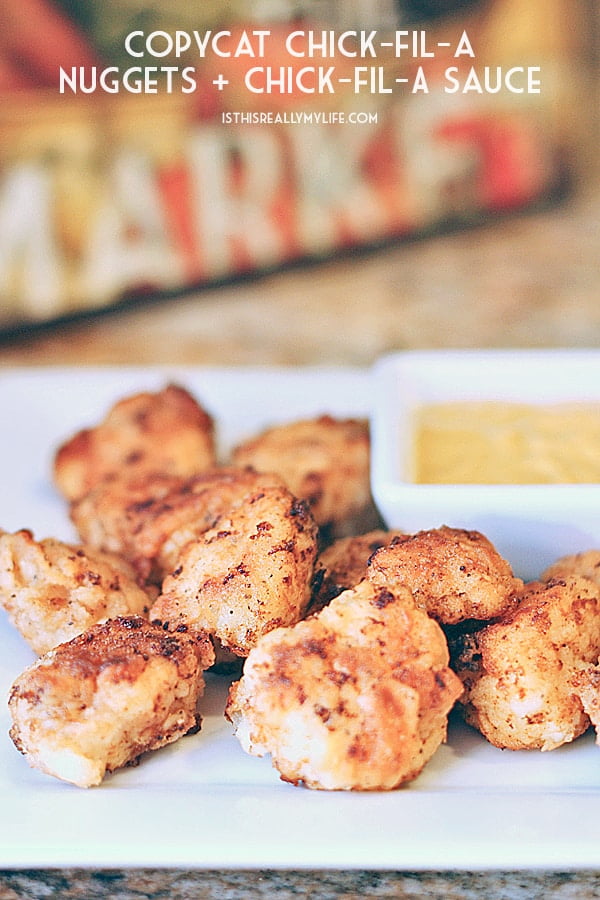 Oh, how we love Chick-fil-A. Best. Chicken. Ever. And waffle fries. And peppermint chocolate chip milkshakes, which I REALLY wish would stick around all year. (Of course, the "my pleasure" they offer while refilling my Diet Coke almost makes up for it.)
With my kids being such huge fans of Chick-fil-A nuggets, I was super excited when my friend Sari sent me the link to this copycat recipe. I immediately pinned it and couldn't wait to prep it.
One thing to note, this recipe requires marinating the chicken pieces for 2 to 4 hours, so plan ahead. But it's totally worth it. Though not as perfect as the original Chick-fil-A nuggets, this copycat recipe comes pretty darn close. We made them last night and inhaled them.
The secret is totally in the pickle juice. Who knew?
I've included a recipe for honey mustard dipping sauce—I swear I could bathe in that stuff.
Don't tell, but I may hide extra packets in my purse to use at home. Sometimes I even bring a couple with me when I eat at other fast food restaurants so I can dip my French fries in it. Of course, if you share my secret, I'll turn you in for all those extra Chick-fil-A mints you snagged during our last CFA play date. You know who you are...
But back to the Chick-fil-A Sauce recipe. If you want to make your own version at home (for dipping, not bathing), you need only two ingredients: Ken's Honey Mustard dressing (no substitutes) and BBQ sauce, smoky flavor. Serve this sauce with a side of copycat Chick-fil-A nuggets and you'll be one step closer to Mother of the Year.
And it's only March.
Printable recipe for copycat Chick-fil-A nuggets with Chick-fil-A sauce below.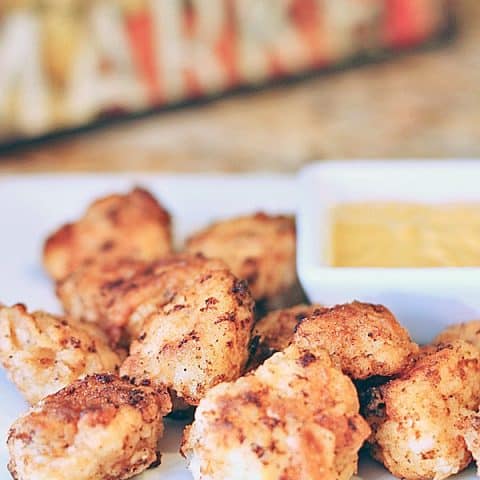 Copycat Chick-fil-A Nuggets and Chick-fil-A Sauce
Not as good as the real thing but pretty dang close. Adapted from Iowa Girl Eats.
Ingredients
Chick-fil-A nuggets
2 large chicken breasts cut into bite-sized pieces
Salt & pepper
¾ cup milk
¼ cup dill pickle juice
1 egg
1 ¼ cups flour
2 T powdered sugar
2 tsp salt
1 tsp pepper
½ cup peanut oil, divided (or canola or vegetable oil)
Chick-fil-A sauce
1 cup Ken's Honey Mustard dressing (no substitutes)
2 tsp BBQ sauce, smoky flavor
Instructions
Chick-fil-A nuggets
Season chicken with salt and pepper.
Whisk together egg, milk and pickle juice and pour into a large resealable plastic bag or bowl. Add chicken pieces and marinate in the refrigerator for 2 to 4 hours.
Combine flour, powdered sugar, salt and pepper in a large resealable bag. Shake to combine.
Remove chicken from the marinade and place in the bag. Shake to coat completely.
Heat half the oil in a large skillet over medium-high heat. Test the oil by dropping in a bit of the flour mixture. If it sizzles, it's ready. If it pops, it's too hot.
Gently place chicken pieces into the oil. Do this in two batches so you don't crowd the chicken nuggets. Cook for 3 to 4 minutes or until golden brown on one side. Turn and cook an additional 3 to 4 more minutes. Remove to a plate lined with paper towels to soak up any residual oil. Heat the remaining oil and continue with the other half of the chicken pieces.
Chick-fil-A sauce
Combine dressing and barbecue sauce. Cover and refrigerate until ready to serve.
Nutrition Information:
Yield:

20
Serving Size:

1
Amount Per Serving:
Calories:

167
Total Fat:

11g
Saturated Fat:

2g
Trans Fat:

0g
Unsaturated Fat:

9g
Cholesterol:

24mg
Sodium:

419mg
Carbohydrates:

11g
Fiber:

0g
Sugar:

4g
Protein:

5g