This is a sponsored post written by me on behalf of SOLO® Brand Products for IZEA. All opinions are 100% mine.
.
Before I share the recipe for this peppermint Oreo shake, I must proclaim my love of disposable serving pieces. But first, a photo of the most delightful frozen treat of the holiday season.
.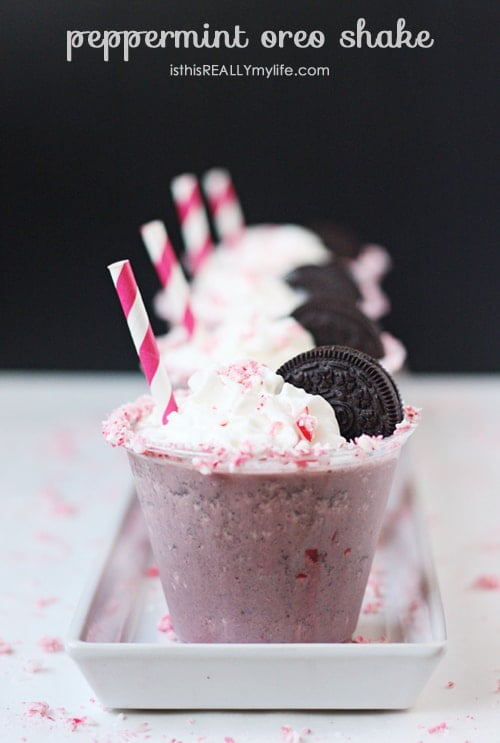 .
Can I still be considered a food blogger if I prefer using disposable plates, cups and plasticware during the holidays (and most weekends)? With all the craziness of the holidays and all the prep that goes into holiday entertaining, the last thing I want to worry about is a sink—and a kitchen and sometimes laundry room—full of dishes. It's true. We use paper plates, plastic cups and plastic forks, knives and spoons for Thanksgiving and Christmas dinners. And I love it.
Of course if you're going to go paper and plastic, make sure you go high quality like SOLO® holiday entertaining. No ond wants flimsy cups that have a 97.6 percent chance of tipping while being filled, nor do they want pansy plates that can't hold up to a single 2-pound serving of turkey with a 3-pound side of mashed potatoes. But disposable doesn't have ot mean boring. I love SOLO Squared Plastic Cups—they're easy to hold and have plenty of space for your Sharpied name. (Hands off my Diet Coke, people!) And SOLO Heavy Duty Paper Plates come in some fun holiday prints, which are perfect for your holiday cookie plates. Look how cute my magical mint cookies look amidst the green, white and red polkadots!
.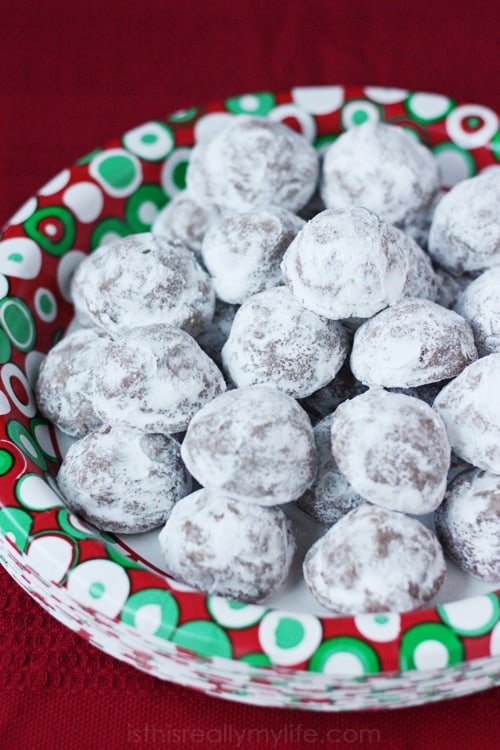 .
But let's get back to those peppermint Oreo shakes. OH. MY. GOODNESS. These were so scrumptious! It's a good thing five of us where home when I served these for family night or I'd have downed them all.
.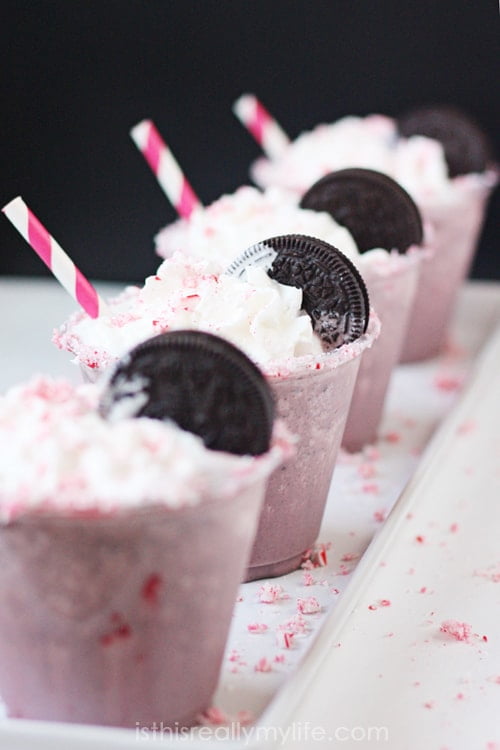 .
The SOLO Clear Pastic Cups were perfect for displaying all the pepperminty goodness and were just the right serving size. It's all about portion control during the holidays. And pretty much every day, dang it.
.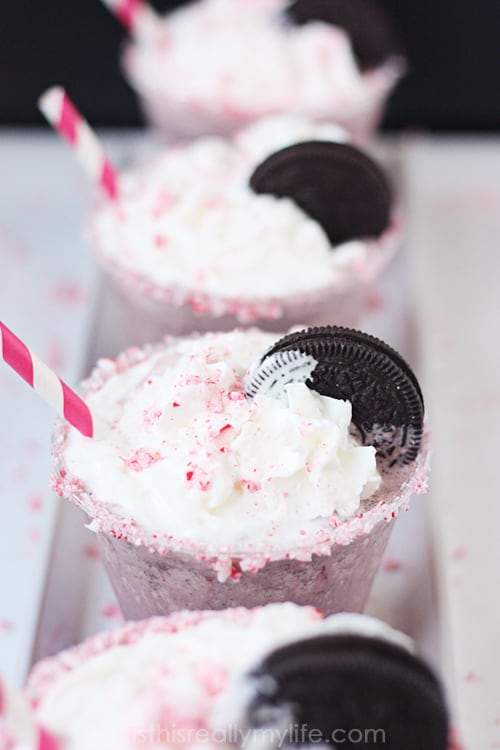 .
George was so awesome during the midday photo shoot, I had no problem letting him indulge in one of the peppermint Oreo shakes.
.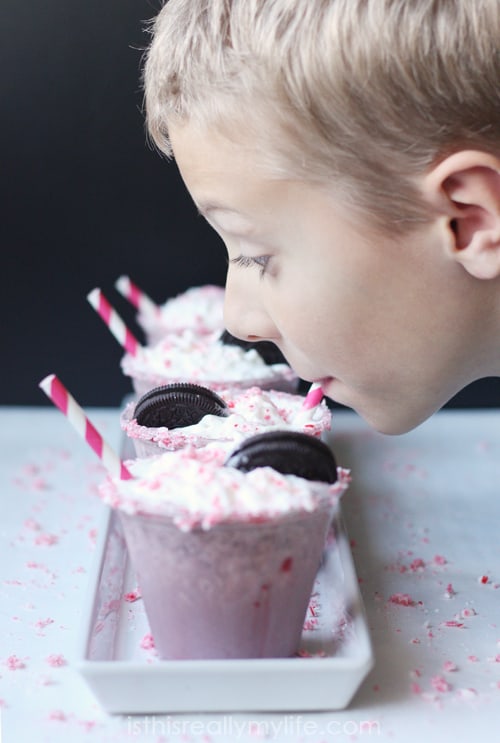 .
Of course, only George and I were home during the shoot so we had to make a second batch for the rest of the family. Not that he or I minded one bit. Livi waited patiently for her peppermint Oreo shake but only because she had those SOLO products to keep her busy…
I found those festive paper plates easily doubled as serving trays for our family night treats.
The peppermint Oreo shakes were a total hit (duh).
.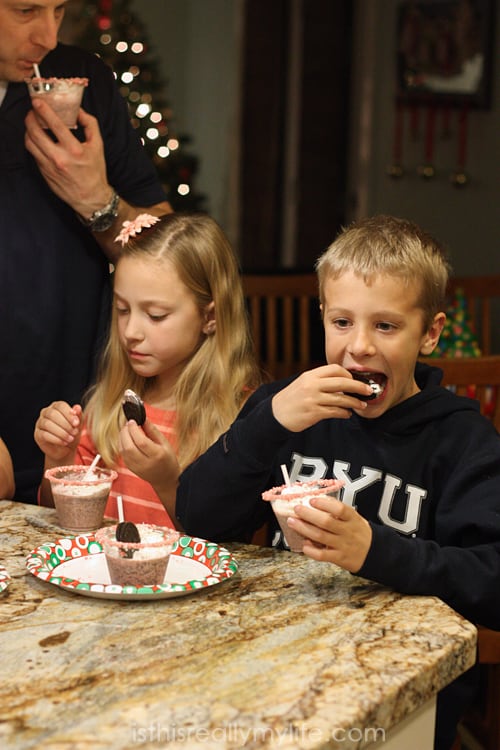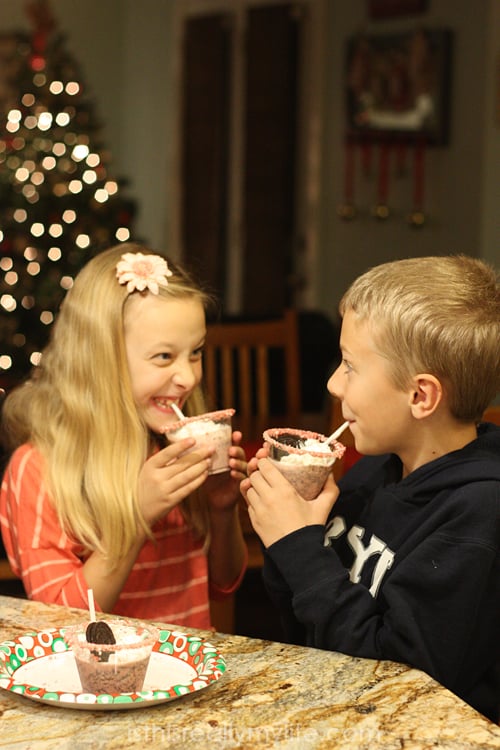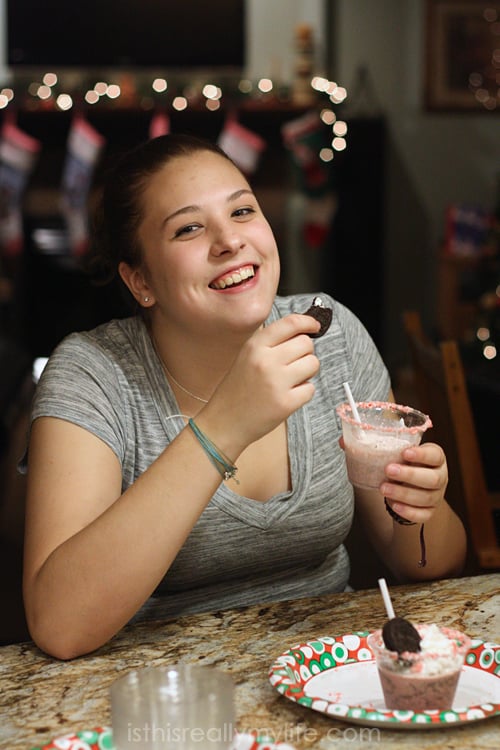 .
It's a good thing I have proof I wasn't the only one inhaling those homemade milkshakes or you might think I was the one responsible for this family night photo:
The best part? Once everyone was done it took 2 1/2 seconds to clean up (maybe even less) because everything was disposable. Pretty awesome family night if you ask me!
Your holiday nights can be just as fun with just as little cleanup if you come over to the SOLO side. I'm telling you, disposable is the only way to go November through January. It could quite possibly change your life.
Just like these peppermint Oreo shakes.
.

Peppermint Oreo Shake
The perfect combination of peppermint ice cream and Oreos makes for the perfect holiday treat. Top with whipped cream, crushed candy cane and an Oreo for added fun. If you want to make the cups a bit more festive, dip rim in simple syrup (recipe here: http://allrecipes.com/recipe/simple-syrup/) and twist in a plate filled with crushed candy canes.
Author:
Emily ~ isthisREALLYmylife.com
Ingredients
Milkshake
1 cup milk
2 to 3 scoops peppermint ice cream
8 Oreo cookies
Toppings
Whipped cream
Oreo cookies
Crushed candy can
Instructions
Place ingredients in blender in order listed.
Blend on low speed until thick and creamy.
Serve immediately topped with whipped cream, crushed candy cane and an Oreo cookie.
.
If you're a fan of holiday milkshakes, you'll love this salted caramel eggnog milkshake. For reals.
.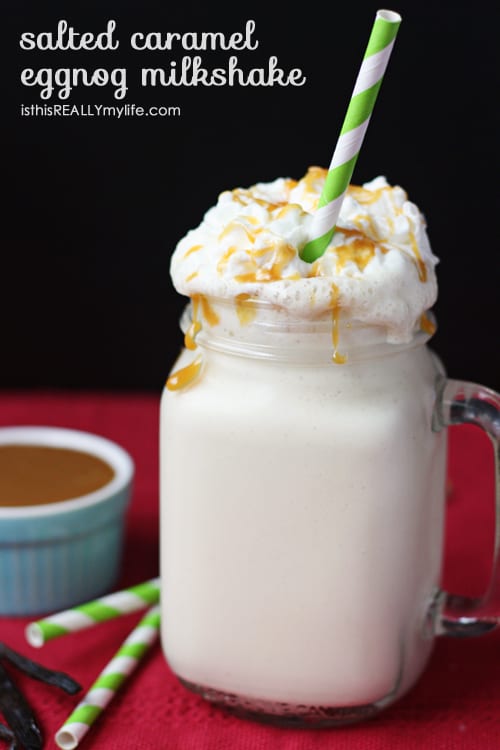 .
For more holiday inspiration, check out SOLO's Pinterest page. You'll find other inspiration there too like ideas for the perfect tailgate party, the best Super Bowl bash and even some super fun crafts.
.
.

Feel free to "like" is this REALLY my life? on Facebook. It won't always earn you an extra entry in a giveaway but it will give you warm fuzzies.
Don't forget to sign up for free is this REALLY my life? updates via RSS or email so you don't miss a single awesome post.
.