I was given a copy of Express Lane Cooking for review. All thoughts, opinions and pans of peanut butter fudge brownies are mine.
Though I'm more lifestyle than food blogger, I share enough recipes to fool my food blogging friends into thinking I'm cool enough to review and give away copies of their new cookbooks. For example, Todd Porter and Diane Cu (aka White on Rice Couple) sent me a copy of Bountiful, from which came my favorite sweet onion crack dip.
Deborah Harroun from Taste and Tell shared her Red Velvet Lover's Cookbook and Best 100 Smoothies for Kids with me, which allowed me to share these yummy red velvet oreos and pina colada smoothie with you.
It's enough to make a girl feel loved.
Today I'm super excited to give you a sneak peek of my friend Shawn Syphus' new cookbook, Express Lane Cooking by sharing her to-die-for recipe for peanut butter fudge brownies.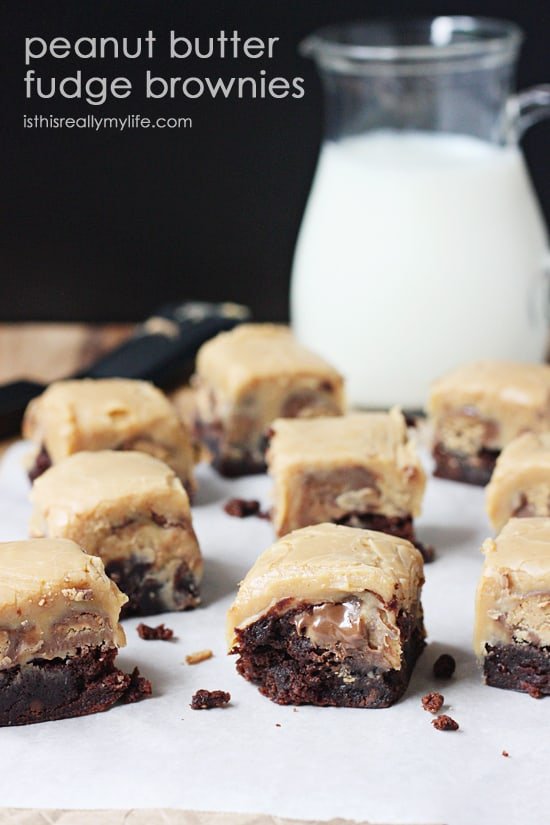 Holy crap. These babies are quite possibly the most decadent brownies I've ever tasted. That dense layer of brownie topped with all that peanut buttery goodness makes for the perfect dessert for those who claim Reese's Peanut Butter Cups as a favorite candy.
The triple chocolate chunk brownie mix I used may have helped as well.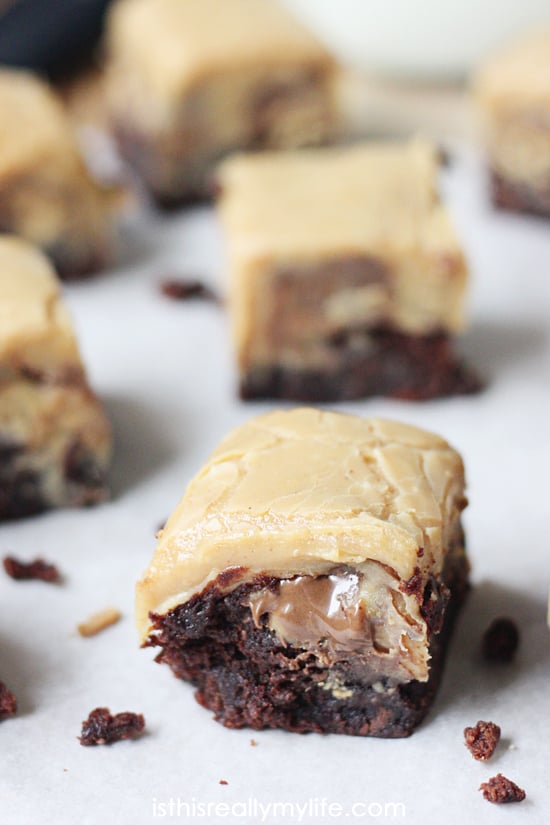 All that decadence came from only five ingredients and about 20 minutes of prep work (not including brownie baking time and cooling time). But you can bake the brownies the day before or heck, two days before, and save yourself some time the day of.
But I'm getting way ahead of myself. I've gotta tell you about where I found the recipe for these better-than-sex-cake brownies.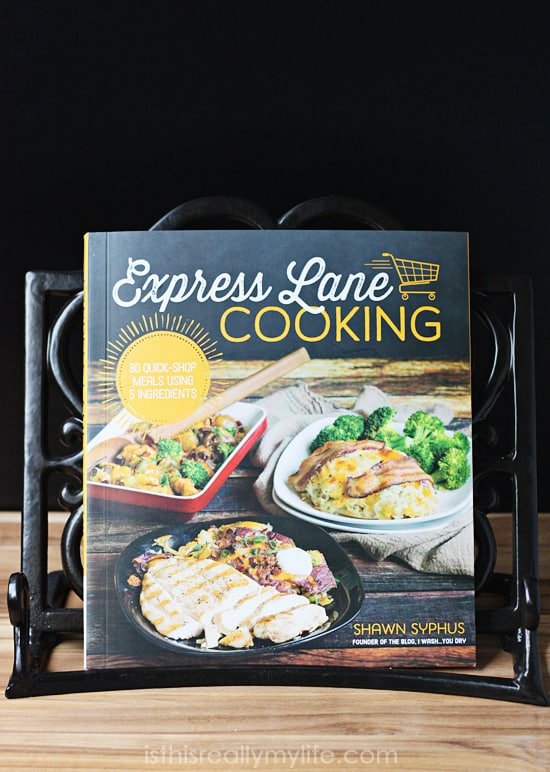 Express Lane Cooking, authored by the same amazing food blogger who makes readers drool over at I Wash...You Dry, is a cookbook for people like me who often need quick-and-easy recipes and love ingredients that can be kept on hand and used in multiple recipes.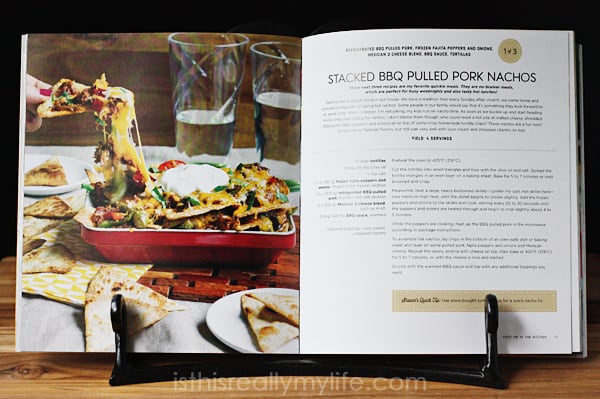 The BBQ pulled pork in the stacked BBQ pulled pork nachos above is also used in BBQ pulled pork flautas and BBQ pork tortilla pizza. It's enough to make you wish Taco Tuesday was every day (or at least Tuesday, Wednesday and Thursday).
Express Lane Cooking features over 80 quick-shop meals—in other words, you're in and out of the grocery star faster than you thought possible. To make it even easier, Shawn begins the cookbook with must-haves for your spice drawer, pantry and fridge.
You'll find plenty of dinner recipes for poultry, beef, pork and seafood plus a few meatless meals and a handful of desserts like the peanut butter fudge brownies you've been drooling over since you started reading this post.
And with that, let's get you that recipe and a chance to win a copy of Express Lane Cooking!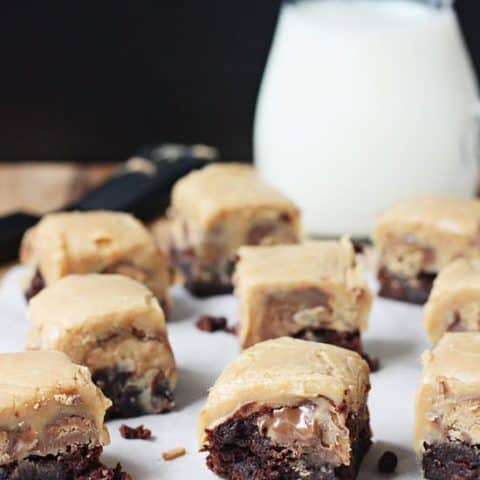 Peanut Butter Fudge Brownies
These peanut butter fudge brownies featured in Express Lane Cooking may be the most decadent brownies I've ever tasted. And they're easy to make too!
Ingredients
1 (18.5-oz) box brownie mix + ingredients need to prepare brownies
2 cups mini chocolate peanut butter cups, halved
2 cups peanut butter chips
1 (14-oz) can sweetened condensed milk
1 tsp vanilla extract
Instructions
Prepare brownies according to package instructions using an 8x8-inch pan lined with parchment paper. Allow to cool completely.
Top brownies with halved mini chocolate peanut butter cups.
Prepare peanut butter fudge by bringing a small pot filled with 2 inches of water to a boil on the stovetop. Find a metal or glass bowl that can easily rest on top of the pot without touching the water.
Add peanut butter chips, sweetened condensed milk and vanilla to the bowl. Stir constantly over boiling water until smooth.
Pour peanut butter fudge over brownies in an even layer. Let cool for at least 2 to 3 hours before slicing.
Nutrition Information:
Yield:

16
Serving Size:

1
Amount Per Serving:
Calories:

325
Total Fat:

20g
Saturated Fat:

6g
Trans Fat:

0g
Unsaturated Fat:

12g
Cholesterol:

3mg
Sodium:

189mg
Carbohydrates:

28g
Fiber:

3g
Sugar:

17g
Protein:

10g