Dude. I may have stumbled across the best cream puff recipe of all time. These peanut butter cup cream puffs feature the perfect cream puff (aka Pâte à Choux) filled with the perfect peanut butter cream topped with the perfect combination of semisweet chocolate, peanuts and peanut butter cups. It's basically perfection in finger-friendly dessert.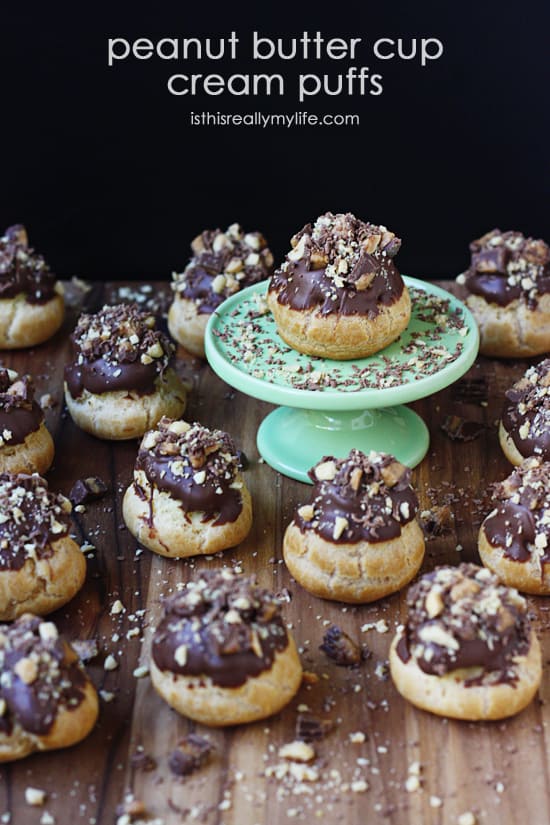 The original recipe for these peanut butter cup cream puffs came from my friend Barabara's new book, Simply Sweet Dream Puffs.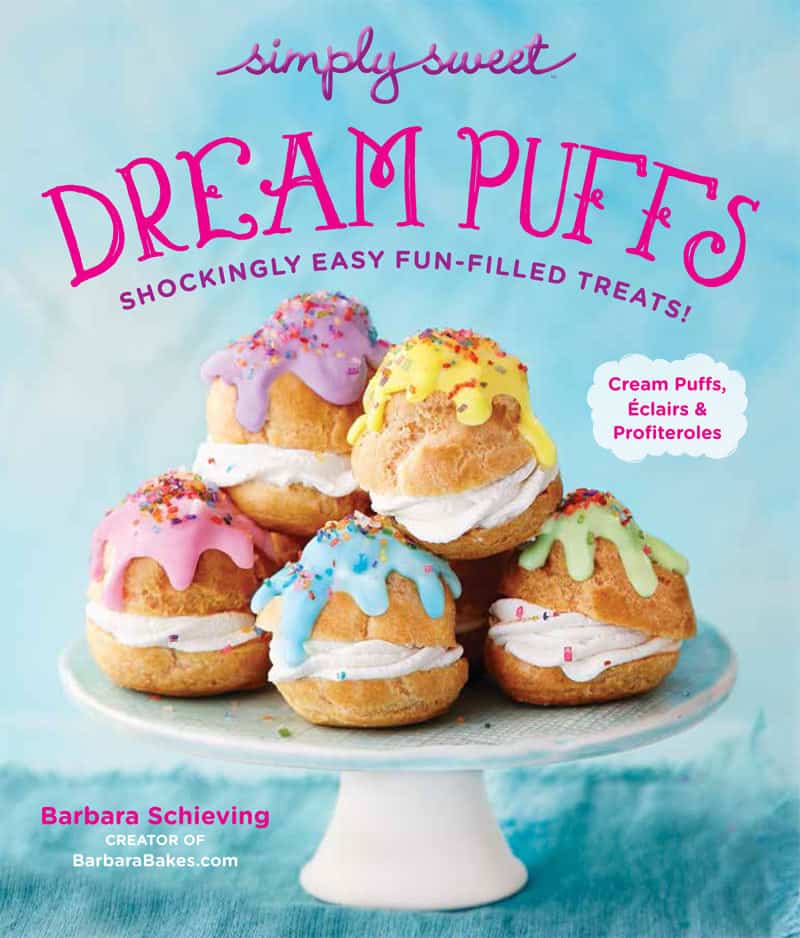 I'm going to be totally honest—before creating these peanut buttery masterpieces, the closest I'd come to making cream puffs was defrosting ones I purchased from Costco. Never again. I have been converted to the art (fortunately a very easy art) of homemade cream puffs and I'll never go back to frozen again.
Unless I need more than, say, 50 cream puffs and Barbara isn't available to help.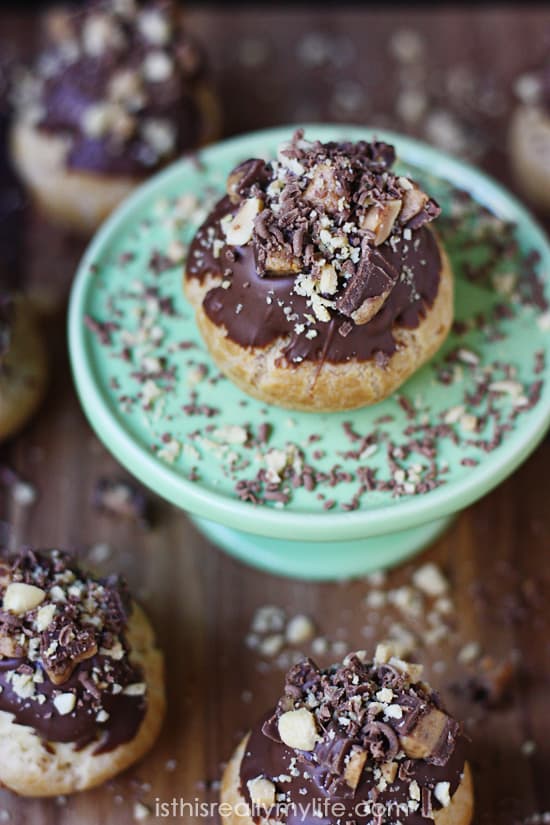 My favorite thing about Simply Sweet Dream Puffs is how beginner-friendly it is. With step-by-step instructions complete with photos and a mouthwatering assortment of recipes, from red velvet Pâte à Choux dough to rocky road profiteroles. In fact, Barbara has shared her awesome cream puffs tutorial on her blog, Barbara Bakes. It has all the photos and instructions plus a video so even the most beginner of beginners (me) can turn out a batch of beautiful cream puffs.
Okay, some of my cream puffs aren't as outwardly beautiful as Barbara's but they are chock full of inner beauty. And deliciousness.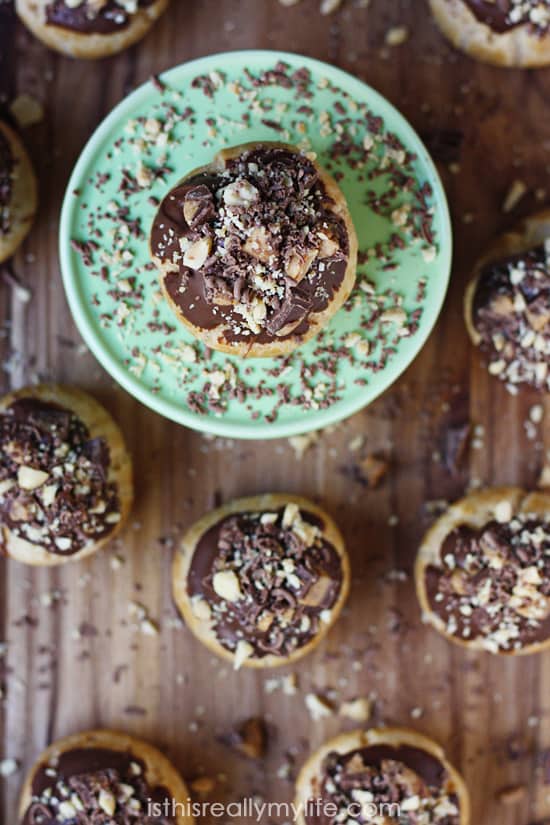 Just look at some of the recipes you'll find inside the pages of Simply Sweet Dream Puffs.
Coconut Almond Cream Puffs | Vanilla Bean Profiteroles | Strawberry Cheesecake Eclairs
Don't let those fancy photos fool you; you could totally make any of those recipes. (You can also make chocolate curls thanks to a super amateur video I made over 5 years ago.) All you have to do is get past that initial cream puff fear like I did. Once you have a batch of basic Pâte à Choux dough puffing in the oven, you'll feel like you can bake almost anything.
I "almost" because baking and assembling a croquembouche with all those cream puffs and all that spun sugar still gives me anxiety.
These peanut butter cup cream puffs were a huge hit with the family and friends lucky enough to stop by after they were photographed. I had so much fun making them, they may need to become a tradition. I'm thinking every Sunday for dessert.
Right now Simply Sweet Dream Puffs is available only as an eBook on Amazon, but if there's enough interest, you might be able to get it in paperback. I say get both so you have one on your tablet (handy while baking) and one on your kitchen counter (handy for making your kitchen look good).
Printable recipe for peanut butter cup cream puffs below. Enjoy!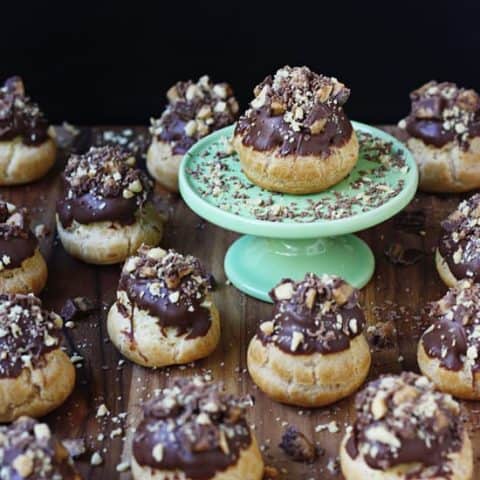 Peanut Butter Cup Cream Puffs
Total Time:
1 hour
15 minutes
You'll be surprised how easy it is to make cream puffs and then turn them into delicious peanut butter cup cream puffs. Adapted from an original recipe in the Simply Sweet Dream Puffs cookbook.
Ingredients
Cream Puff Shells
¾ cup all-purpose flour
6 T unsalted butter, cut into 6 pieces
1 teaspoon sugar
¼ teaspoon salt
3 large eggs, room temperature
Filling & Toppings
¾ cup heavy cream
½ cup sugar
4 oz cream cheese, softened
½ cup creamy peanut butter
1 teaspoon vanilla
8 oz semisweet chocolate chips (or chopped milk chocolate)
1 T shortening
Finely chopped peanuts
Chopped peanut butter cups
Chocolate curls
Instructions
Cream Puff Shells
Preheat oven to 425. Lightly grease baking sheets or line with parchment paper. Measure flour and set aside.
Bring butter, sugar, salt and ¾ cup water to a boil in a medium saucepan over medium-high heat, stirring occasionally. Immediately remove from heat, and quickly stir in flour mixture all at once.
Return to heat and stir with a wooden spoon for 1 to 2 minutes or until dough is smooth and forms a ball. Transfer dough to the bowl of an electric mixer, and let cool 5 minutes.
Add 3 eggs, one at a time, beating until mixture is smooth and glossy. Spoon dough into a pastry bag fitted with a ⅝-inch plain tip. Pipe dough onto prepared pans into 1 ½-inch rounds (1 ½ inches high). Smooth out peaks and round tops with a moistened finger.
Bake for 5 minutes; reduce oven temperature to 375 and bake 30 minutes or until puffy and golden brown. Turn oven off; let shells stand in closed oven 10 minutes. Remove from baking sheets to wire racks and cool completely.
Filling & Toppings
Place cream in a large bowl and beat at medium-high speed with an electric mixer until stiff peaks form. Set aside.
Combine sugar, cream cheese, peanut butter and vanilla in a separate bowl. Beat until smooth.
Stir ½ cup whipped cream into sugar mixture. Fold in remaining whipped cream.
Spoon whipped cream mixture into a pastry bag fitted with a small round tip. Pierce the top of each cream puff with the tip of a knife to create a small hole. Insert the pastry tip and fill with whipped cream. Chill 30 minutes.
Combine chocolate chips and shortening in a small microwaveable bowl. Microwave on high 30 seconds; stir. If chocolate chips aren't completely melted, microwave an additional 10 seconds.
Dip tops of each cream puff in melted chocolate. Sprinkle with peanuts, chopped peanut butter cups and chocolate curls. Chill until ready to serve.
Notes
For a step-by-step guide (photos and video) on how to make cream puffs, visit http://www.barbarabakes.com/how-to-make-cream-puffs-video-and-easy-step-by-step-photos-and-instructions/.
Nutrition Information:
Yield:

16
Serving Size:

1
Amount Per Serving:
Calories:

292
Total Fat:

21g
Saturated Fat:

11g
Trans Fat:

0g
Unsaturated Fat:

9g
Cholesterol:

67mg
Sodium:

120mg
Carbohydrates:

24g
Fiber:

2g
Sugar:

16g
Protein:

5g