Madison and her friend Olivia thought it would be super awesome to make these Reese's-inspired peanut butter bars because they're super easy and require only a few ingredients.
.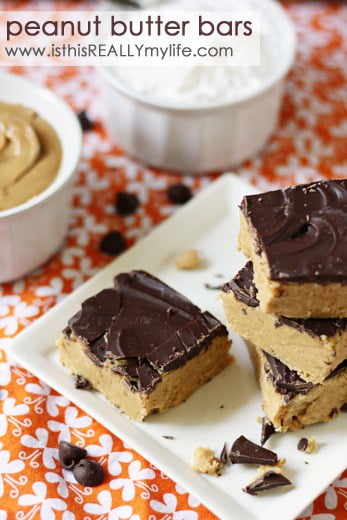 .
The idea was awesome, all right, if awesome means wanting to eat the entire pan all by myself. And I could do it too. Fortunately they were a hit with everyone and disappeared quickly, otherwise today's recipe would be followed by a post about the latest and greatest grapefruit diet.
Printable recipe for peanut butter bars below.
Just make sure you make them when you have a full house. Your hips will thank you.
…

Peanut butter bars
These are so easy and require so few ingredients you'll want to make them weekly. But I highly recommend you don't, especially during swimsuit season.
Author:
Emily ~ isthisREALLYmylife.com
Ingredients
1 cup unsalted butter, softened
1 lb confectioners' sugar
1 cup all-natural peanut butter
10-12 graham cracker sheets (20-24 squares), finely crushed
1 (16-oz.) bag semisweet chocolate chips
Instructions
Line a 9x13-inch pan with parchment paper.
Mix butter, sugar, peanut butter and graham crackers together in large bowl. Press into the bottom of the 9x13-inch pan. Place in the freezer for 10 minutes or until peanut butter is set..
Place chocolate chips in a microwaveable bowl. Melt for 1 minute on half (50%) power. Stir. Melt in additional 30 second increments (half power) until smooth.
Remove pan from freezer and spread melted chocolate over peanut butter mixture. Return to freezer for an additional 20 minutes.
Remove from freezer 5 minutes before serving (makes it easier to cut into squares).
Refrigerate any leftovers (if you have them!).
…

Feel free to "like" is this REALLY my life? on Facebook. It won't always earn you an extra entry in a giveaway but it will give you warm fuzzies.
Don't forget to sign up for free is this REALLY my life? updates via RSS or email so you don't miss a single awesome post.
…