To be honest, before our September trip to Las Vegas I could never understand why people loved vacationing there. Nathan and I had visited for a weekend as a last-chance getaway before Olivia was born. We did a little sightseeing, a little shopping and threw in Cirque du Soleil's KA for good measure. It was a nice getaway but I didn't love the place.
Then we visited Las Vegas with Kevin and Molly (yes, that same Molly who rocks family photo outfits) who are Las Vegas vacationing experts and it we were singing an entirely different song when we returned home. I think it's more fun to travel with friends, especially friends that make you laugh so hard you have to catch your breath.
Our first stop was the perfect start to the Vegas vacay: Pawn Stars, a TV favorite of Lauren and a total tourist stop.
…
That would be Molly pointing to the "As Seen on TV" sign. Gosh, I love her.
…
I loved every moment of it. My two favorite items in the store were the historic cannon I actually saw featured in a past episode of the show and this super fabulous bejeweled peacock ring. It was only a few thousand dollars, so I'm hoping Nathan will buy it for me for Christmas.
…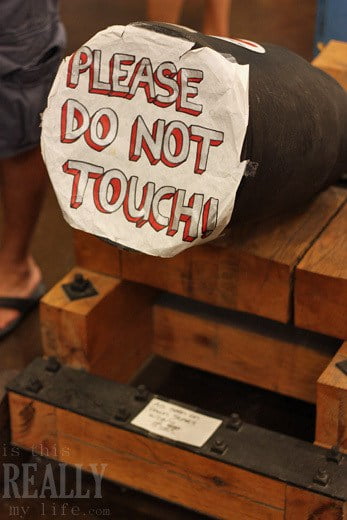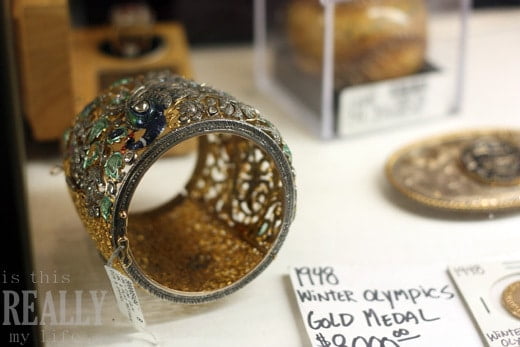 …
After doing the touristy thing we headed to the north-end outlets. I was in heaven; unfortunately I was also with Nathan so I mainly viewed heaven via the storefronts…until we walked into the Coach outlet.
Everything was on sale plus an additional 30% off your entire purchase. While I have never spent more than about $50 on a handbag, I've always wanted to hold a Coach bag tight to my body…and my dream came true. Part sale, part guilt over throwing me a lame birthday party (I didn't even get a cake), Nathan bought me my very first Coach bag. And it is a thing of beauty.
 Pretend this is a photo of a gorgeous Coach bag in a yummy raspberry color with matching top-stitched Coach logo. It also has a cool center pocket with metal toggle clasp. Delicious.
I might have also snagged a gorgeous teal dress at Ann Taylor for under $30 and a super fun pair of kitten heels at Aerosoles for dirt cheap. It was a good shopping day.
Another improvement on our last visit was the hotel. Previously, the hotel was a bit sketchy and quite a distance from the strip. This time we enjoyed a stay on the 30th-something floor of the Marriott Grand Chateau complete with homemade breakfast—courtesy of the local Albertson's, Kevin and a mini kitchen—both mornings we were there. (I find food always tastes better when someone else prepares it.) Staying at the Marriott Grand Chateau had me thinking we might need to invest in a Marriott timeshare…or continue to travel with Kevin and Molly.
Of course we couldn't leave Las Vegas without walking around the fancy malls…
…
…
…and eating some decadent goodies.
…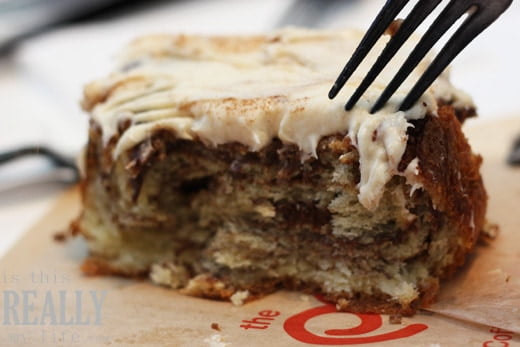 …
And I couldn't resist snapping a photo of this cool stack of sugar cones. Hi, Wolfgang!
…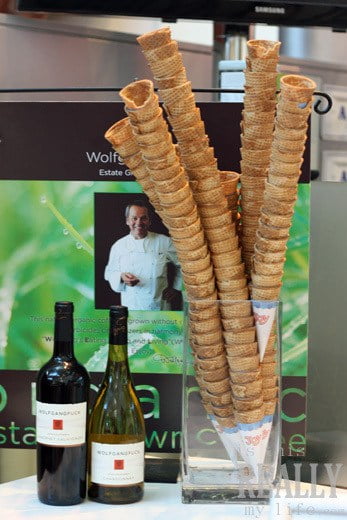 And a must for every Las Vegas trip? A Cirque du Soleil show. Nathan and I saw Dralion over 10 years ago and were hooked. (The VIP passes I splurged on for Nathan's birthday might have helped the experience, but I'm nice like that.) During our previous visit to Vegas we bought tickets to KA, a show Nathan absolutely loved due to the phenomenal stage engineering.
This time we saw Mystère at Treasure Island and it did not disappoint. (Neither did Pizzeria Francesco's located across from the theater. Super affordable and delicious!)
…


…
The show was the typically awesomeness of any Cirque show: amazing acrobatics, gorgeous dancers, unbelievable costumes and some great humor. Speaking of great humor, Nathan learned the hard way you shouldn't hand your tickets to the Cirque clown when walking into the theater. It makes for a very large, uncomfortable spotlight and some awkward moments. On the other hand, it does make for better seats!
Out of the three Cirque du Soleil shows I've seen, I'd say Dralion was my favorite (maybe it was those VIP tickets) with Mystère a close second. KA didn't do it for me like it did Nathan, but it was cool. Next time we need to get tickets to O. Can't wait!
…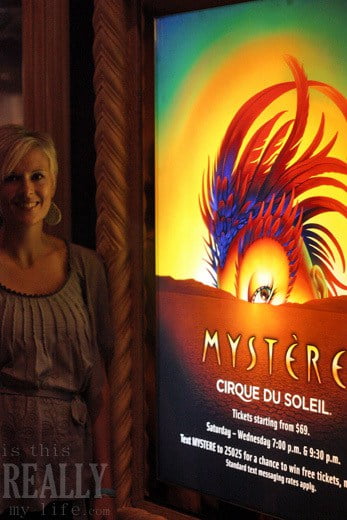 …
The weekend getaway to Las Vegas ended all too soon. And for once, I can't wait to go back!
VIVA LAS VEGAS!