Though I am a self-declared non-crafter, I am on the very slow road (or is it a slow boat?) to craftiness. Or creativeness. Or some sort of right-brained-edness. The blinged-out flower hair clips I made for Livi's birthday party got me thinking I might not be totally hopeless. Being part of the Rhonna DESIGNS cReative team has inspiration slowly seeping into my soul. It's kind of a good feeling.
Where am I going with all of this? Heck if I know. I did have a point, I'm sure of it. But I lost it when the last drop of caffeine left my bloodstream. Give me a sec….
Wait! Now I remember!
I actually have proof I'm not totally hopeless when it comes to creativity. (Proof other than the cell phone charms I always mention because those are the only crafts on my site.)
I make awesome patches. The end.
Okay, it's not really the end.
No matter the jeans, at some point George will wear a hole in the left knee. Depending on the brand, it could be sooner or later, but it will happen.
…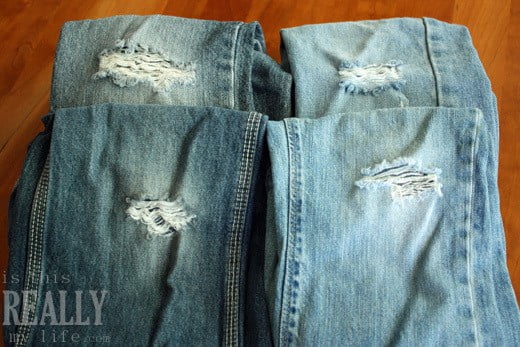 …
Tired of buying new jeans for that boy, I decided to patch those dang holes. I made a trip to Jo~Anns but the pre-made, heavy duty patches were lame. And I mean lame. That's when I decided to create my own super cool patches—patches so cool, George couldn't wait to wear a hole in his jeans. (Wait. Maybe I better not make them that cool…)
To make the patches, I found some Heat'n Bond UltraHold and a heavier twill fabric in a camo pattern.
…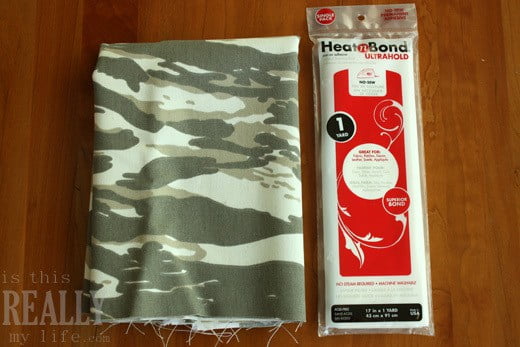 …
I washed and dried the camo fabric and then trimmed a six inch-wide section so I would have enough fabric to patch George's jeans and a pair of Madison's denim shorts. (She had worn holes in the inner thigh.) I also trimmed off the frayed edges on the top and bottom of the fabric. (I'm sure there's a technical name for those edges but it escapes me at this late hour.)
…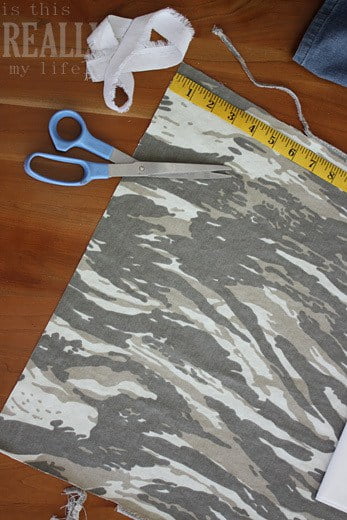 …
I then trimmed a similar size piece of the UltraHold Heat'n Bond.
…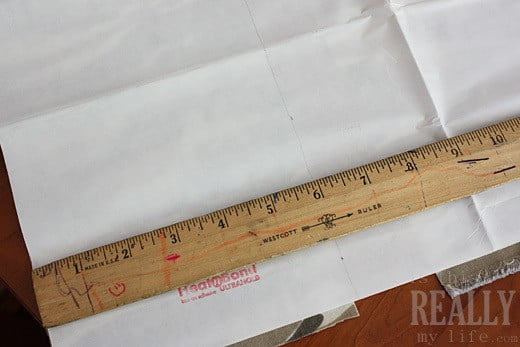 …
I followed the directions and placed the adhesive side of the Heat'n Bond (paper liner side up) on the back of the fabric and ironed it on using medium heat. It only took a couple seconds to bond it to the fabric. I trimmed any excess Heat'n Bond and fabric.
…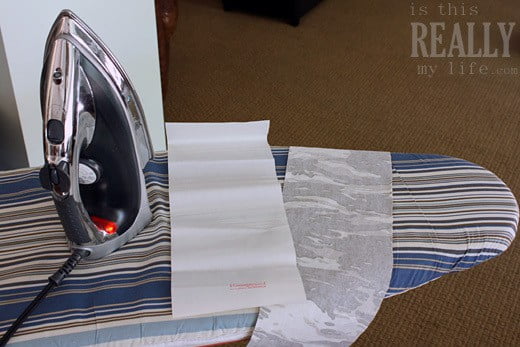 …
Next, I cut a patch large enough to fit over the hold in Madison's denim shorts. I peeled off the paper liner…
…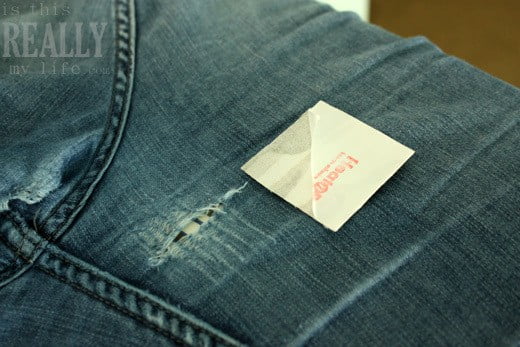 …
…and placed the patch adhesive-side down. I then ironed it for about 10 seconds using the same medium setting. Here's what it looked like after I did the same thing on a pair of George's jeans I plan to hand down to a friend:
…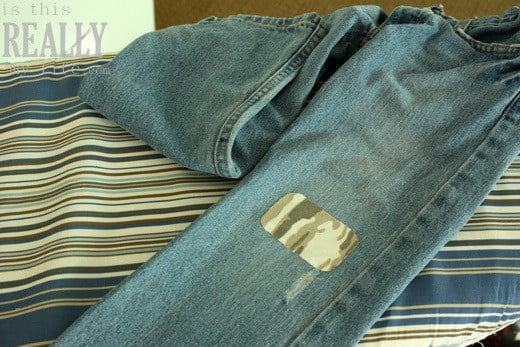 …
Now here's where I got a little creative. Finding a rounded rectangle to be a bit boring, I opted for something cooler—or should I say, "hotter":
…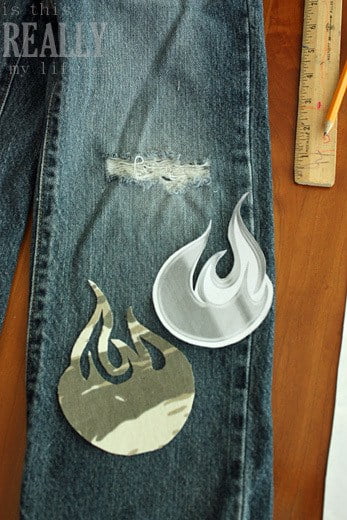 …
Yes, that's clip art of a flame I found online (source here). I traced the design onto the Heat'n Bond and altered it a bit so it would work as a patch. I needed it to cover the entire hole and I didn't want it in separate pieces.
I trimmed the Heat'n Bond and then slapped that baby over the hole (left knee, of course) in George's jeans. I was pleased as punch with how they turned out!
…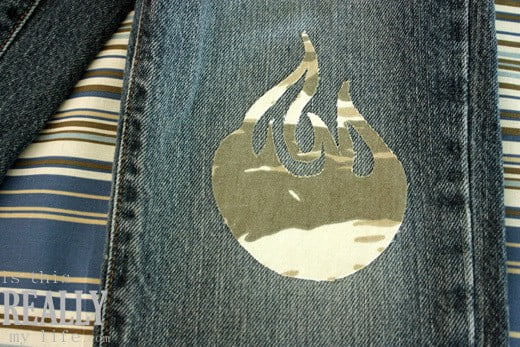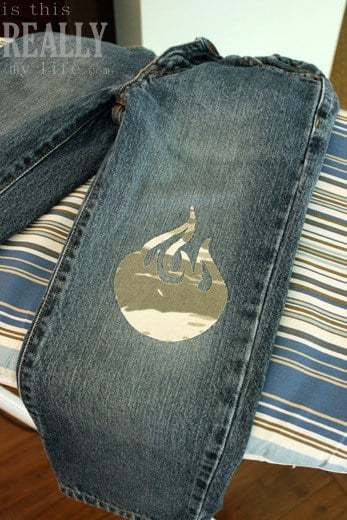 …
Not bad for another step on the road to (creative) recovery.Now I can add "mad patching skills" to the list…I think I'll put it right under "mad shoe buying skills."
Note: The patches I placed over the holes on Madison's denim shorts didn't last long. I'm thinking it has to do with two things: her seriously strong legs due to being an awesome swimmer, and two, the abuse that area gets with all the walking she does up and down three flights of stairs at school.