Get inspired with our collection of 27 divine passion fruit recipes. This delicious exotic and tangy citrus fruit is well worth your attention.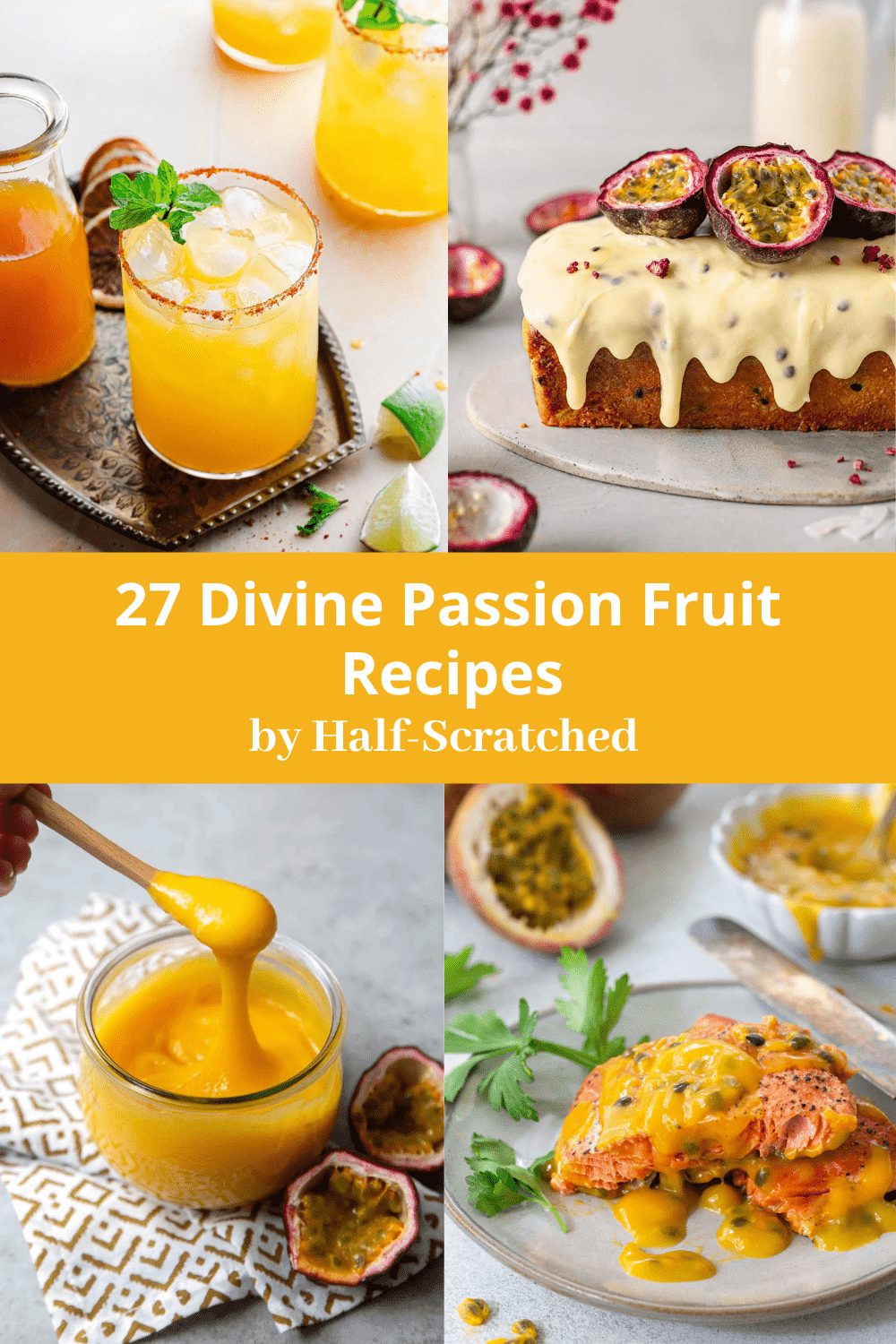 Passion fruit is a nutritious tropical fruit with a tangy taste rich in antioxidants and vitamins. It is widely available and found in your local supermarket amongst other tropical fruits.
Passion fruit is ripe and ready to eat when the outside skin is wrinkled. Once ripe, cut the passion fruit in half and use a spoon to scoop out the pulp and seeds from the rind. Both the pulp and seeds are edible.
Passion fruit is delicious eaten on its own or used to make tropic inspired drinks, desserts, jams, curds and salad dressings. Scroll down and get cooking with our 27 divine passion fruit recipes round-up.
1. Passion Fruit Iced Tea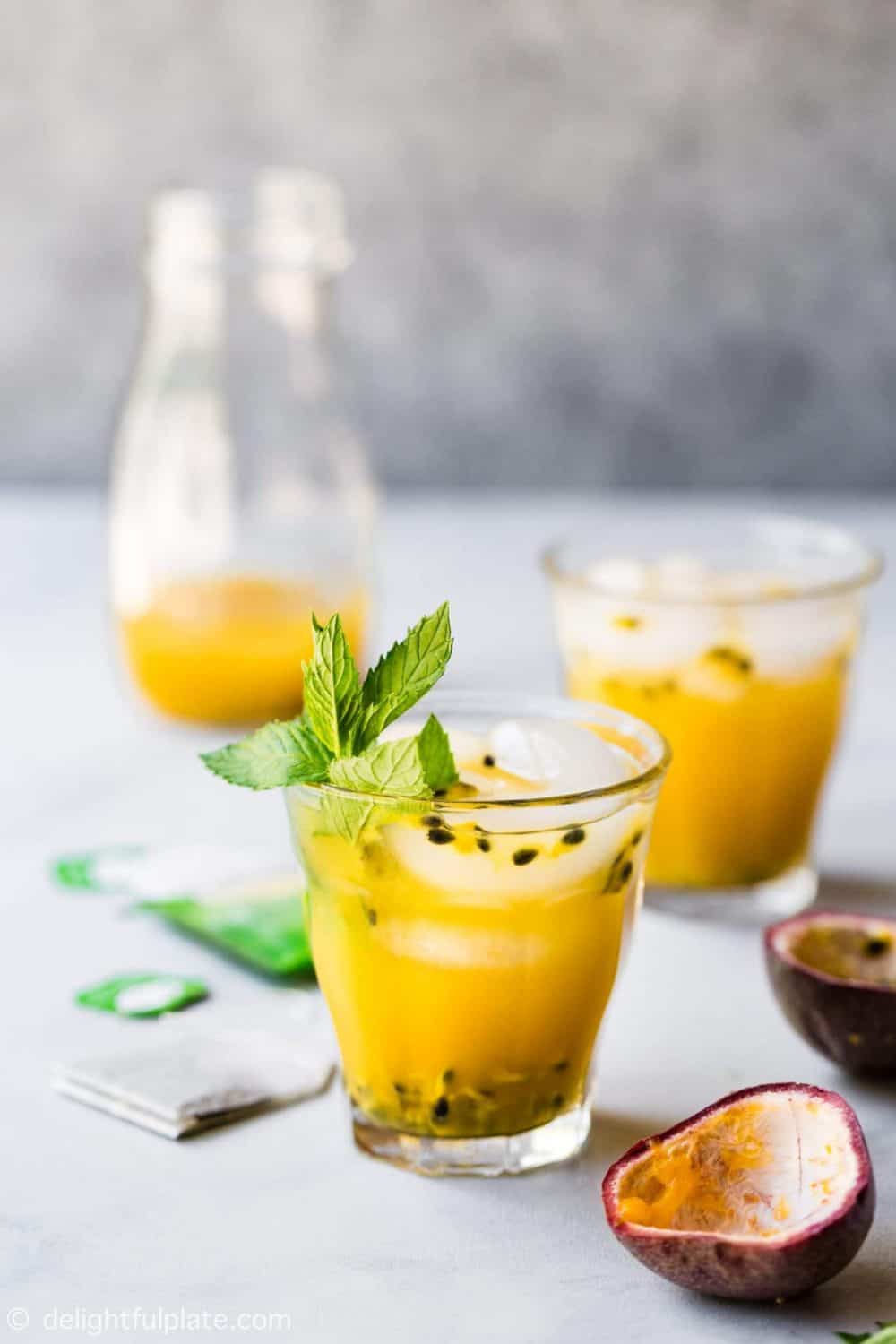 Cool down with this aromatic refreshing Passion Fruit Iced Tea by Delightful Plate. This thirst-quenching summer iced tea is made with green tea, passion fruit and sweetened with honey.
2. Passion Fruit Porridge with Coconut and Orange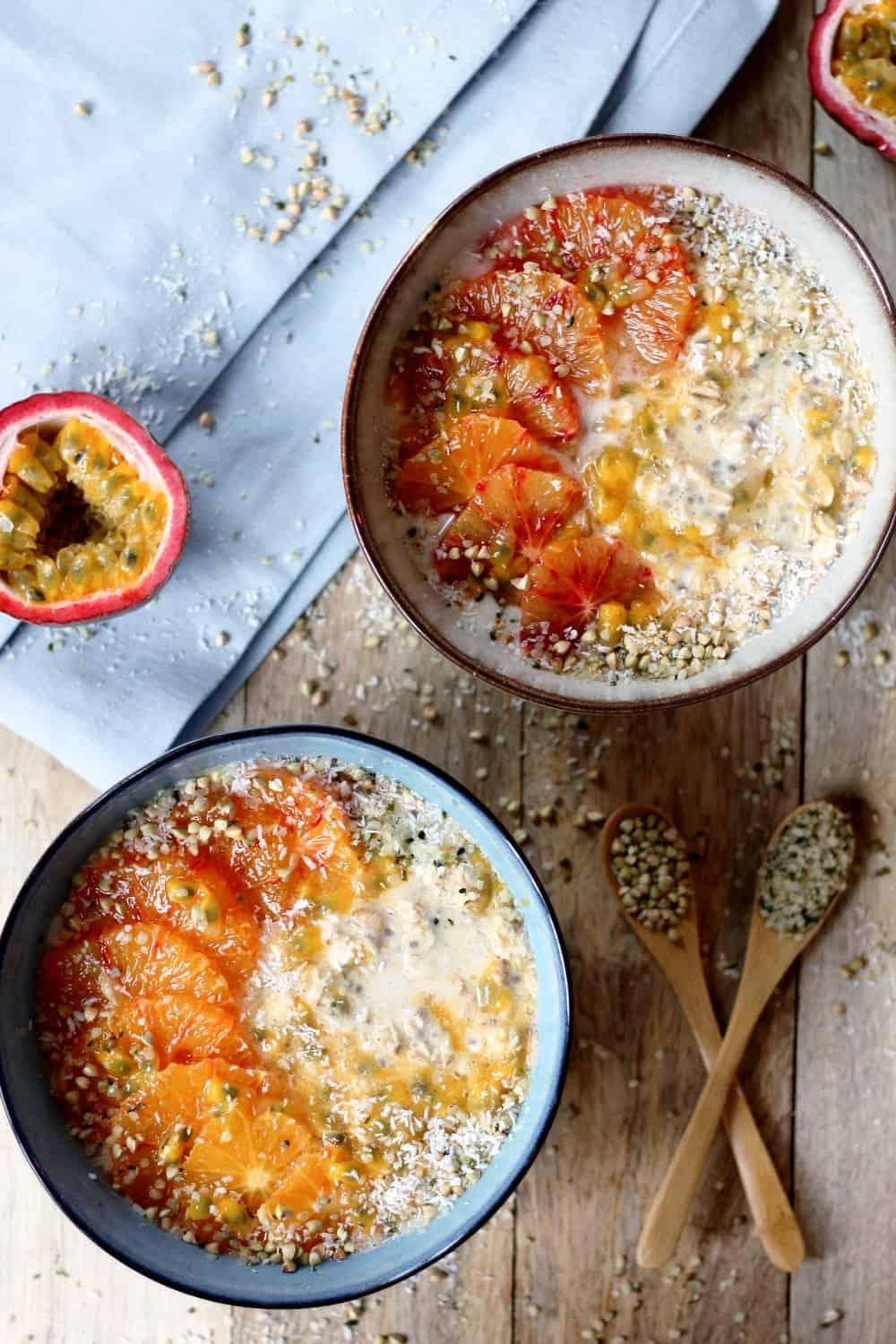 You will love this delicious citrus-inspired Passion Fruit Porridge with Coconut and Orange by Two Spoons. This sweet warming creamy oatmeal is topped with passion fruit, blood orange and coconut flakes.
3. Pineapple Passion Collagen Smoothie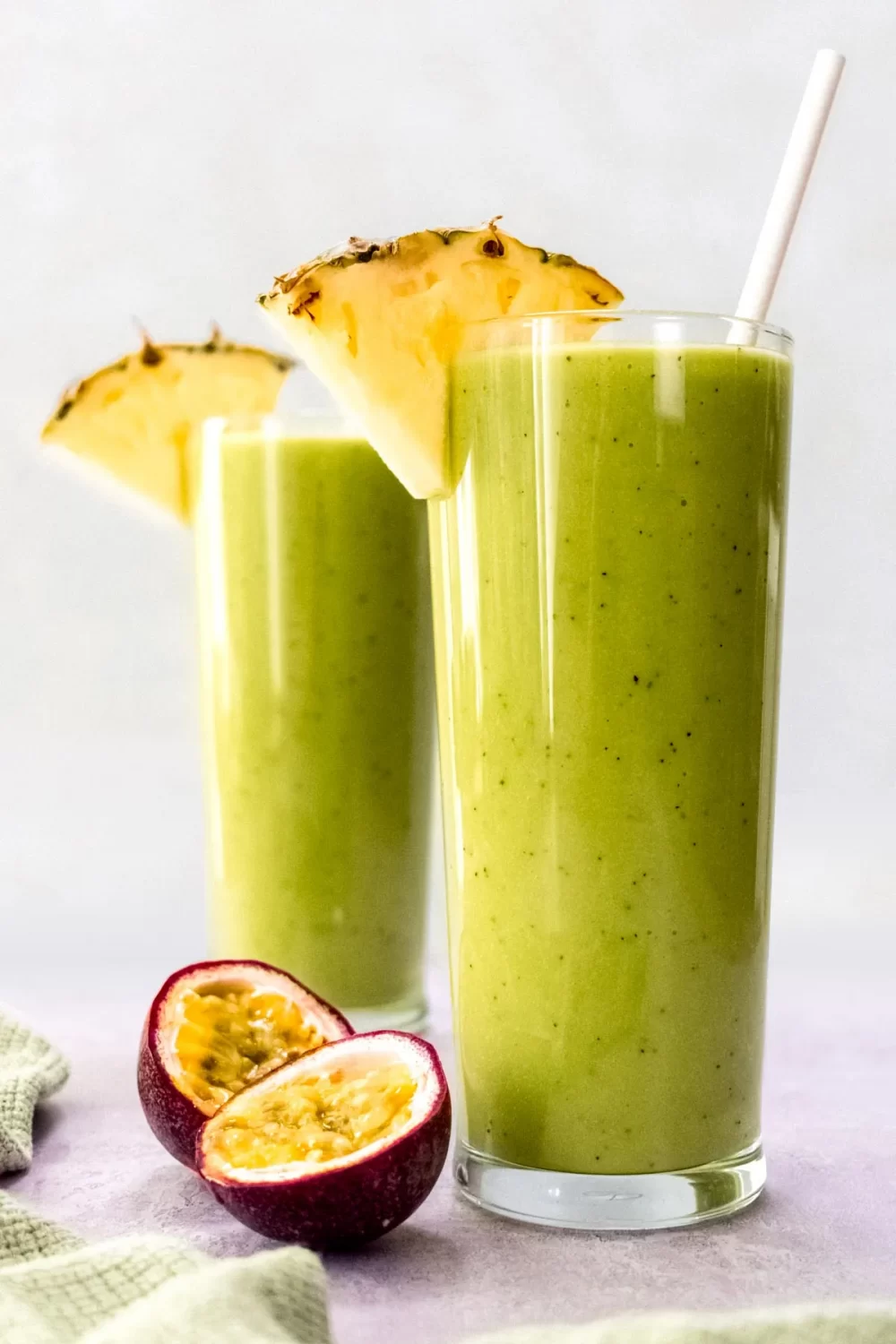 Bring tropical vibes to your morning with this Pineapple Passion Collagen Smoothie by The Real Food Geek. This nutritious breakfast drink is loaded with antioxidants and healthy fats from passion fruit, pineapple, kale, avocado and collagen.
4. Raspberry Passion Fruit Overnight Oats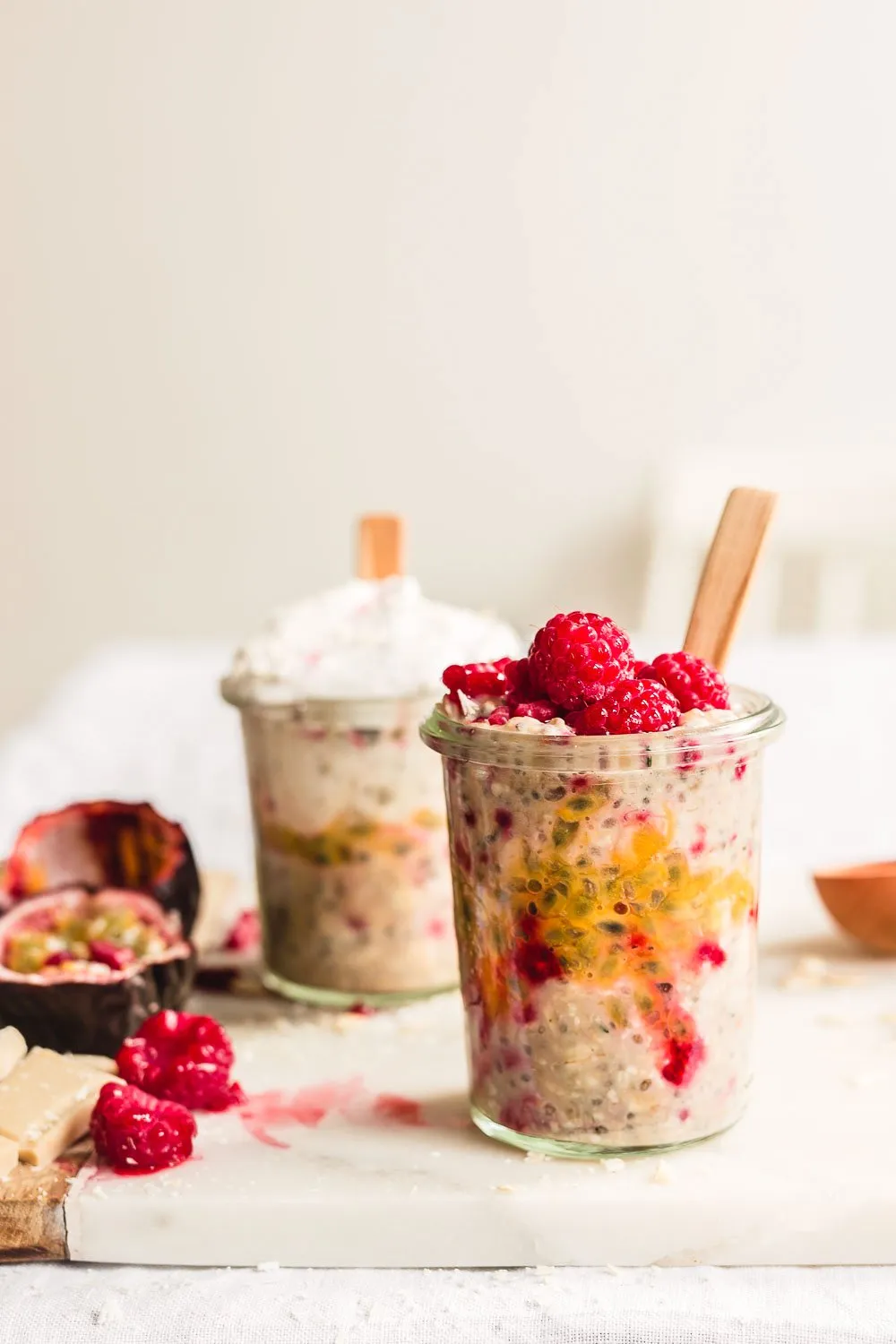 If you've never tried making overnight oats then these Raspberry Passion Fruit Overnight Oats by My Berry Forest are a must-try recipe. Passion fruit and raspberries are a divine combination and together with creamy oats they make the ultimate yummy breakfast. This recipe includes weekday and luxury versions.
5. Pan Fried Salmon with Passion Fruit Sauce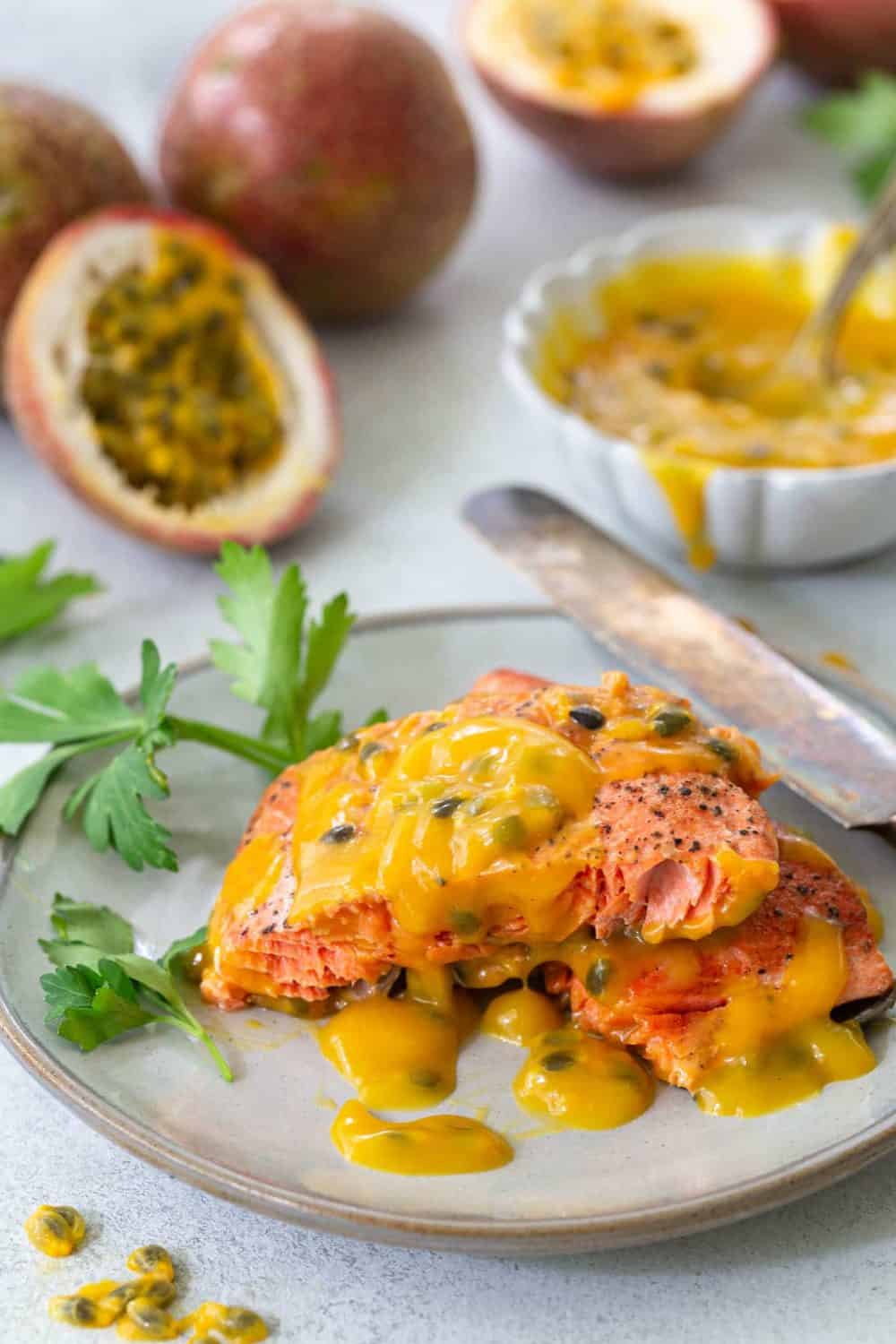 This vibrant Pan-Fried Salmon with Passion Fruit Sauce by Olivia's Cuisine brings a tropical flair to your plate. The combination of salmon and sweet and tangy passion fruit sauce is so worth trying out.
6. Passion Fruit Mojito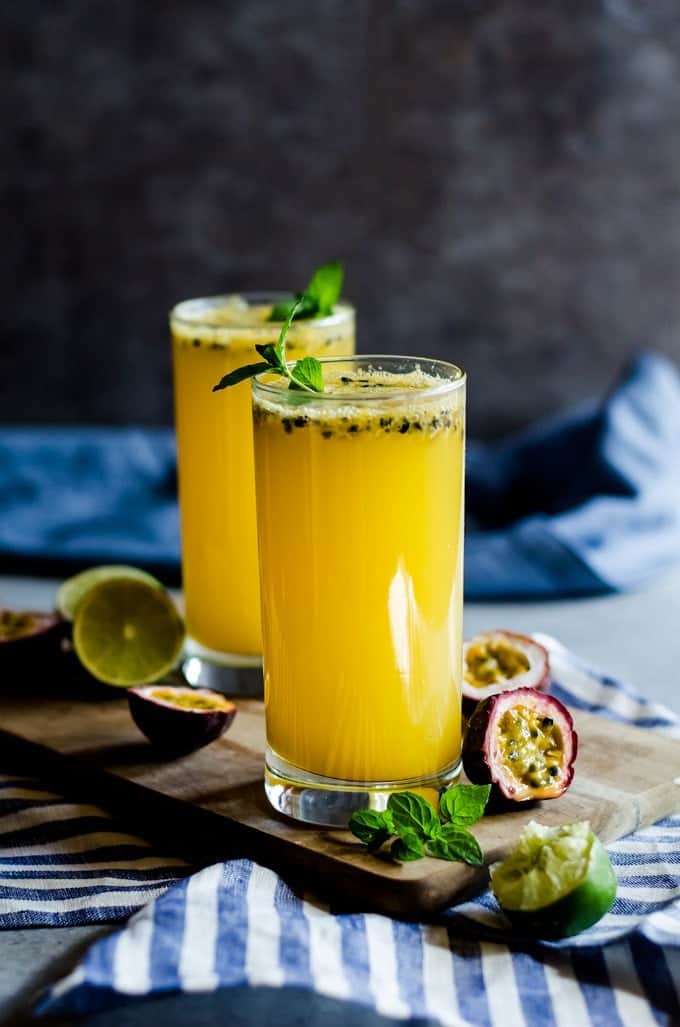 Get ready for your summer parties and barbecues with this Passion Fruit Mojito by A Cookie Named Desire. This simple fun recipe is created with passion fruit, lime, light rum and fresh mint.
7. Avocado Chicken Salad Recipe with Passion Fruit Vinaigrette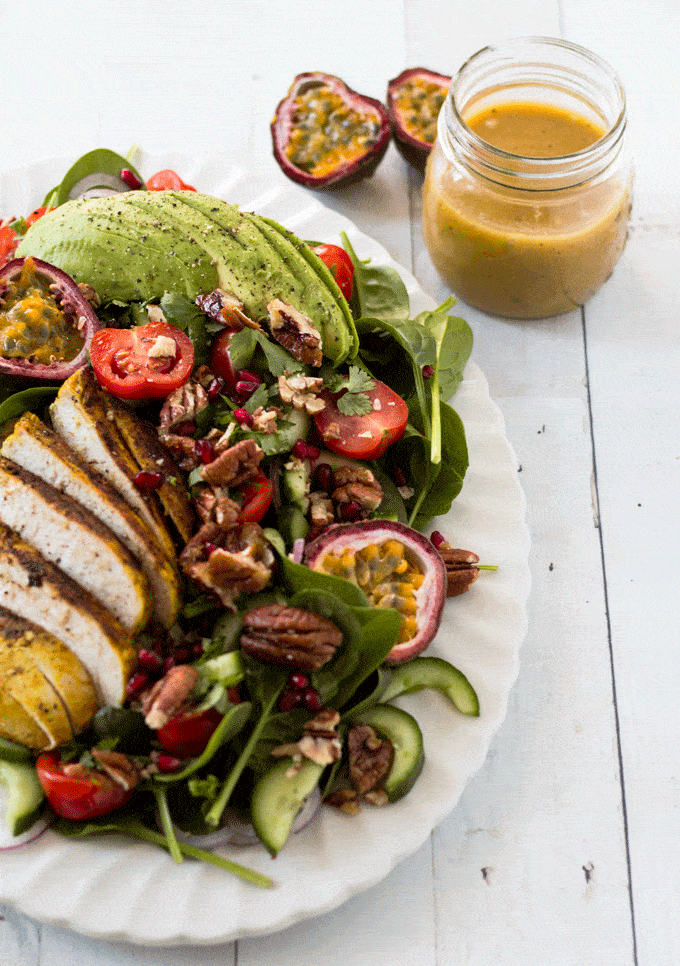 This Avocado Chicken Salad Recipe with Passion Fruit Vinaigrette by Whole Food Bellies is loaded with flavors. Perfectly cooked chicken is layered with avocado, red onion, cucumber, cherry tomatoes and pomegranate and topped with candied pecans and passion fruit honey vinaigrette dressing.
8. Summer Pavlova with Mango and Passion Fruit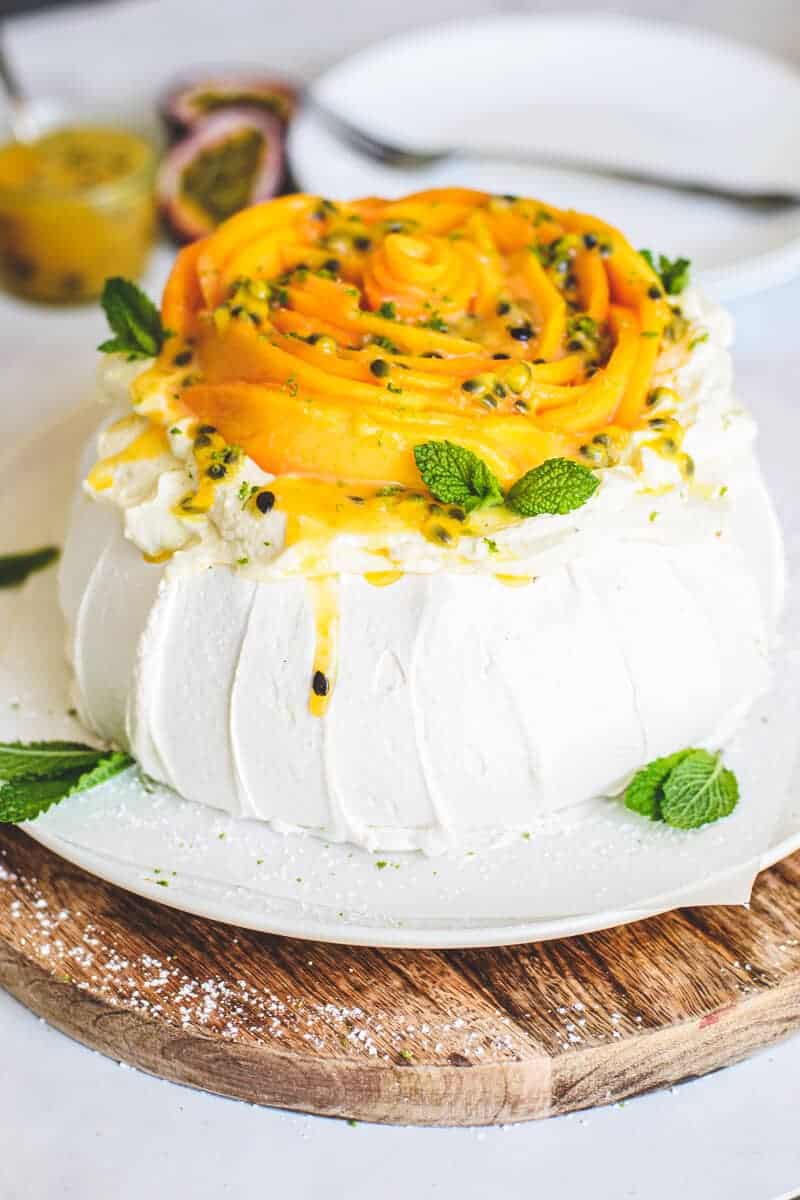 Nail this Summer Pavlova with Mango and Passion Fruit recipe by The Cooking Collective. This show-stopping dessert features a crisp meringue shell with a soft marshmallow centre topped with whipped cream, passion fruit curd, mango and lime.
9. Passion Fruit No Bake Cheesecake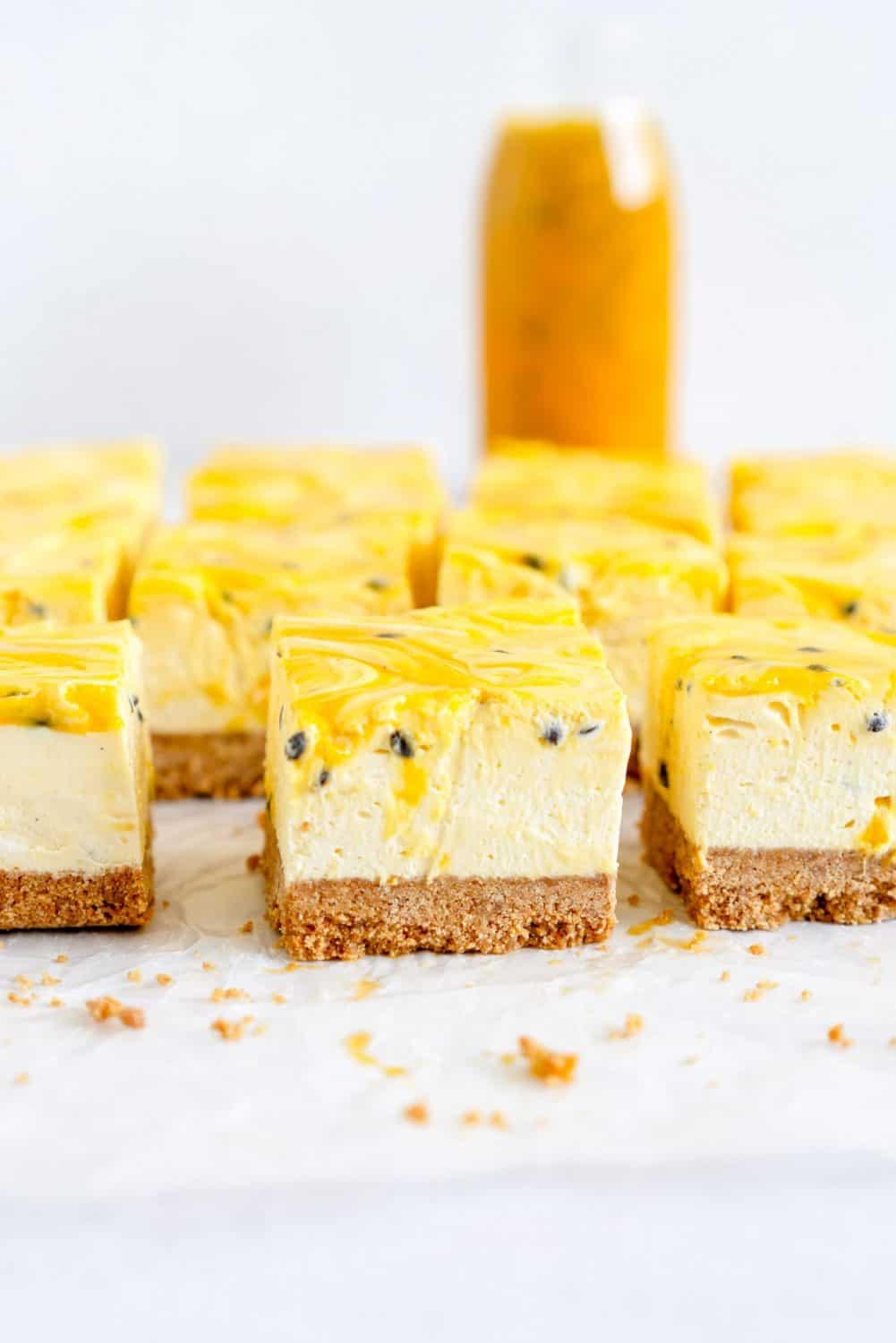 This easy to make delicious Passion Fruit No Bake Cheesecake by Cloudy Kitchen is a perfect summer dessert. Made with a simple graham cracker crust, creamy passionfruit cheesecake filling and passion fruit curd topping.
10. Pineapple & Passion Fruit Jam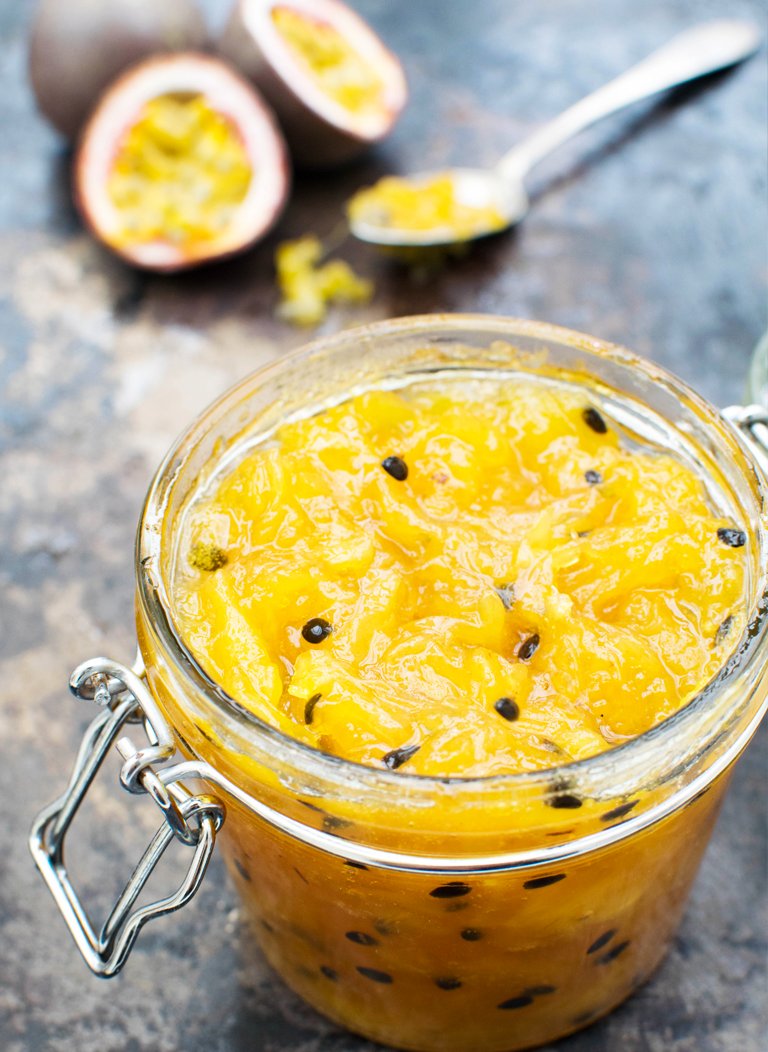 Like sunshine in a jar is this Pineapple & Passion Fruit Jam by The Flexitarian. Use this delicious low sugar chunky jam on toast, top your porridge and yogurt with it or use it in desserts.
11. Mango Passion Fruit Sorbet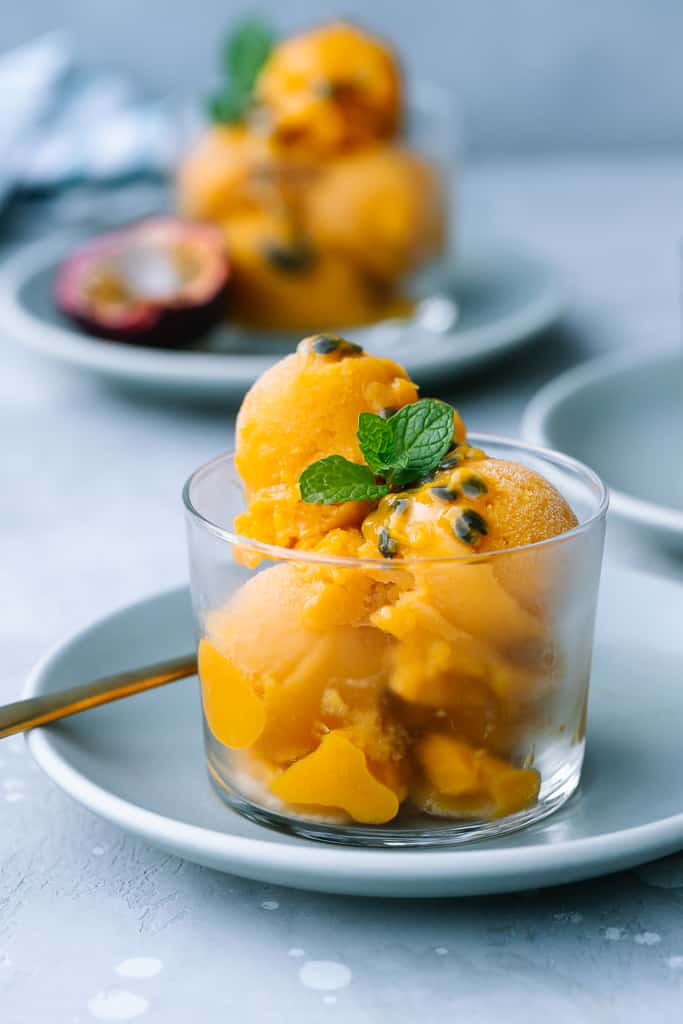 This vegan Mango Passion Fruit Sorbet by Le Petit Eats is a refreshing summer treat. Light, tangy with that fabulous tropical vibe and only four ingredients. We know you love it!
12. Chocolate Passion Fruit Entremet Cake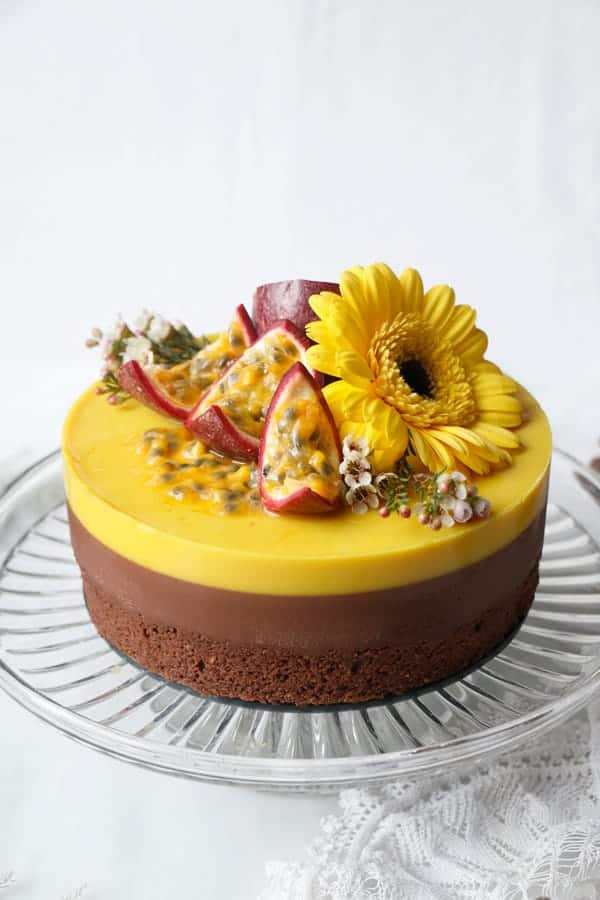 This gluten-free vegan Chocolate Passion Fruit Entremet Cake by Nirvana Cakery is a real showstopper. The three different layers of chocolate sponge cake and chocolate and passion fruit mousse layers make this a dessert for special occasions.
13. Passion Fruit Mousse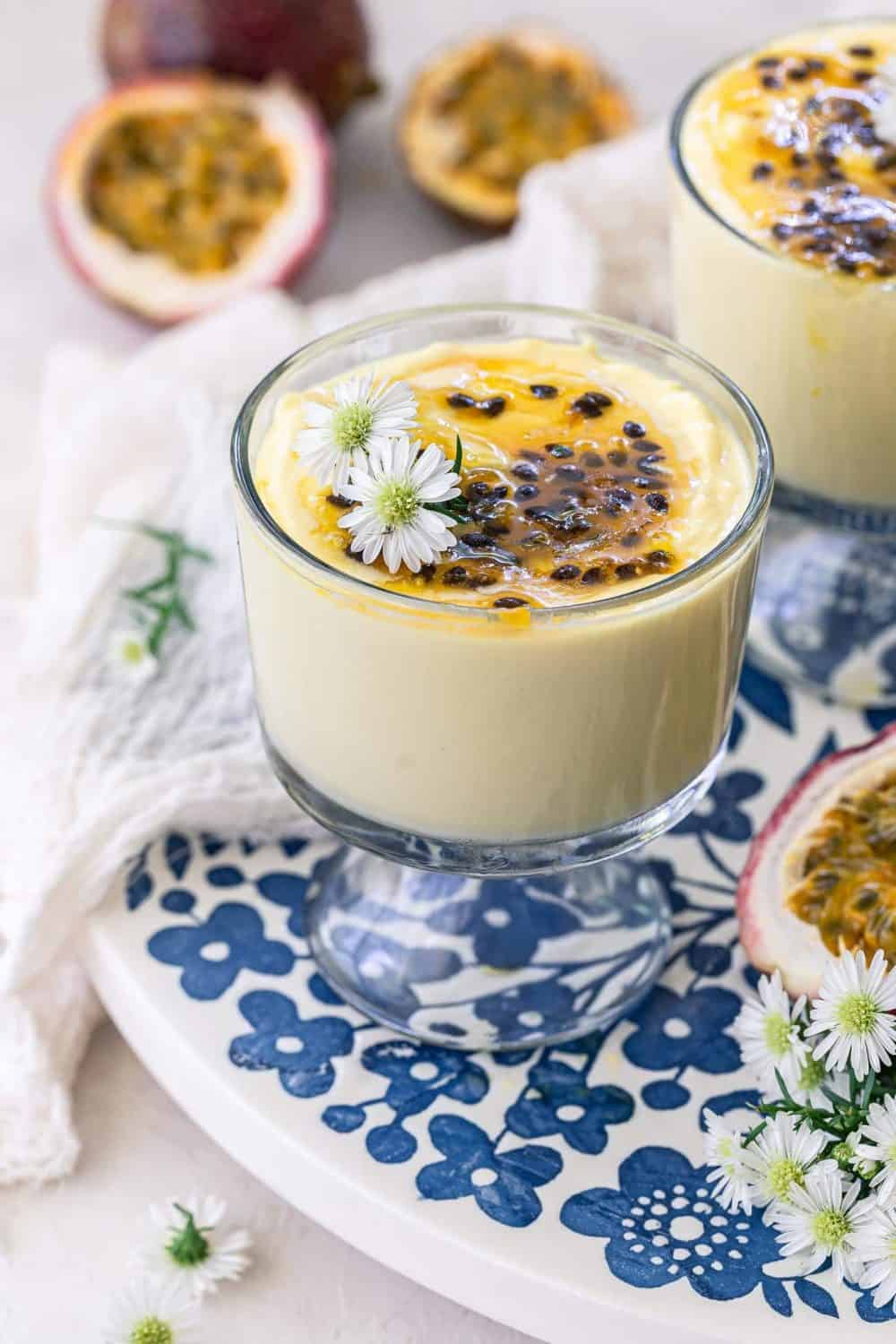 Passion Fruit Mousse by Olivia's Cuisine is a delightful dessert everyone will love. Sweet, light, and slightly tangy and with only a few ingredients this is a perfect recipe for your next dinner party.
14. Vanilla Layer Cake with Passion Fruit Curd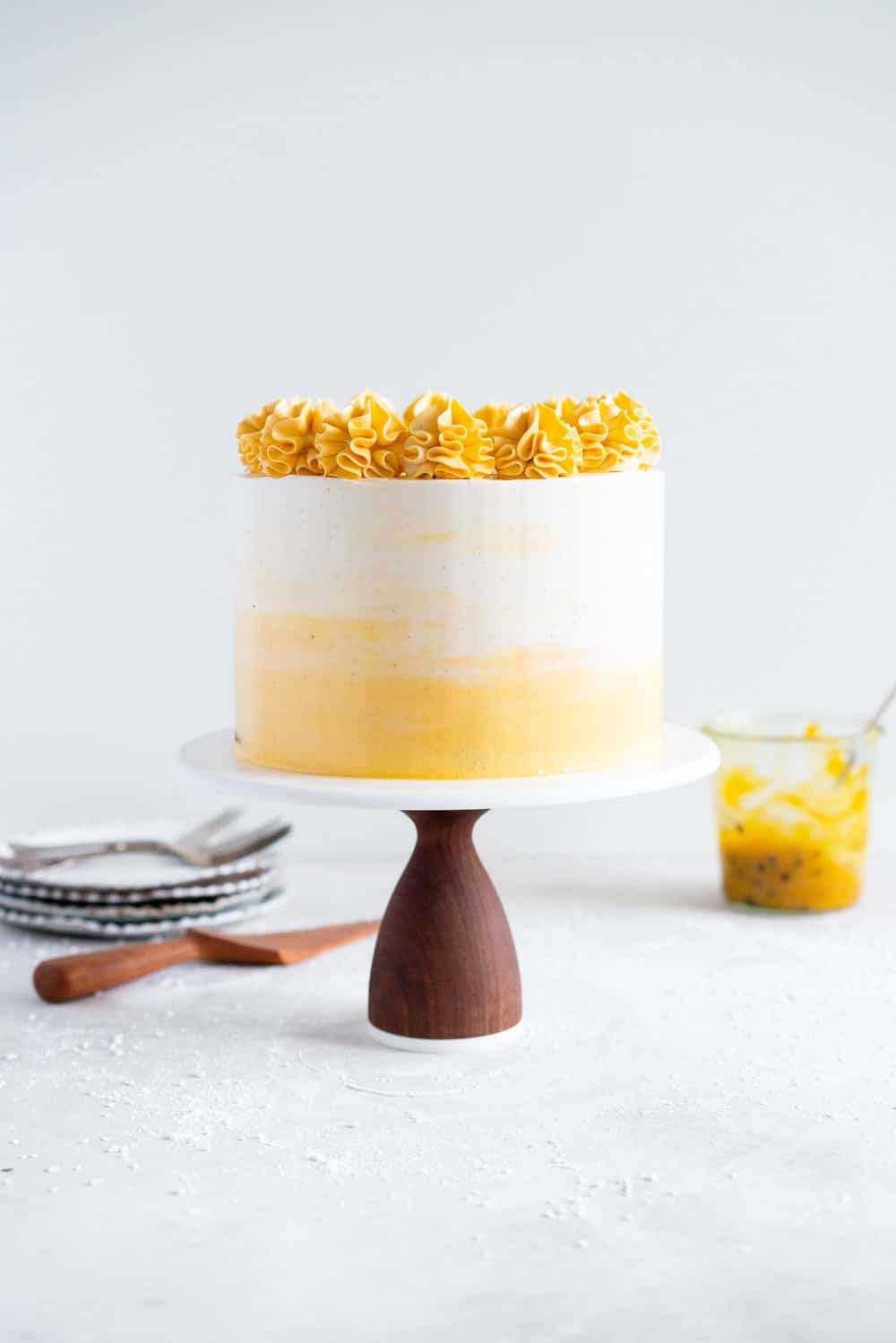 Fit for a celebration is this ombre Vanilla Layer Cake with Passion Fruit Curd by Cloudy Kitchen. This recipe features light vanilla cake layered with a silky vanilla bean Swiss meringue buttercream; and filled with a tangy passion fruit curd.
15. Golden Passion Fruit Margarita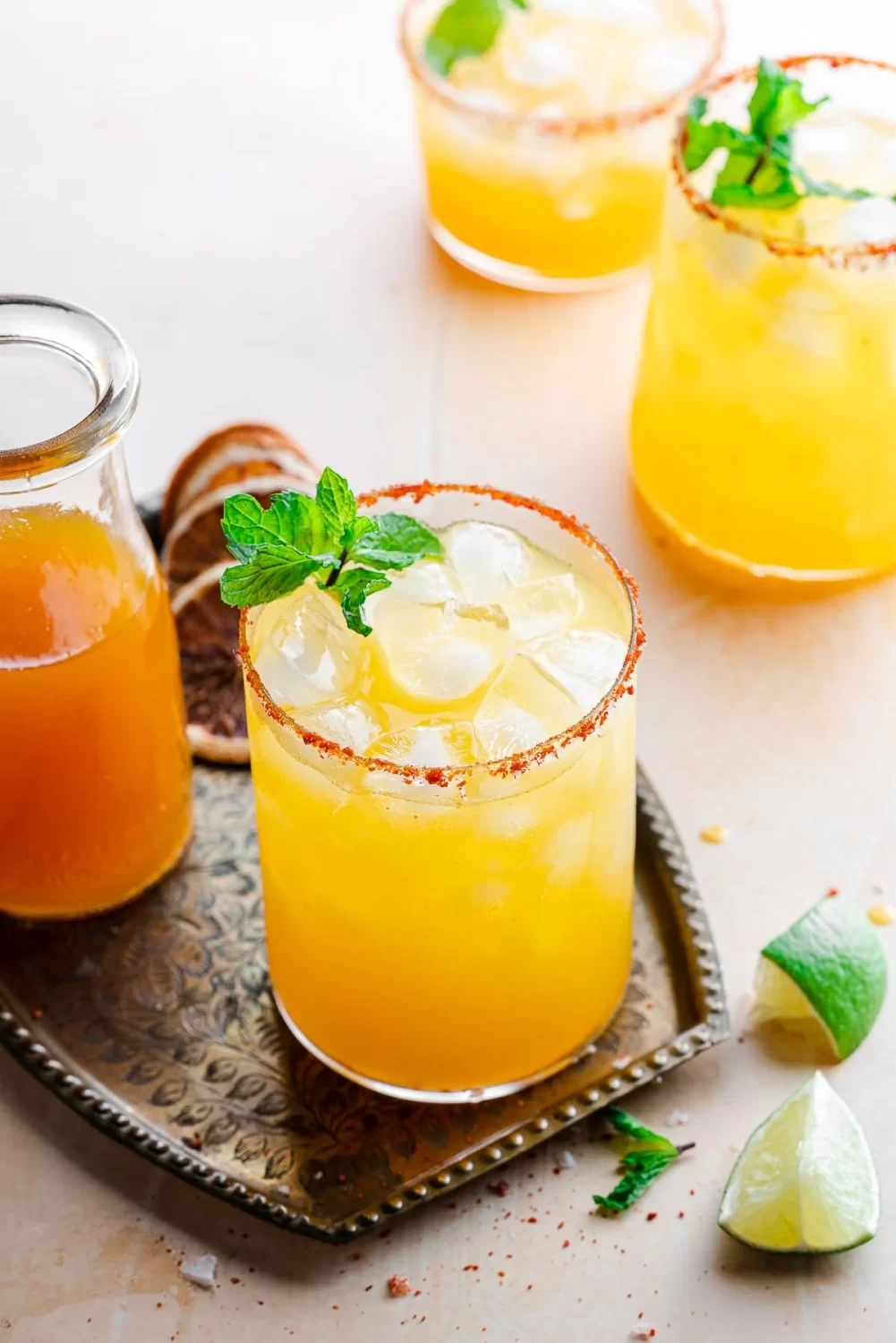 Imagine sipping this Golden Passion Fruit Margarita by Masala & Chai during hot summer evenings. This refreshing, vibrant and slightly spicy drink will have you wanting more.
16. Passion Fruit Coconut Cupcakes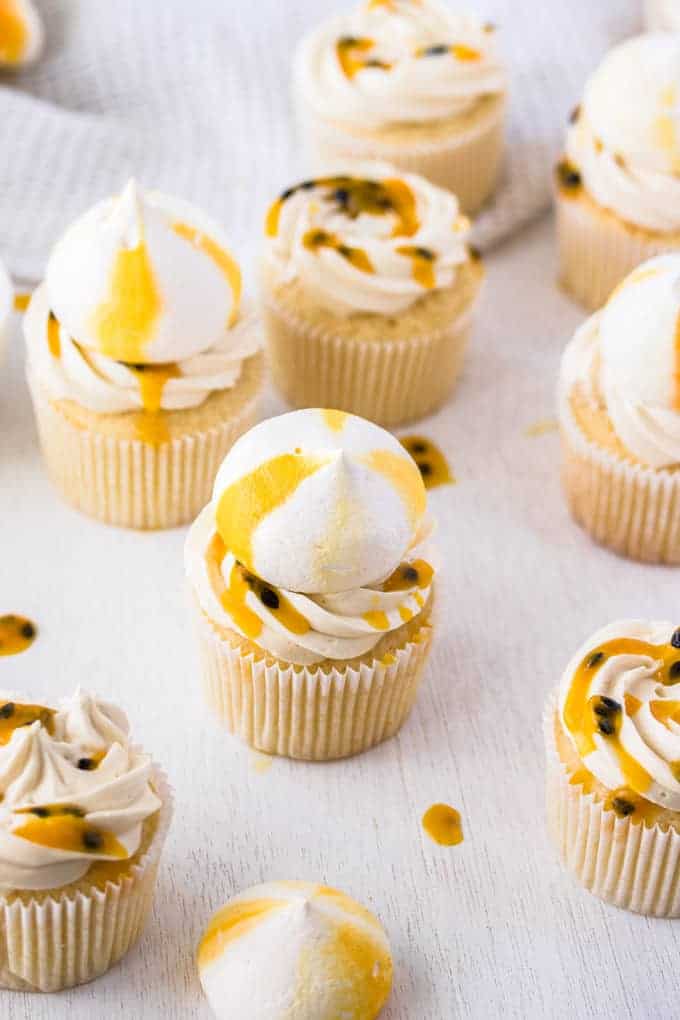 These bright and summery Passion Fruit Coconut Cupcakes by Sugar Salt Magic make us smile. Fluffy moist coconut cupcakes are filled with passion fruit curd topped with coconut buttercream and topped with meringue.
17. Passion Fruit Slice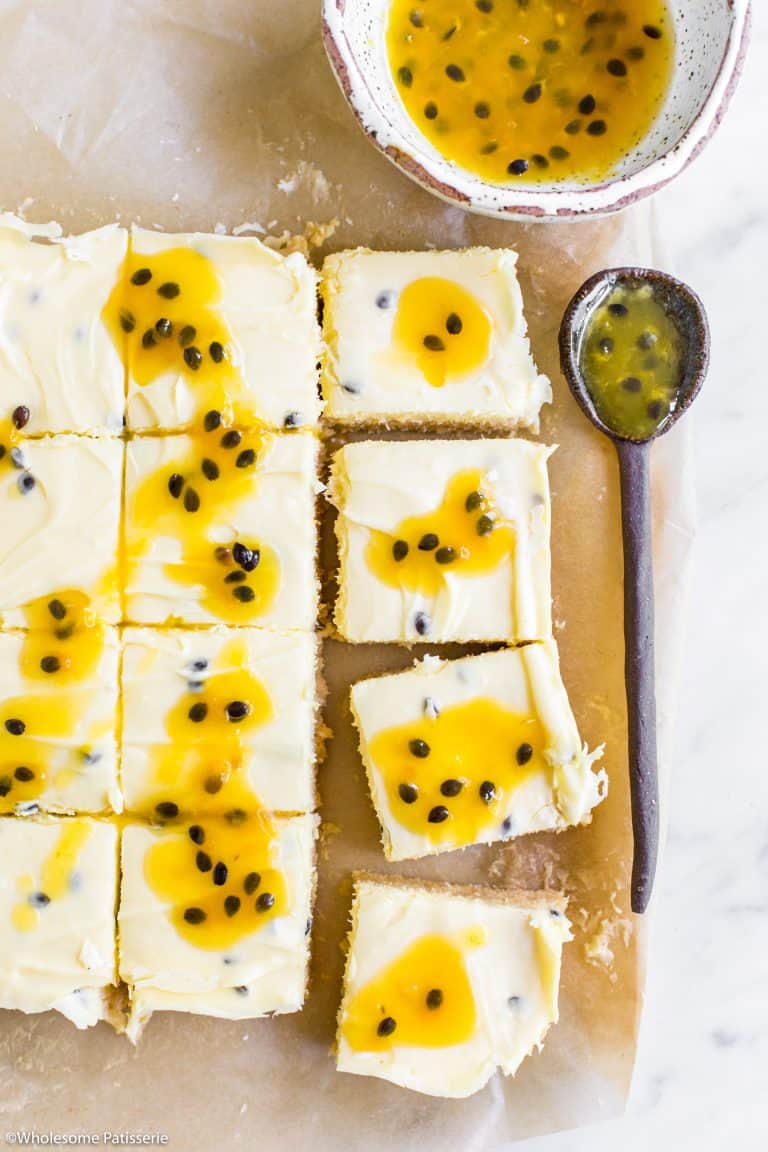 Indulge in this decadent Passion Fruit Slice by Wholesome Patisserie. The simple biscuit coconut base is topped with a creamy whipped passion fruit frosting and sliced into bars. Top with extra passion fruit for a touch of color.
18. Passion Fruit Granita Chia Pudding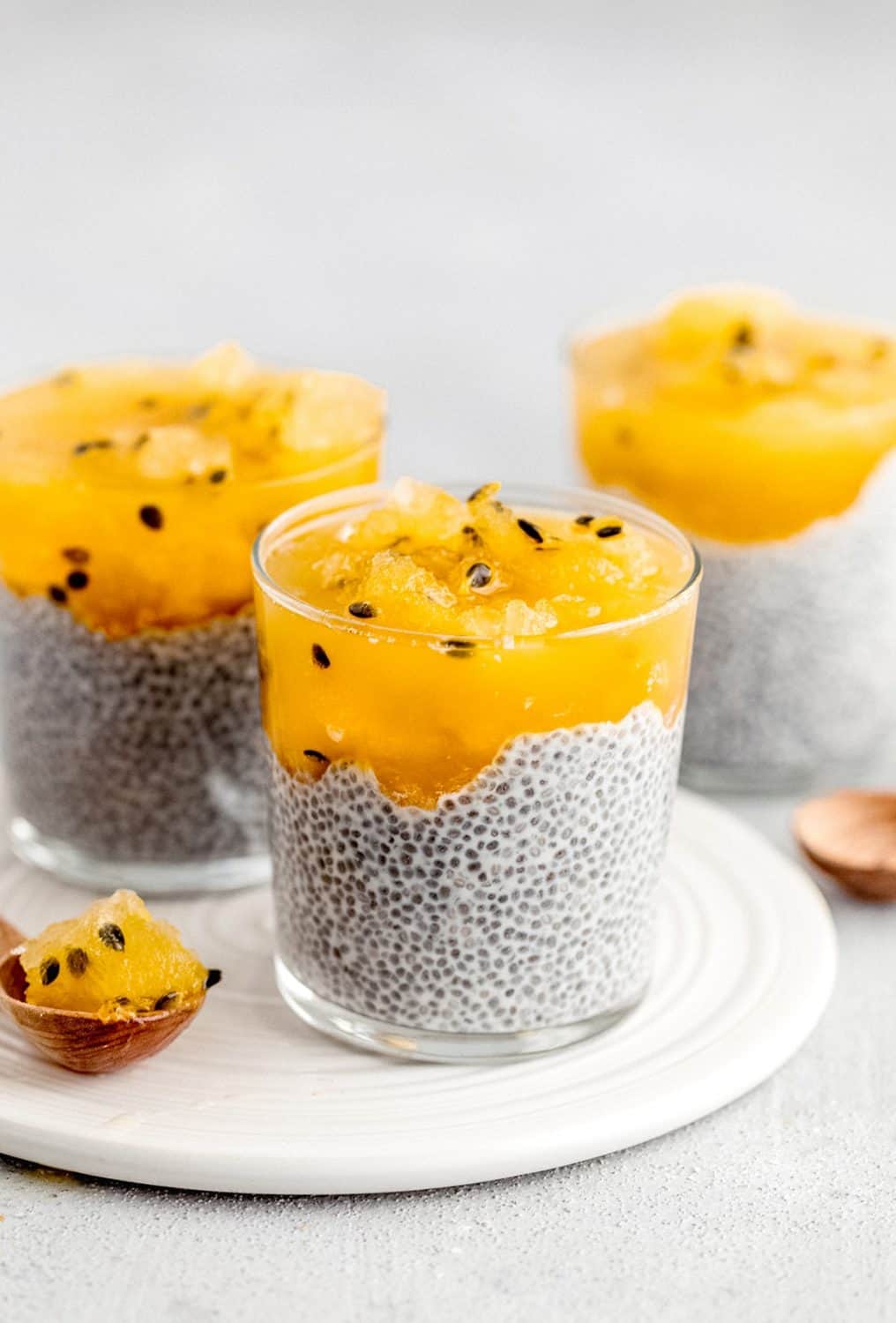 The combination of chia pudding and granita makes this Passion Fruit Granita Chia Pudding by Yoga of Cooking very enticing. Vegan and refined sugar-free this is a light refreshing healthy treat.
19. Passion Fruit Curd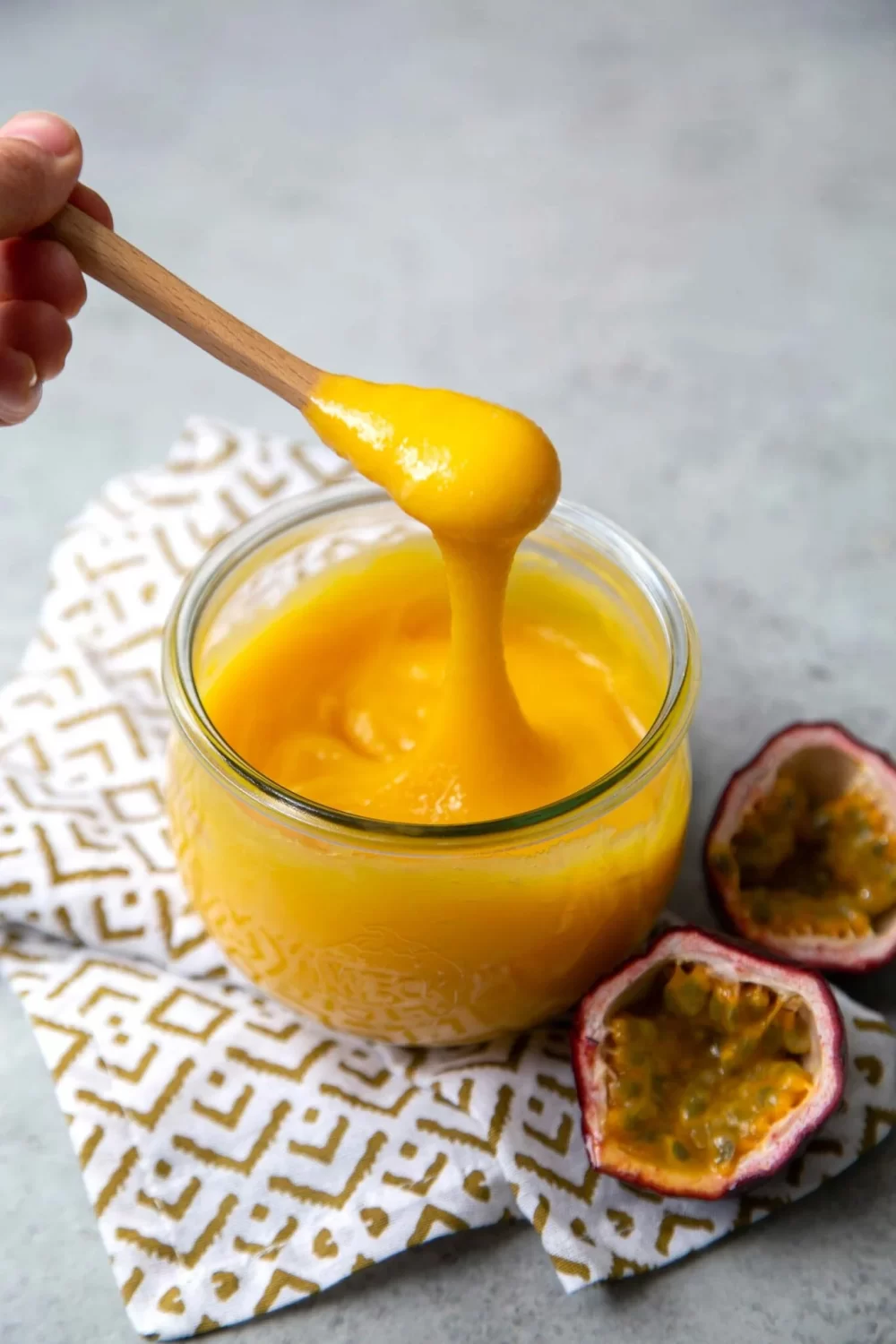 This luscious and creamy Passion Fruit Curd by The Little Epicurean comes together in minutes. Use this gorgeous sweet-tart homemade curd in your desserts to add that extra zing.
20. Easy Vegan Passionfruit Cake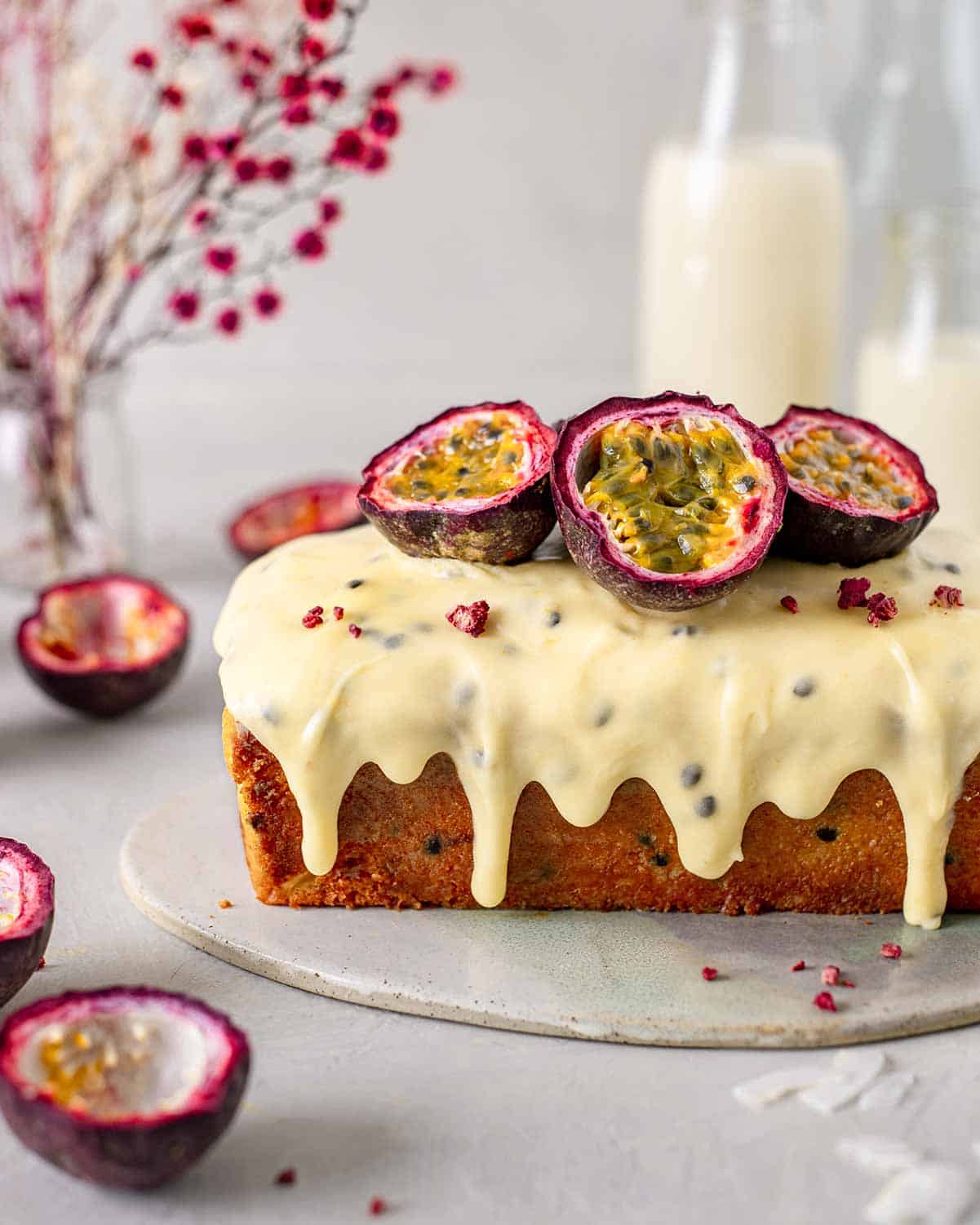 This striking Easy Vegan Passionfruit Cake with passion fruit icing by Rainbow Nourishments could be your next baking project. Passion fruit is used as an egg replacer in this simple fluffy sponge cake recipe.
21. Strawberry Passion Fruit Trifles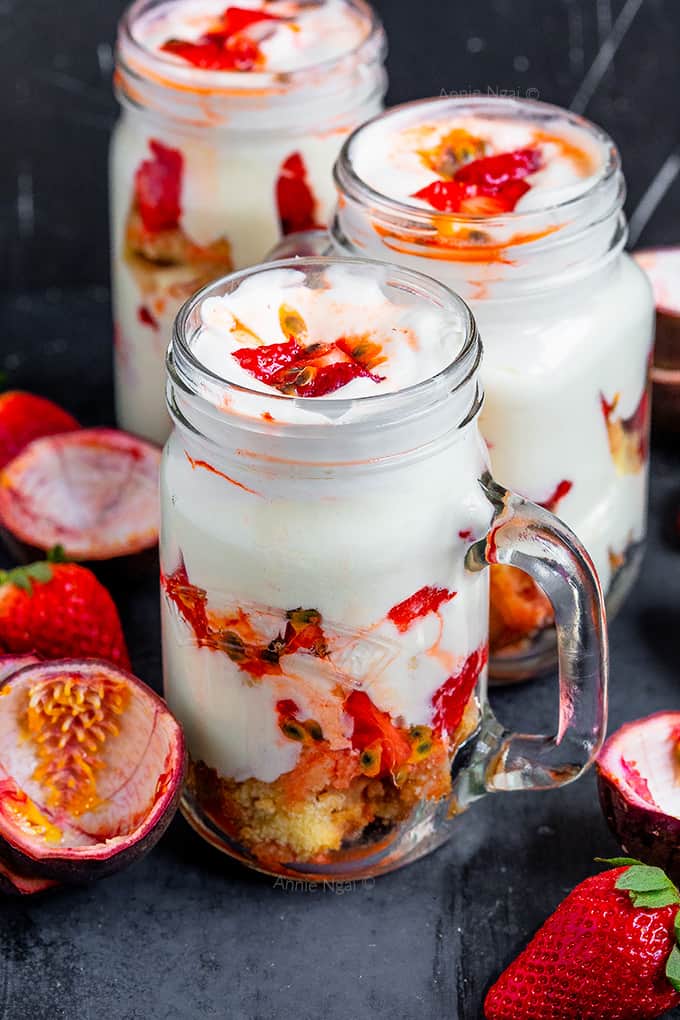 If you ever find yourself with leftover sponge cake you must try making these Strawberry Passion Fruit Trifles by Annie's Noms. In this yummy dessert, sponge cake is layered with custard, whipped cream, strawberries and passion fruit.
22. Chocolate Passion Fruit Brownies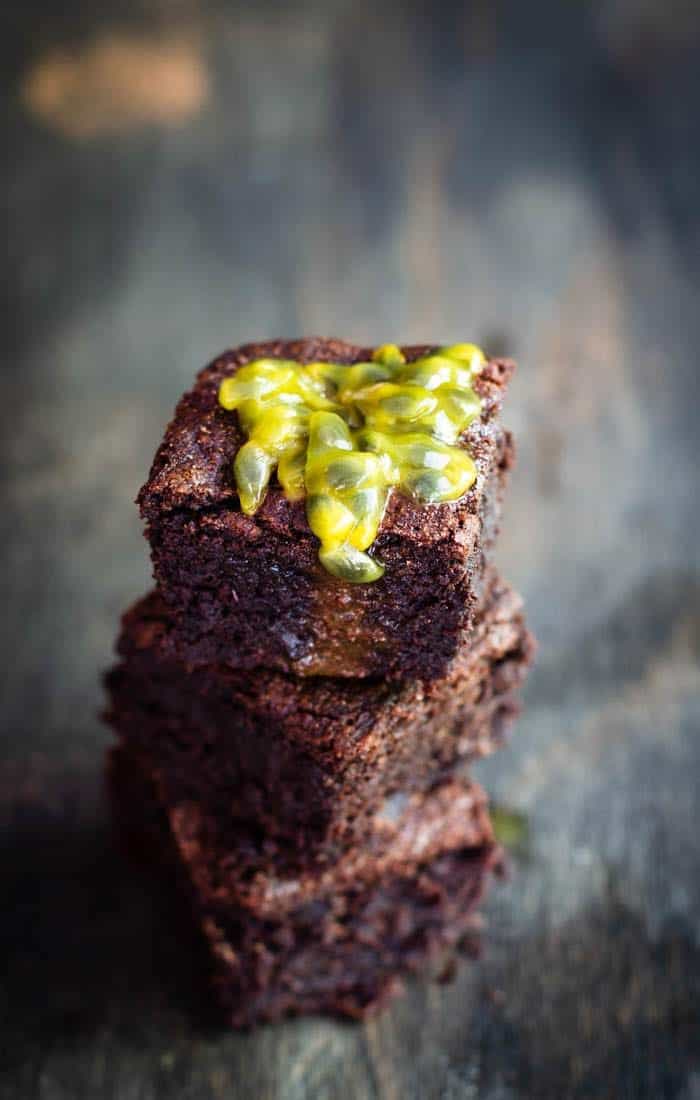 Is there anything more decadent than brownies with the addition of passion fruit? These Chocolate Passion Fruit Brownies by Lisa's Lemony Kitchen might be the best brownies you've ever had.
23. Passion Fruit Juice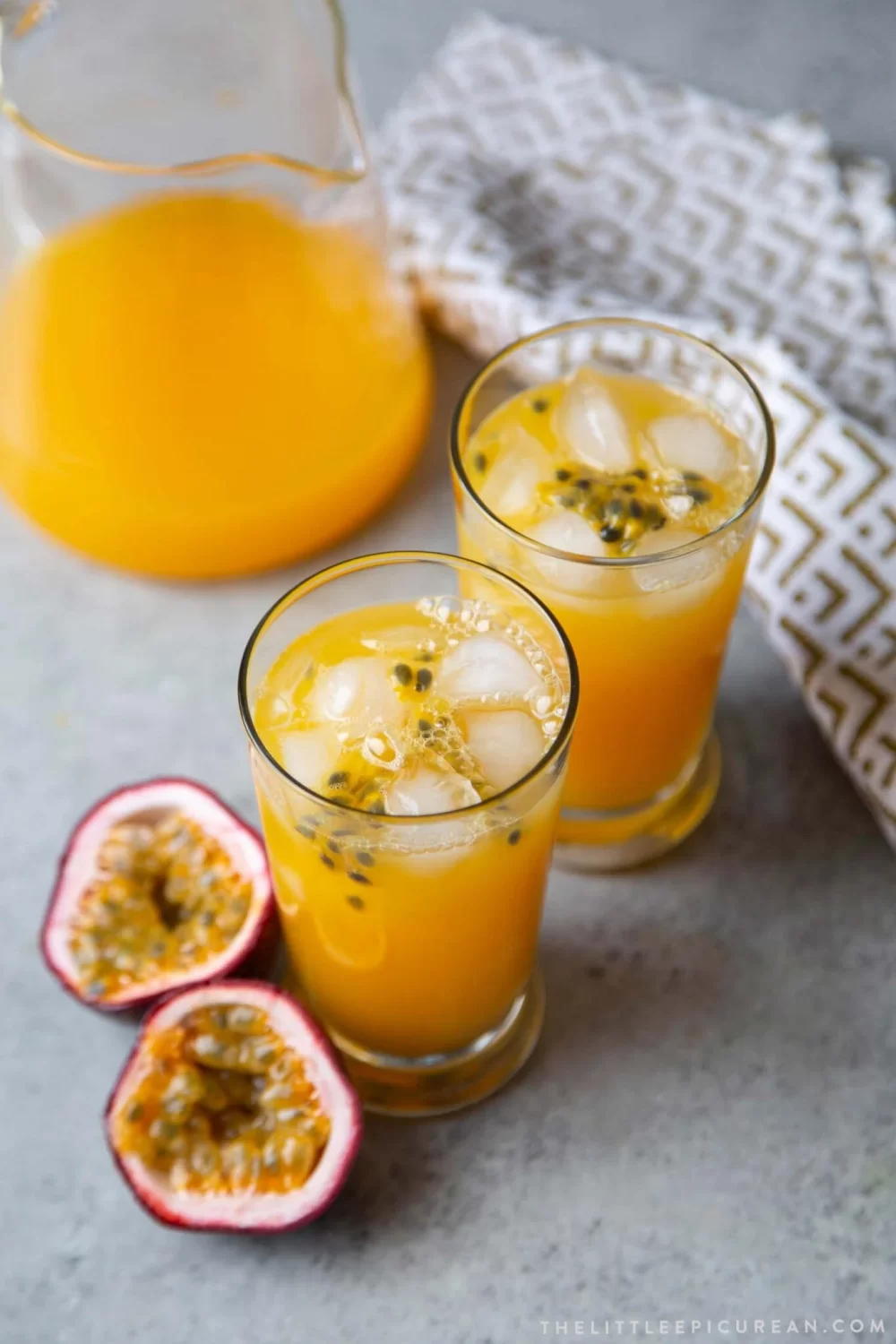 Passion Fruit Juice by The Little Epicurean is a sweet tarty refreshing drink. Made with passion fruit puree, simple syrup and filtered water this juice will refresh and lift you up anytime.
24. Passion Fruit Caramel Millionaire Shortbread Bars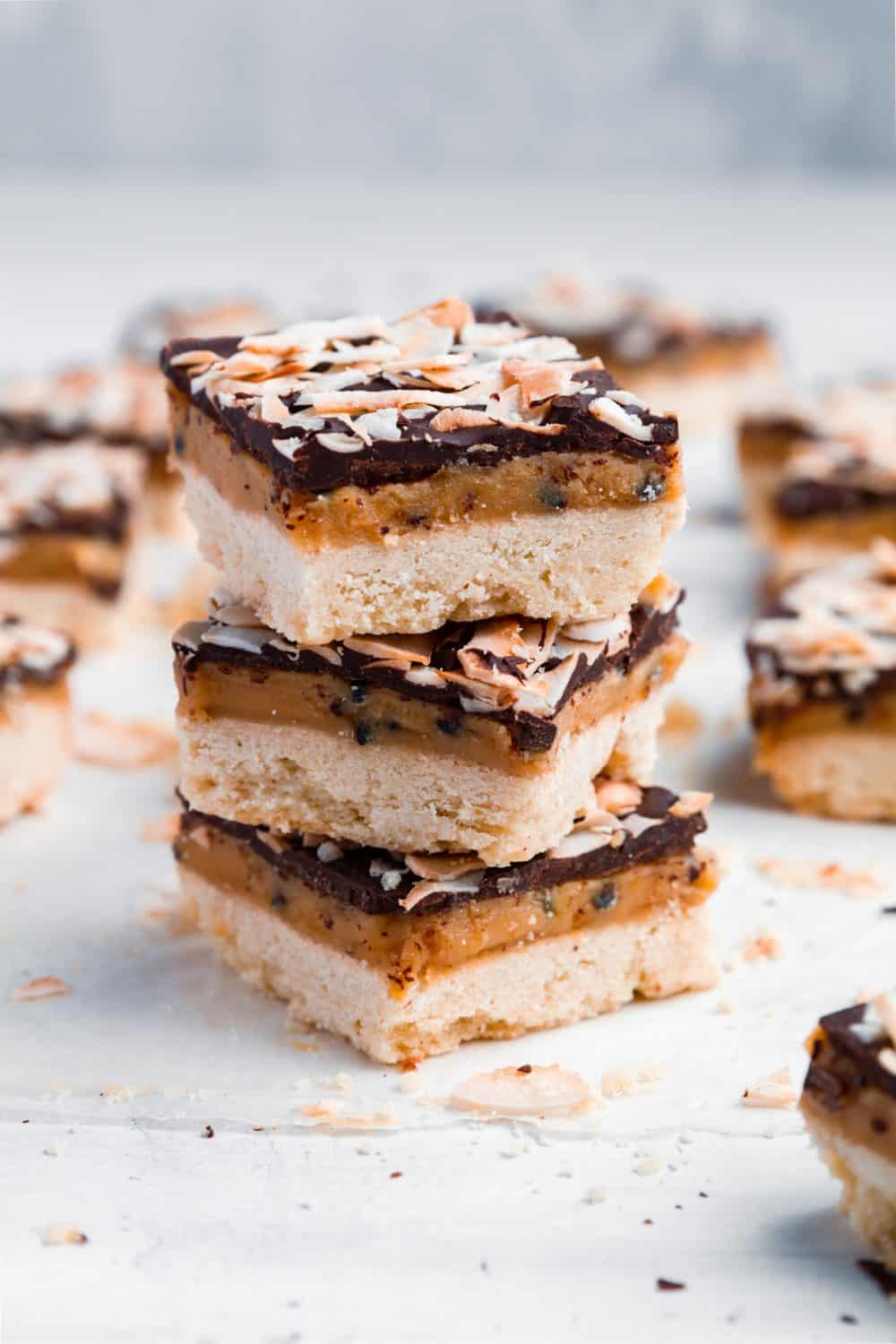 Look at these scrumptious Passion Fruit Caramel Millionaire Shortbread Bars by Mariel Janina. These decadent bars are made of a crumbly shortbread base, fudgy tangy passion fruit caramel and topped with melted chocolate and toasted coconut.
25. Passion Fruit Bundt Cake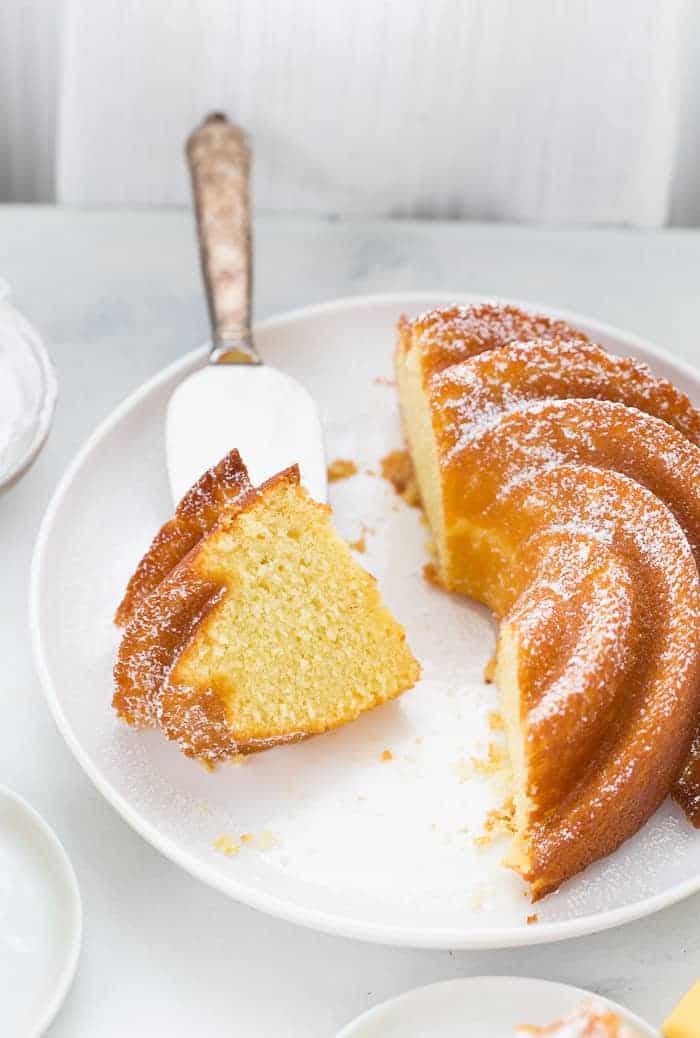 There's nothing better than baking a simple bundt cake for the weekend. This Passion Fruit Bundt Cake by A Classic Twist has some wonderfully sweet and tangy flavors coming through from passion fruit, lemon zest and almond.
26. Passion Fruit Ice Cream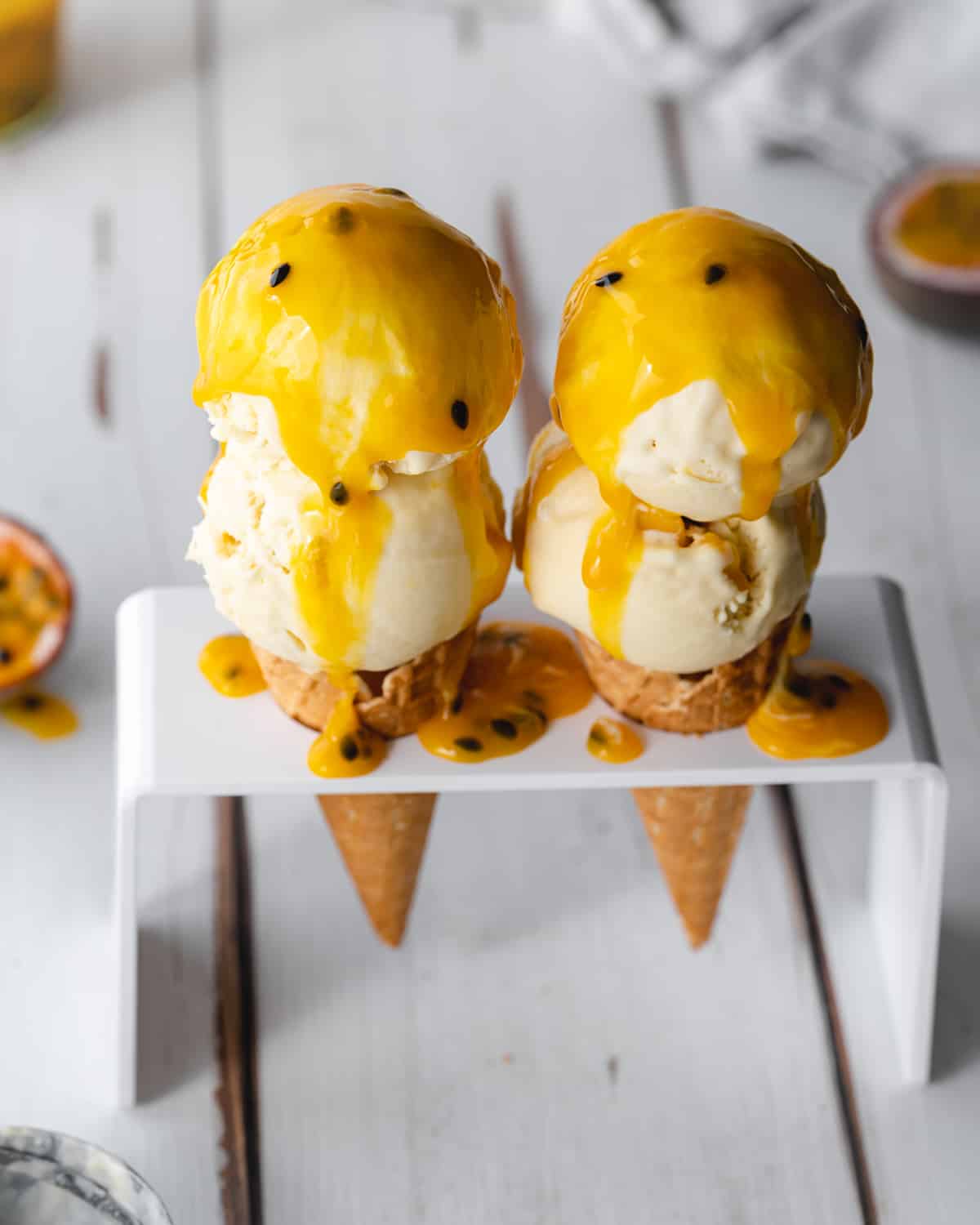 This dairy-free Passion Fruit Ice Cream by Addicted to Dates has only four ingredients - passion fruit, sugar, coconut cream and condensed coconut milk. It's creamy tropical and made without an ice cream maker.
27. Passion Fruit Tart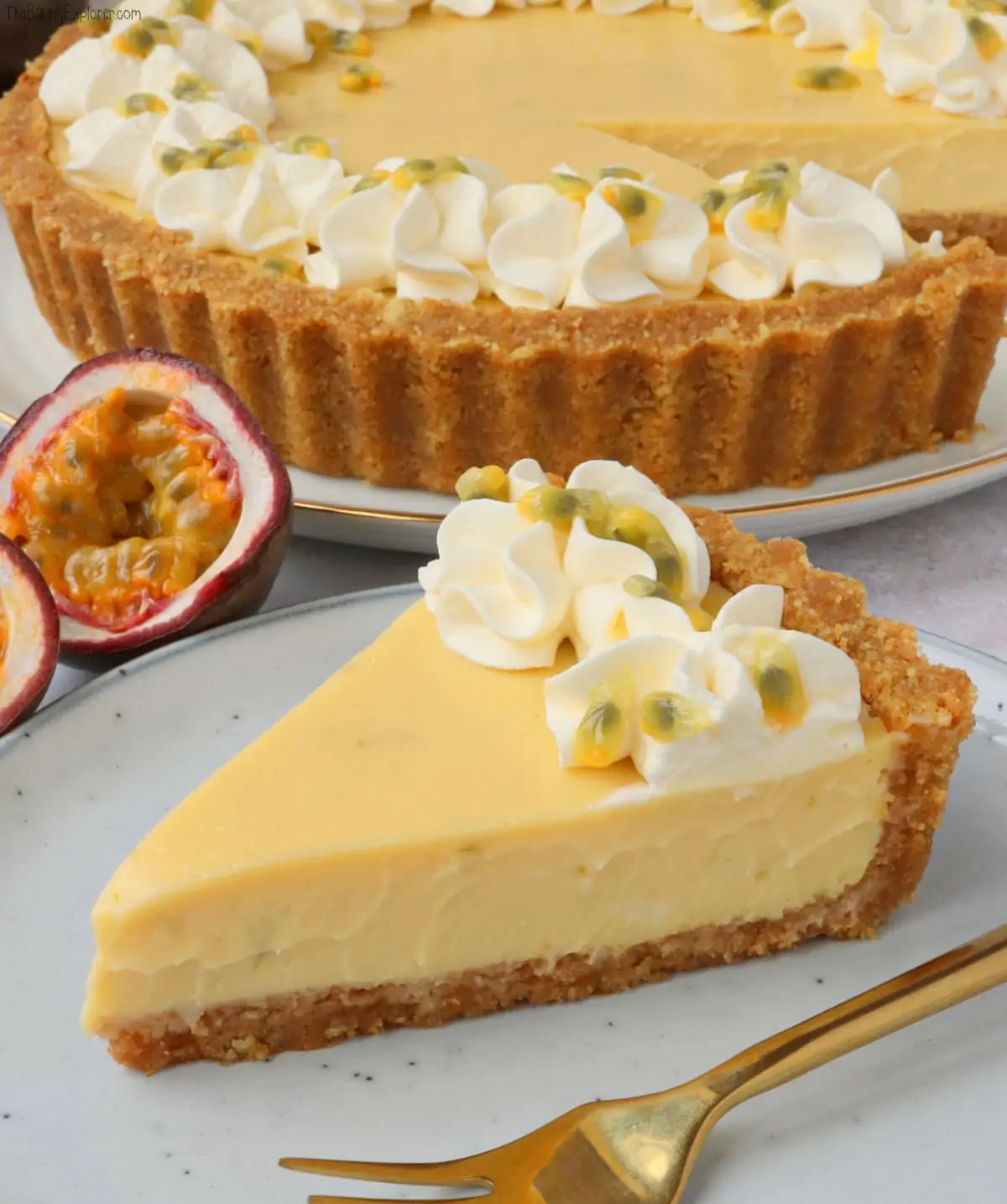 Simply divine is this melt in your mouth Passion Fruit Tart by The Baking Explorer. This simple to make no-bake tart recipe consists of a buttery biscuit base and creamy passion fruit lime filling. Sweet, citruzy and delicious.