Like last year, we found ourselves at my parents' home for Livi's birthday. And like last year's butterfly cupcakes, this year's cupcakes had an animal theme thanks to her love of all things panda. Fortunately these cream-filled panda cupcakes were easy as pie to make, especially if you use a boxed cupcake mix—something I tend to do when vacation exhaustion is in full force.
I just realized I was so exhausted from last year's vacation I never posted the adorable butterfly cupcakes I made for Livi's 5th birthday. Duh.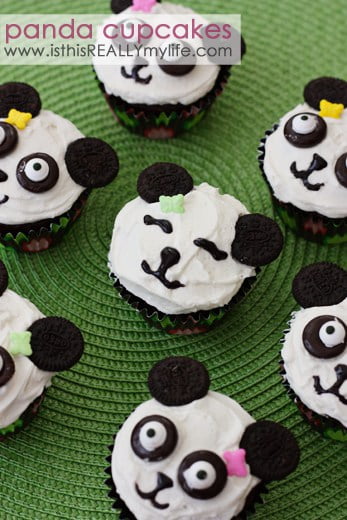 It's a happy, summery exhaustion so I'm totally not complaining.
I wish I had super adorably staged photos of these panda cupcakes but again, it's called a vacation for a reason. I did go with my favorite quick vanilla buttercream frosting (I'm not a huge fan of canned frosting) and went with a cream-filled cupcake using the filling from these Big Gulp #PDR cupcakes per Livi's request.
The inspiration for these panda cupcakes came from Charm & Whimsy. We were able to find all the supplies except for those tiny ¼" icing eyes, so we grabbed what was available. Unfortunately it gave those pandas a seriously wide-eyed gaze.
Throw in a nice hole in the head from the birthday candle and you have one creepy panda cupcake.
Fortunately Lauren solved the creepy-eyed look by using the gel frosting to create the cutest squinty, smiley panda eyes I've ever seen. Let's go in for a closeup.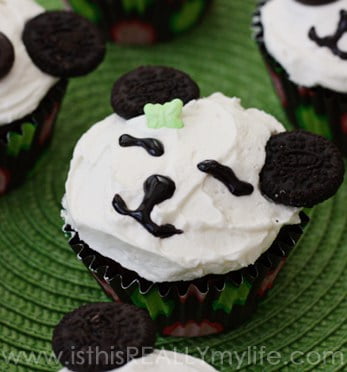 If only I'd had her do this from the very beginning...
I might recommend using super skinny sparkler-style candles or leave a few cupcakes unadorned so your cupcakes don't look slightly "off" before serving. Of course, when you're turning 6, you don't care if there's a hole in the head of your panda cupcakes.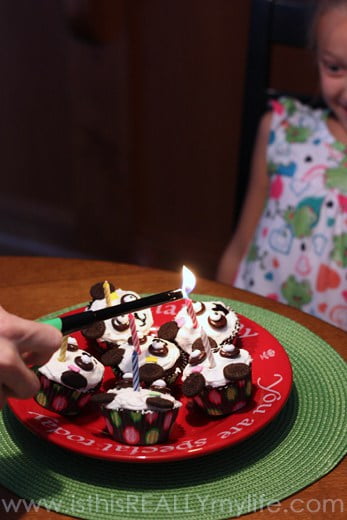 Printable recipe for cream-filled panda cupcakes below.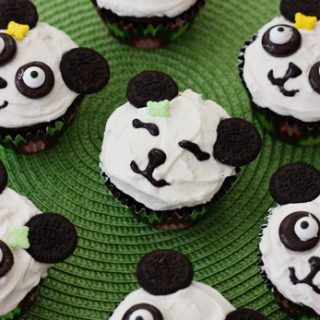 Panda cupcakes
Super adorable panda cupcakes for the panda lover in your family. If you prefer to make your cupcakes from scratch, go for it! Scrap the wide-eyed look for squinty gel frosting eyes if you can't find tiny icing eyes at your local grocery or kitchen supply store.
Ingredients
Cupcakes
1 box Betty Crocker Triple Chocolate Fudge cake mix (my favorite) plus ingredients needed to make 24 cupcakes (eggs, oil, water)
1 box Junior Mints candy
1 package black & white frosting eyes
1 package Mini Oreos
1 package candy adornments for bows (optional)
Black gel frosting
Filling
½ cup butter
2 cups confectioners' sugar
1 pinch salt
3 T milk
1 tsp vanilla extract
Frosting
3 cups confectioners' sugar
1 cup butter
1 tsp clear vanilla extract
1 to 2 T whipping cream
Instructions
Cupcakes
Bake cupcakes according to package directions. Cool completely.
Core each cupcake using a cupcake corer or small knife. Fill with cream filling (see below).
Frost the cupcakes and then assemble using remaining ingredients. For the ears, separate the Mini Oreos and scrape off filling. For the eyes, use a small amount of frosting to attach the icing eyes to the Junior Mints (or go with freehand gel frosting squnity eyes). Use the gel frosting to add the nose and mouth.
Filling
In a large bowl, beat butter until smooth. Blend in confectioners' sugar and salt.
Gradually beat in milk and vanilla until light and fluffy.
Fill a pastry bag with a small tip OR use my trick of a Ziploc storage bag with its corner snipped off and fill each cupcake.
Frosting
In a stand mixer fitted with a whisk, mix together sugar and butte on low speed until well blended. Increase speed to medium and beat for another 3 minutes.
Add vanilla and cream and continue to beat on medium speed for 1 minute more, adding more cream until frosting is desired consistency.
Nutrition Information:
Yield:

24
Serving Size:

1
Amount Per Serving:
Calories:

533
Total Fat:

29g
Saturated Fat:

13g
Trans Fat:

2g
Unsaturated Fat:

14g
Cholesterol:

50mg
Sodium:

384mg
Carbohydrates:

70g
Fiber:

2g
Sugar:

58g
Protein:

3g
Speaking of fun birthday cupcakes, here are a few blasts from the past. The
Big Gulp

#PDR

cupcake
is still one of my faves.