I'm so not exaggerating when I say these are the most adorable owl cookies you've ever seen...unless you've seen more adorable, but I highly doubt it because seriously. Just look at those sweet owl faces!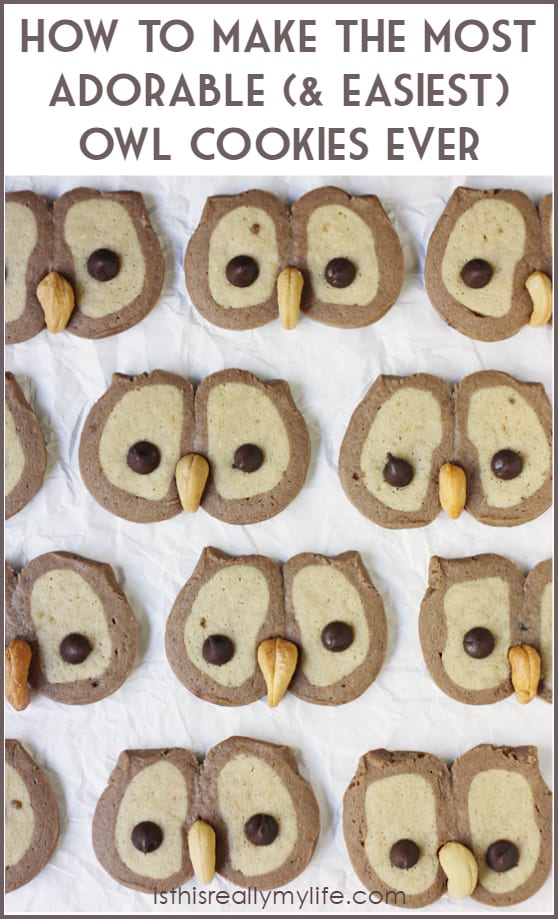 I've wanted to make these owl cookies for years but when I looked at the tiny black and white photo on the recipe, I assumed the process was super involved.
Super involved recipe + crazy holiday season = so not going to happen.
But I love my readers and I adore owls (I may have a few too many perching around my home), so I decided to give it a go.
I'm so glad I did because they were far easier than I thought.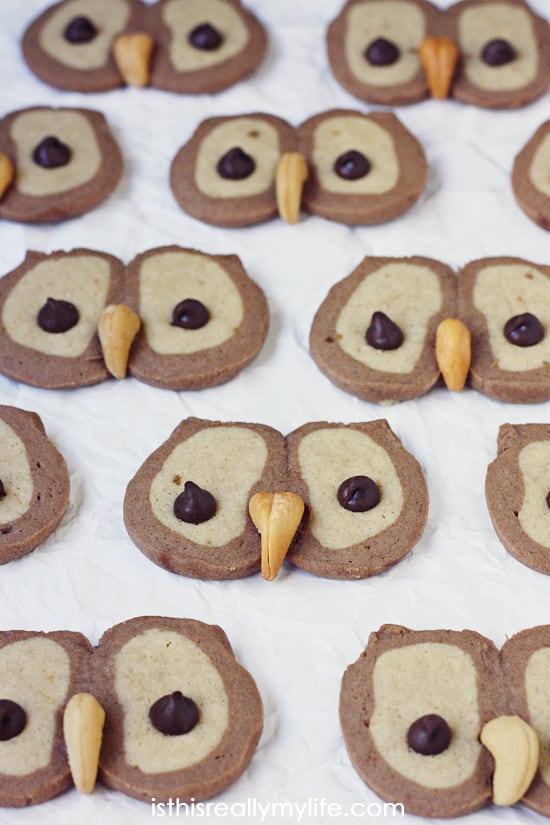 I hate when I have to chill cookie dough (I'm impatient like that), but in this case it was a lifesaver. I didn't have time to make the cookies from start to finish in the same day, so I made the dough and chilled it until I had time to create those cute little owl faces. Good thing the dough can chill up to a week because I think I made them on day 7 ⅜.
When you make the cookie dough, you wrap chocolate dough around plain dough (or you can wrap plain around chocolate; see variation in the printable recipe). I'm sure you're smart enough to figure it out, but I thought I'd throw in a couple photos in case anyone has a hard time conceptualizing things.
I consider a silicone baking mat a necessity for this recipe. It made rolling the dough so much easier. My favorite is the Silpat mat because it it does the best job of even baking and non-sticking, plus it comes in a variety of sizes.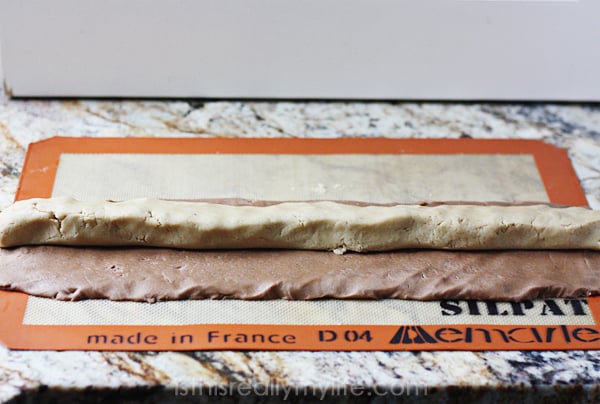 I've rolled the chocolate dough to about 4 inches wide and the length of a cookie sheet then centered the plain dough on top.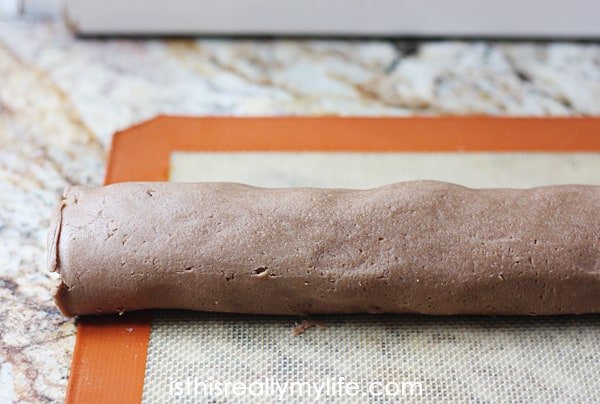 I used the silicone baking mat to roll the chocolate dough around the plain dough. Easy peasy!
These so-adorable-I-can-hardly-stand-it owl cookies make the perfect treat to gift wrap and leave on a friend's doorstep or take to an autumn get-together. If you're lucky, your kids won't pick off the eyes before you deliver them.
If you're extra lucky, they won't ask to help put on the chocolate chip eyes before baking, which decreases the likelihood of slightly drunk owls.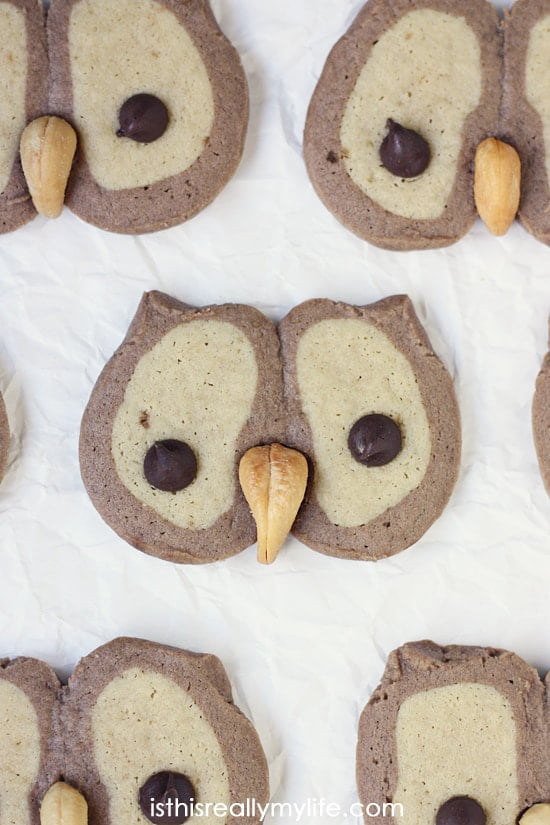 Printable recipe for owl cookies below. Enjoy!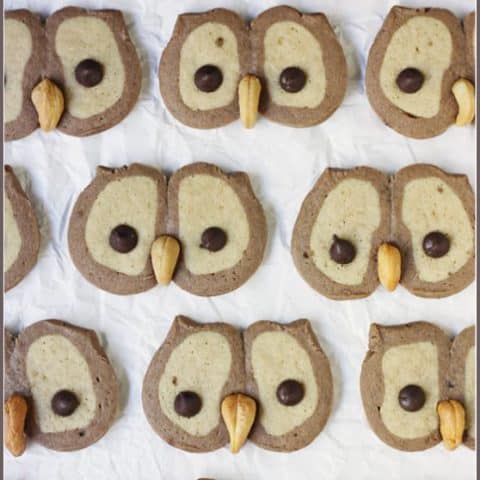 The Most Adorable Owl Cookies Ever
These owl cookies are so much easier than they look and are completely and utterly adorable. Makes approx. 2 dozen.
Ingredients
¾ cup unsalted butter, softened
1 cup brown sugar
1 egg
1 tsp vanilla
2 ½ cups flour
2 tsp baking powder
½ tsp salt
1 T unsweetened cocoa powder
Semisweet chocolate chips
Whole cashews
Instructions
Cream butter and sugar until fluffy, then add egg and vanilla. Mix well.
Add flour, baking powder and salt. Beat until thoroughly combined.
Make a roll out of chocolate dough a length just short the length of a cookie sheet on a non-stick surface like a silicone baking mat (or flour counter lightly). Use rolling pin to flatten roll so dough ends up approximately 4-5 inches wide and the length of a cookie sheet.
Make roll out of light dough the same length and center on top of chocolate dough. Use a spatula or the silicone mat to wrap chocolate dough around light.
Wrap in plastic wrap seam side down and smooth. Place on cookie sheet or similar flat surface and and chill 2-3 hours or up to a week.
Preheat oven to 350 degrees. Cut dough into ¼-inch slices and place two slices side by side with flat sides together on a cookie sheet lined with parchment paper. Press gently to seal seam.
Pinch upper corners to resemble ears. Gently press chocolate chips in each circle for eyes and a cashew in the center for the beak.
Bake for 10 to 15 minutes or until set. Let cool 2 minutes before removing to wire rack. Store in an airtight container.
Notes
If you have nut allergies in the group, you can substitute candy corn for the cashews.
Nutrition Information:
Yield:

24
Serving Size:

1
Amount Per Serving:
Calories:

140
Total Fat:

7g
Saturated Fat:

4g
Trans Fat:

0g
Unsaturated Fat:

2g
Cholesterol:

23mg
Sodium:

96mg
Carbohydrates:

19g
Fiber:

0g
Sugar:

8g
Protein:

2g