I tend to kill plants. That cute $30 hanging basket from Home Depot? I tossed it into the trash can yesterday week. It was crispier than the Aqua Net-shellacked bangs from high school. (Yes, high school. I'm that old.) I don't keep houseplants for the same reason. But I have been wanting to try my hand at gardening…you know, the growing veggies kind, not the pulling weeds and disengaging dandelions from the lawn kind. I hate that kind.
My in-laws must have known my desire to start a garden, or perhaps it was their current emergency-preparedness kick, but whatever the reason they gave us a cedar garden box kit for Christmas…assembly required. Awesome.
That assembly-required thing is probably why come June the garden boxes were still in their original box. (I bet they'd have gone for a pretty penny on KSL.) Fortunately the in-laws felt sorry for us and offered to have someone assemble them for a mere $30, a much better investment than a flowery hanging basket if you ask me.
In the meantime I worked on clearing away the weeds and old strawberry plants that had set up shop where the garden boxes would go. That manual labor thing was tough, but it was totally worth it. I now had the perfect spot for those garden boxes—a sunny location against the fence lining the east side of our backyard.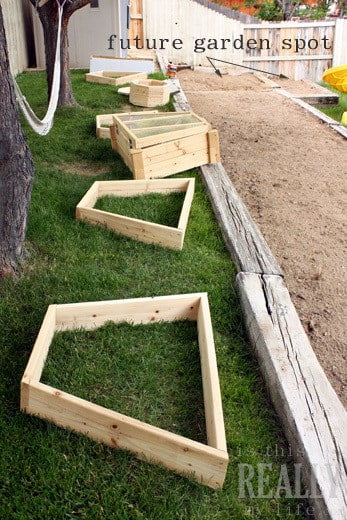 …
Note the successfully assembled garden boxes. What you don't see is my frustration when I learned they would still need to be stained. More manual labor! (Kidding. I actually enjoy painting as long as it takes less than four coats.) I immediately headed to Home Depot and chose a tintable stain in Barn Red. Love red!
After removing the paned lid on the one garden box pictured in the center above (I foresaw yucky, spotted plexiglass complete with bird droppings), I set to work staining those boxes with a little help from 7-Eleven and Pandora Radio. Two coats and a couple days later they were ready for planting!
I arranged the garden boxes in the nice, "clean" dirt and covered the outlying dirt with brown mulch. I then filled the boxes with bags of perfectly mixed container gardening soil complete with all the things a square foot garden needs…but without the mixing and at a more affordable price, which was good because I needed 10 bags!
In went the soil and then in went the fruits and vegetables, all carefully planned thanks to my good friend Sari (aka @LadyofPC) and a couple happy helpers at both Wasatch Shadows Nursery and Western Garden Centers. Who knew you could only place about one plant per box? I'd have crammed like four zucchini plants in one container and become Utah's newest zucchini supplier!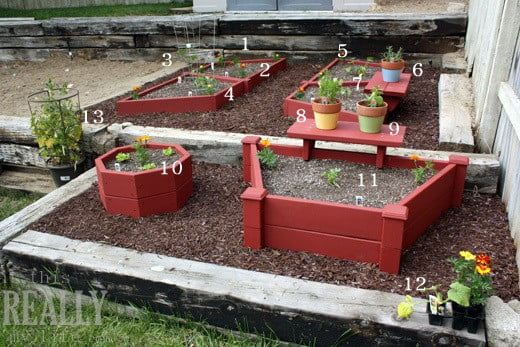 …
Here's what I ended up planting this year—I used starts rather than seeds due to my late planting:
Garden salsa peppers (both nurseries were out of jalapenos)
Red bell peppers
Cherry tomatoes
Roma tomatoes
Zucchini
Rosemary
Cucumbers
Cilantro (um, yeah, next year I'll plant a lot more; it's not nearly enough for pico de gallo!)
Basil
Lettuce
Watermelons
Pumpkins (I ended up removing a square patch of grass by the fence to plant this baby)
Random Walmart tomatoes (they got caught in that frigid weather a couple months ago and barely survived; if I'm not killing something, the weather will pick up the slack)
…
The marigolds are there to keep the little buggers out. What you don't see is a little Critter Ridder sprinkled around the outside of the boxes and a little cayenne pepper sprinkled inside to keep the neighborhood cats from leaving us presents in the morning.
That was what our garden looked like in June. Here's what our garden boxes look like now!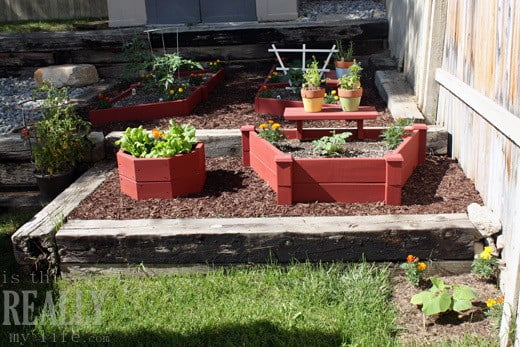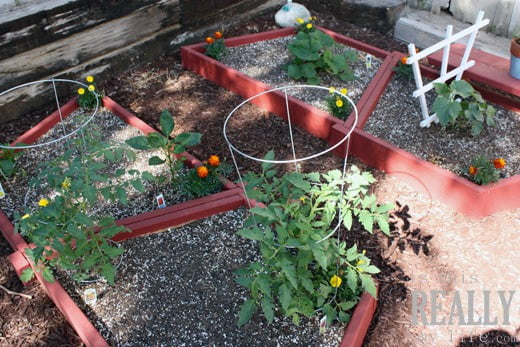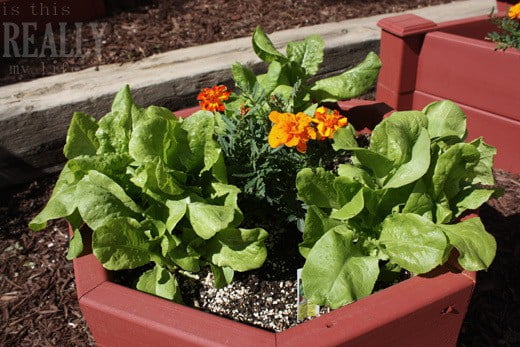 …
Isn't that the most adorable little trellis for our cucumbers? It's probably more form than function but I couldn't resist, especially because it was on clearance for like $3.
The kids loved discovering our first zucchini flowers amidst the leaves: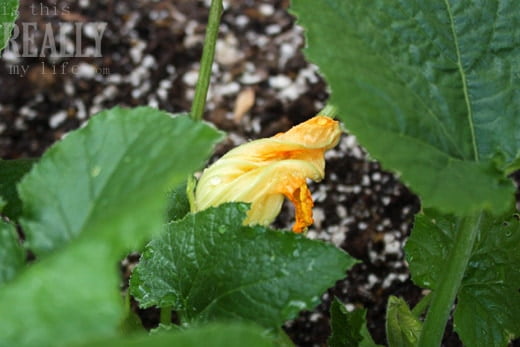 …
And I loved seeing our tomatoes finally hitting the vine!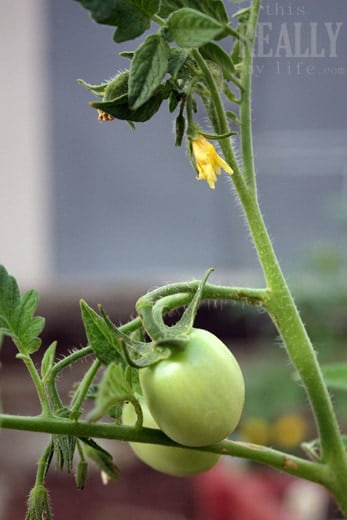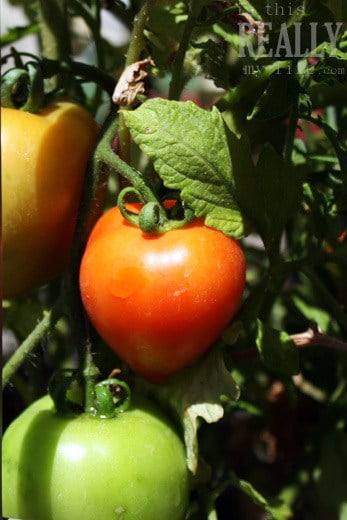 …
And these greens?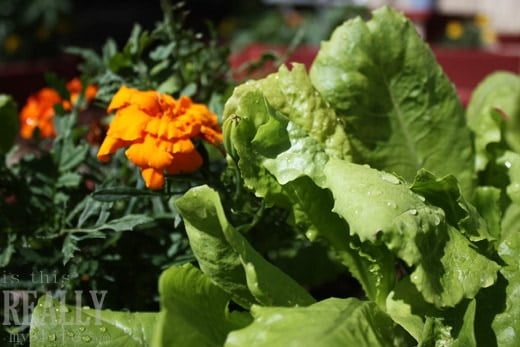 …
Delicious on a turkey sandwich! In fact, I recently snipped quite a few greens—the firsts from our very first garden (basil, rosemary, cilantro and what I call "wimpy" lettuce)!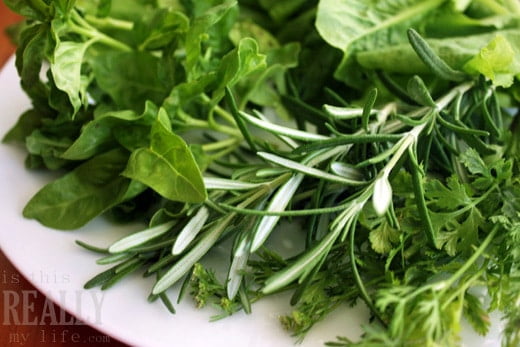 Next year I foresee more square patches of grass removed on the east side to make room for other garden staples like peas, green beans, green bell peppers, chili peppers and herbs—basically one or two hanging baskets-worth of fruits and veggies.