I wish I had it together like Stephanie over at The Daily Blarg. She did an entire Fakesgiving so she could post delicious Thanksgiving recipes like her beautiful cranberry sauce and must-try sausage and mushroom stuffing. (Wait, there's stuffing beyond Stove Top?)
Like my Halloween recipes, my style is more "post the day of so my readers don't have time to actually make them but can use them exactly one year from now." But even though I didn't host a Fakesgiving for my family, I do have four of our family's favorite Thanksgiving recipes to share with you. I've personally made the make-ahead mashed potatoes, dinner rolls (a billion times) and crunchy apple pie (yum!).
By the way, the best thing about make-ahead mashed potatoes is just that—you can make them a day or two ahead and reheat in your slow cooker Thanksgiving day. It takes out a bit of the stress and a bit of the prep work (and dishes), and who doesn't love that?
I found the turkey brine recipe years ago but sadly haven't had a chance to make it. I've only ever hosted one Thanksgiving at my house and attempted a Mexican-inspired roast turkey (not the best decision I've ever made). But I passed it to my BFF LeShan; she's made it a few times and swears by it. That's good enough for me!
For the dinner rolls and pie, I've simply included links to the original recipes, but the make-ahead mashed potatoes and turkey brine I've posted in full for you below. Happy Turkey Day!
…
Em's Famous Dinner Rolls
https://www.halfscratched.com/2011/04/my-closely-guarded-dinner-roll-recipe/
…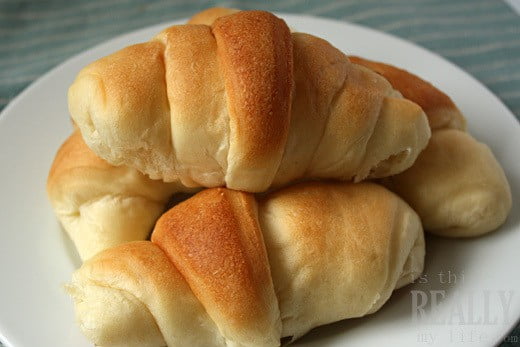 …
Crunchy Apple Pie
https://www.halfscratched.com/2011/11/crunchy-apple-pie-crumble-topping-pie-crust-recipe/
…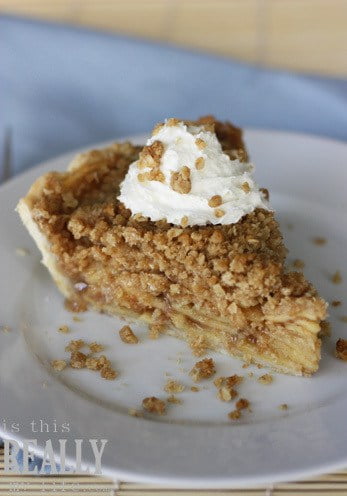 …
Make-Ahead Mashed Potatoes
5 lbs potatoes, peeled and quartered (about 10 medium potatoes)
6 oz cream cheese
1 cup sour cream
2 tsp onion powder
1 tsp salt
1/2 tsp pepper
1 T butter (or so)
2 egg whites, slightly beaten
Cook potatoes in large pot of boiling water until tender. Mash until no lumps remain. Add cream cheese, sour cream, onion powder, salt, pepper and egg whites; blend well. Cool slightly. Spray removable liner of slow cooker with non-stick spray. Place potatoes in liner, dot top with butter and refrigerate overnight or up to one week.
Take out of fridge about 3 1/2 hours before you plan to serve them. Place in slow cooker. Cook on low for 3 hours, stirring once or twice. (They can cook an additional 30 minutes or so.)
…
Image by jhenryrose, shared via Flickr.
…
Turkey Brine*
Makes enough brine for one 18- to 20-pound turkey.
7 quarts (28 cups) water
1 1/2 cups coarse salt
6 bay leaves
2 T whole coriander seeds
1 T dried juniper berries
2 T whole black peppercorns
1 T fennel seeds
1 tsp black or brown mustard seeds
1 fresh whole turkey (18 to 20 pounds), patted dry, neck and giblets reserved for stock, liver reserved for stuffing
1 bottle dry Riesling
2 medium onions, thinly sliced
6 garlic cloves, crushed
1 bunch fresh thyme
Tools: 5-gallon brining container (tub, stockpot, or bucket); large brining or oven-roasting bag; refrigerator (or a cooler with ice)
One day before roasting turkey, bring 1 quart water, salt, bay leaves and spices to a simmer, stirring until salt has dissolved. Let cool for 5 minutes.
Line a 5-gallon container with large brining or oven-roasting bag. Place turkey in bag and add salt mixture, remaining 6 quarts (24 cups) water and the other ingredients. Tightly close bag. If turkey is not submerged, weight it with a plate. Refrigerate for 24 hours, flipping turkey once. If there isn't room in your refrigerator, place the bagged bird inside a cooler and surround it with ice. Replenish as needed so turkey stays at 40 degrees.
Remove turkey from brine one hour before you're ready to roast it and pat it dry inside and out. Let stand for up to 1 hour before roasting it according to your favorite roasted turkey recipe.
…
Image by SliceOfChic, shared via Flickr.
…
* You can find the original recipe on MarthaStewart.com in case you need step-by-step photos.