Organize essential picnic supplies, from bug spray and blankets to plates and plasticware, by turning your craft organizer into a picnic caddy!
.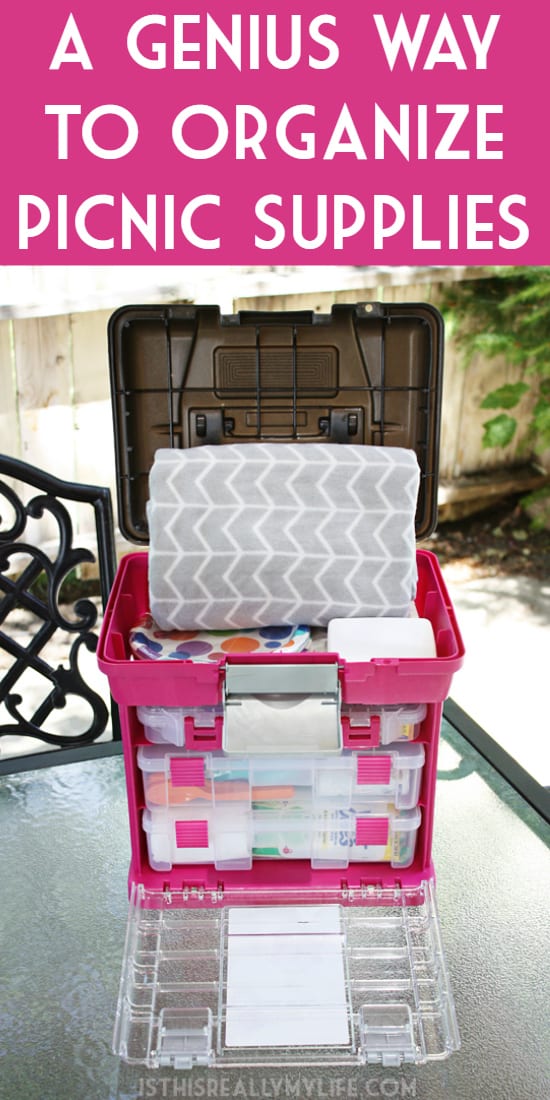 .
This post is part of a social shopper marketing insight campaign with Pollinate Media Group® & Creative Options, but all my opinions are my own. #pmedia #Storagewithstyle http://my-disclosur.es/OBsstV
.
While our family enjoys a variety of activities during warmer weather, we don't go on picnics nearly as often as we should. I have no problem packing a few water bottles and sandwiches for a hike or throwing some juice boxes, granola bars and fruit snacks in a small cooler for the pool, but pulling together everything needed for an official picnic feels a bit overwhelming to me.
I'm not talking about picking up drive-thru and sitting at the school playground. I'm talking about a real picnicking adventure where you take a drive and spend a few hours exploring a new park or meeting friends down by the river. And for that you'll want more than foot-long sandwiches and packaged silverware. You'll want all the picnicking things.
.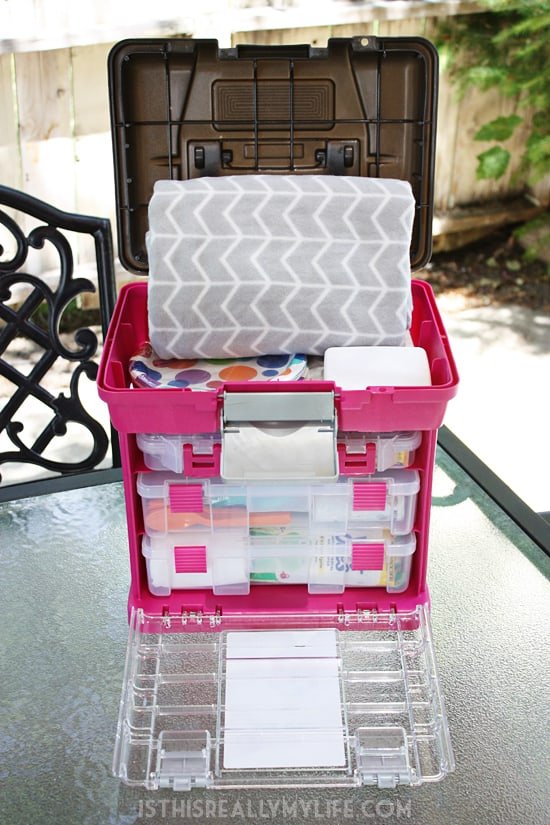 .
I've discovered the answer to organizing all the picnicking things—an answer that requires little work and little time, for once you organize your picnic supplies, all you'll need do is restock on occasion. Other than that, you just grab and go.
Why can't packing for family vacations be this easy?
I found this Creative Options Grab 'N Go craft organizer at Hobby Lobby (don't forget the 40% coupon!) and knew it would be brilliant for picnic supplies…but I had no idea how brilliant. I packed so many supplies into that thing, it was like Mary Poppins' carpet bag!
.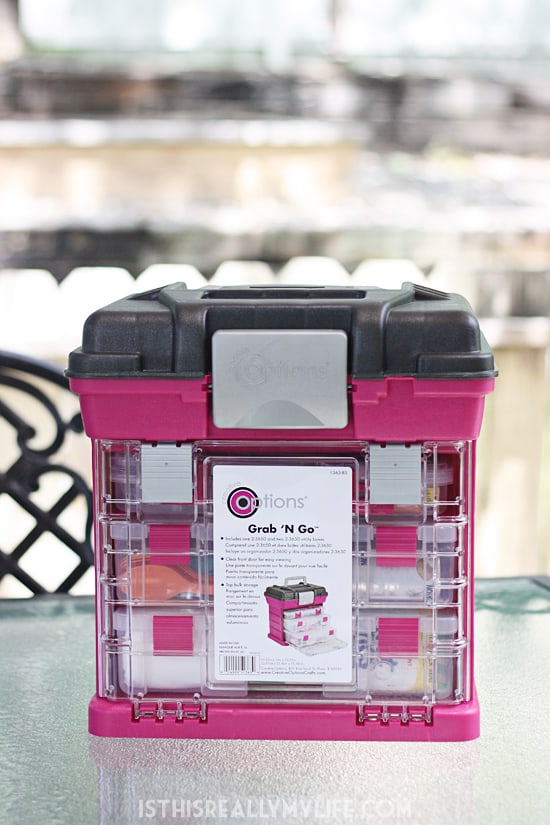 .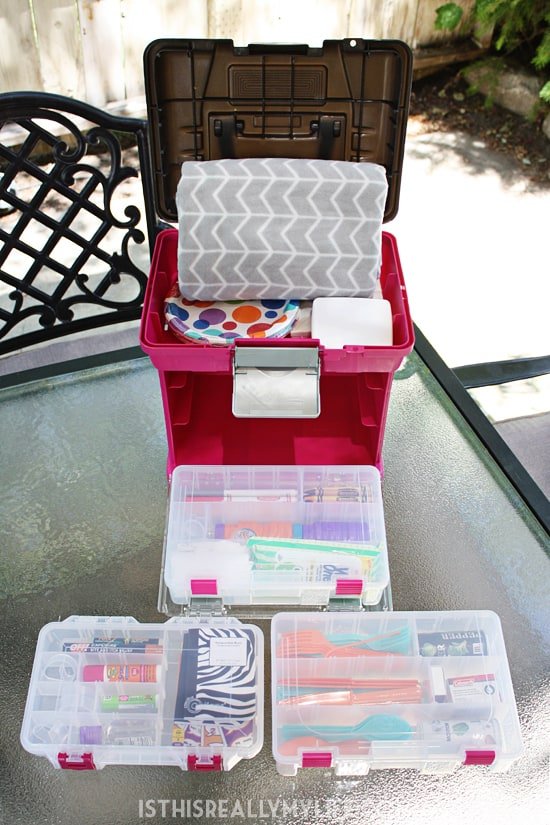 .
Let's take a look at everything I fit inside this Creative Options craft organizer.
.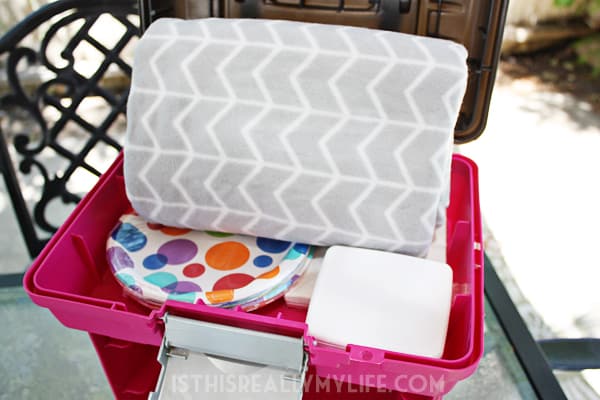 .
Inside lid:
Fleece blanket
Salad-size paper plates
Napkins
First aid kit
.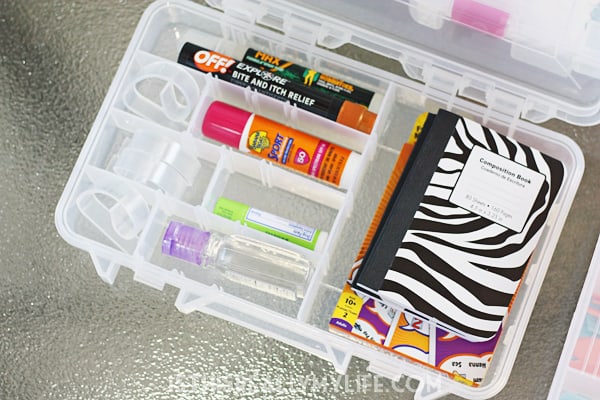 .
Inside top tray:
Travel bug spray
Bite & itch relief
Sunscreen
Table clips
Chapstick with sunscreen
Hand sanitizer
Notebooks
Mad Gab card game
.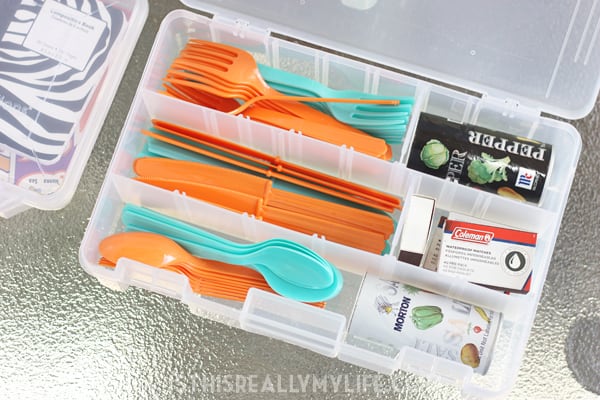 .
Inside middle tray:
Plasticware
Waterproof matches
Salt & pepper
.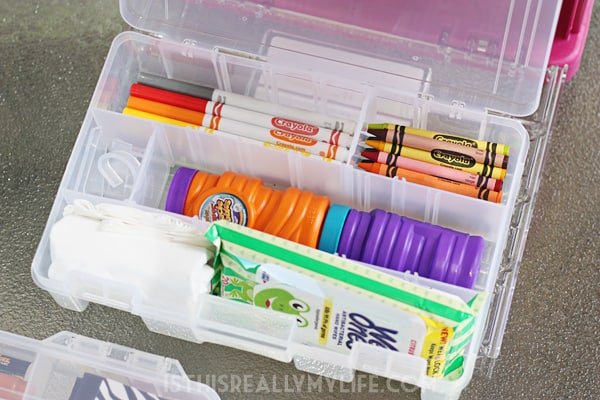 .
Inside bottom tray:
Markers
Crayons
Table cips
Bubbles
Plastic tablecloth
Wet wipes
.
Not only do you have the necessities but you have not-so-necessities to keep kids entertained like bubbles, markers and notebooks and a card game. All you need to add is large paper plates and the food!
Tweak this caddy a little and you'd have the perfect road trip travel kit, or do as Livi suggested and turn it into a baby essentials organizer with wipes, diapers, bum cream (her words), burp clothes and extra pacifiers. The creative organization options are endless!
Now grab yourself a Creative Options Grab 'N Go craft organizer, fill it with your favorite picnic supplies and get that family outdoors!
.
Looking for more fun ideas? Try browsing my best of Is This Really My Life Pinterest board. I guarantee you'll find quite a few!
.
.

Feel free to "like" is this REALLY my life? on Facebook. It won't always earn you an extra entry in a giveaway but it will give you warm fuzzies.
Don't forget to sign up for free is this REALLY my life? updates via RSS or email so you don't miss a single awesome post.
.