Disclosure: This post is part of a social shopper marketing insight campaign with Pollinate Media Group™ and Open Me, but all my opinions are my own. #pmedia #OpenMeHoliday http://cmp.ly/3/8vNxcO.
So I have this BFF. We've known each other since our oldest girls were three months old. (Their birthdays are 1 week apart.) That's 16 years of friendship so far…a friendship that includes numerous play dates, trips to the beach, days out shopping, nights out eating, a t-shirt business, long phone conversations, snarky text messages, flights across country and lots (LOTS) of therapy sessions.
LeShan lives in Florida and I live in Utah and we rarely get a chance to talk these days. She is currently working a graveyard shift, and with the time difference, it's nearly impossible to catch up. With her crazy schedule and crazy family of six, including a set of twin boys, I often worry about her.
When I was given the opportunity to send her a holiday sentiment from Open Me, I jumped at the chance. With the crazy holiday season, I'm all about doing whatever I can online. I can avoid crowds at the store and the post office—a double win.
I headed to OpenMe.com and browsed their collection of hand-curated greeting cards. Here were my top four choices:
Clockwise from top left: Grand theft arctic; What happens at the North Pole stays at the North Pole; Santa is SO giving us coal for Christmas; Are we there yeti?
I put it on Instagram for a vote and the winner was the yeti, but honestly, when I saw the "coal" card I knew that was the perfect Open Me holiday card for LeShan. Once I chose the card, the rest was easy.
First, I clicked on the card to get started and chose "single card" (though I'm pretty sure I could send this to more than a few of my girlfriends).
Then I started with the customization. I found the above photo of the two of us…
…and cropped it so those two strangers in the background wouldn't be in the photo.
Once the photo was added, I started on the note. I chose my favorite font and wrote what I consider to be a pretty festive holiday poem.
Christmas trees are green.
(Flocked ones are lame.)
Without your friendship,
I'd be certifiably insane.
…
After saving the note, I was disappointed to see it didn't keep my formatting. No matter what I tried, it lumped all the text together.
The poem kind of lost a bit of its awesomeness. *sigh*
After saving the card, I was able to preview the finished product before sending. (And yes, I was still bugged about the formatting.)
…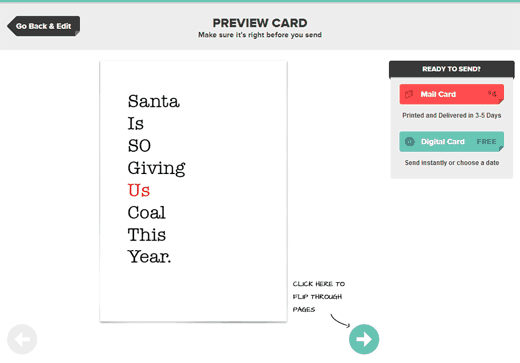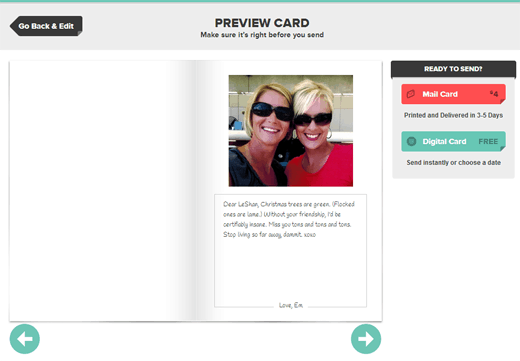 …
The last thing to do was send the Open Me holiday card, and because I wanted her to get it right away, I clicked "digital card." Off it went into the email vortex and eventually landed in her email inbox—a little Christmas humor to help curb a bit of the insanity.
Creating this holiday card was a lot of fun (and free 'cause I went digital). I highly recommend you send one or two or more to your friends and family. Of course, it's always nice to receive a real letter in your real mailbox, and that's totally an option too at OpenMe.com. Just select "mail card" and for around $4, Open Me will print, address, stamp and send your holiday card for you. No lines at the store or the post office!
If you want to connect with Open Me online, you can find them on Facebook, Twitter, Instagram, Pinterest and Google+.
…


Feel free to "like" is this REALLY my life? on Facebook. It won't always earn you an extra entry in a giveaway but it will give you warm fuzzies.
Don't forget to sign up for free is this REALLY my life? updates via RSS or email so you don't miss a single awesome post.
…