Back in December the gals from SassyScoops.com visited One Sweet Slice custom cake and cupcake shoppe in South Jordan, Utah. I instantly fell in love with the shoppe and its cupcakes. In fact, their peanut butter swirl cupcake is still one of my most favorite cupcakes ever while Nathan's is the key lime coconut cupcake.
I may have ordered a couple dozen of that exact cupcake for his surprise 40th birthday party. 
They were a huge hit.
When Vanessa told me Janell, the owner of One Sweet Slice, was scheduled to appear on Food Network's Cupcake Wars THIS SUNDAY, September 9th, I may have done a bit of a happy dance in my office chair.
I followed up that happy dance with a phone interview in which I asked Janell super important questions like "what's your least favorite dessert?" and "what will you do with the money if you win?"
I probably should've asked "how many One Sweet Slice cupcakes can you eat in one sitting?" I'm pretty sure I can put away at least three.
When did you first discover your love of baking?
At first I was drawn to the decorating side of things more than the baking side. I always enjoyed being creative—I always loved art and working with fun colors. Cake decorating provided a different medium for me.
But soon I started thinking that after spending that much work and time decorating a cake, it better taste good too. I started to play around with different flavors of cakes and combinations, finding good recipes that tasted delicious. That was about 8 years ago.
…
When did you first dive into the world of cupcakes?
Before I would only do cupcakes for special orders, but when we decided to open a storefront . We thought it would be fun to have something customers could come in and purchase other than only offering custom cake and cupcake orders.
When it came to making cupcakes, at first I thought, Oh, I'll just pour the cake batter in the liners, but it's an entirely different world. You have to take a lot more into account. It's been about two years since we started on cupcakes.
…
One Sweet Slice first opened its doors in South Jordan in June, 2011 but your press release says you've been making extreme custom cakes for over seven years. Did you previously do it out of your kitchen? And what do you mean by "extreme?"
Yes, I did everything as a licensed business from my home kitchen but it became too big to do at home—too many late nights, too many hours.
What I mean by "extreme" is we do things that your grocery bakery or even your regular bakery can't do. We do all sorts of fun shapes, things that are carved, different stands, colors and textures. We love the challenge of trying to create something that hasn't been done before, from small, carved, detailed cakes to big topsy turvy cakes that look like they could fall over.
…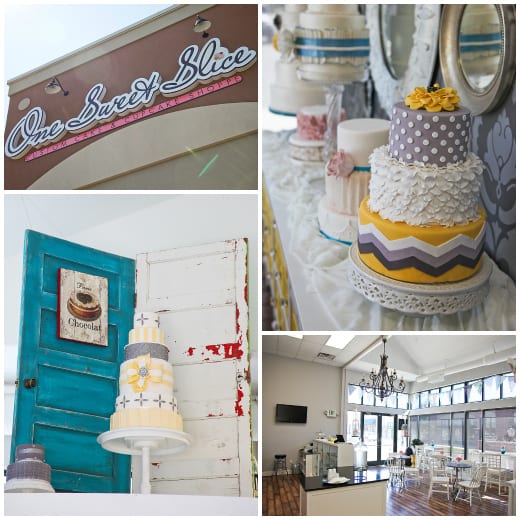 …
What is your most memorable cake?
Probably one of the most memorable cakes was for a member of the Osmond family who was getting married. It was a BIG cake…it was really tall and the table was really tall. We placed a large metal crown between the tiers which gave the cake even more height. We had to use a ladder to put the whole thing together. I felt so nervous not knowing who of the Osmond family would be there. That was probably the first of the biggest cakes I've done.
…
What is the most memorable event you've catered?
I would say probably one of the most exciting things we've done was a cake for the hip-hop artist and actor, Common. There was a big party—his birthday party—and all these celebrities, including Kanye West and Serena Williams, were in Utah for the party. They called One Sweet Slice the morning of and asked if we could put a cake together. We had five hours to bake and put it together. You couldn't just give him this little, wimpy cake. You had to give him something really fun and cool.
…
Who is your most memorable customer?
I would say Kyle Beckerman from Real Salt Lake. We were on a family vacation when we got the call asking us to create his birthday cake. We dropped everything we were doing and headed back so we could make it. We are huge Real Salt Lake fans so that was something we were really excited to do for him.
We also made a cake for former Ute football player Paul Soliai, now a pro footballer who plays with the Miami Dolphins.
…
What are your top three bestsellers?
It rotates with the season but our consistent bestsellers are the coconut key lime, peanut butter swirl and chocolate fleur de sal.
…
What is your favorite cupcake and why?
That one rotates too! I really like the Nutella cupcake. I love the hazelnut with the chocolate. I also really like the raspberry lemonade—or anything with lemon.
…
Are there any desserts you don't like? What is your least favorite cupcake?
Jell-O. I don't like Jell-O. I know that sounds terrible being here in Utah. I'm also not a huge coconut fan so I usually won't eat the Almond Joy and German chocolate cupcakes. (I like the flavor of coconut but don't like the texture.)
…
Has there ever been a weird request for a cupcake or cake?
Chocolate pineapple rum is the strangest request we've received. I'd never heard of the combination before but it's one of Mrs. Backers specialty cakes. It actually turned out really good.
The French toast cupcake with bacon on the top sounds really strange but people who are gutsy and try it seem to enjoy it.
…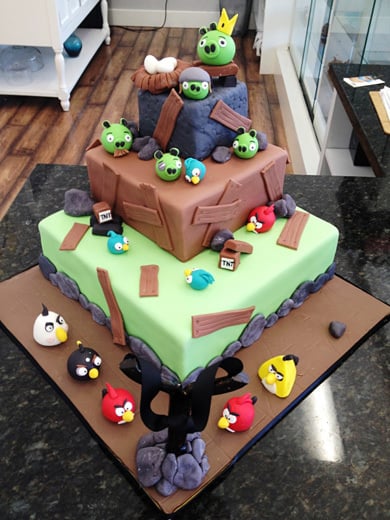 …
What will you do if you win the $10,000 on Cupcake Wars?
If we won, I would probably take my kids on a trip first. They love California (Disneyland and the whole thing) and I'd love to treat them because they've had to put up with me being gone so much. The responsible thing would be to put it towards our business debt, but if I didn't have to worry about that, I'd put a lot of it back into the business, buying cake decorating supplies and all the little things I've wanted to get but keep putting off. One Sweet Slice also needs a delivery van.
…
What are your plans for One Sweet Slice?
We've looked at and are hoping to open another location but it's always about getting the timing right and getting the right people. We'd love to expand but want to do it wisely. We'd love to have it become the first thing people think of when they need a cake or cupcake for any occasion.
…
Can you tell me a little bit about your family?
I have been married to my husband Trent for over 10 years and he is the "smarts" of the business. An amazing helper, he was even my wedding cake baker for 6 months! I also have four kids: Kaysen (8), Addilyn (6), Sadie (5) and Becca (18 mos). It's always a busy and always messy. I grew up in Monticello (southern Utah) and we have family in Utah and in California. Our family has lived in West Jordan for about six years. Before that we lived in Cedar City. That's where I started taking decorating classes—right after I had Kaysen. It was a great excuse to get out of the house. Soon I started teaching classes at Roberts and it evolved from there!
Don't forget to check out Cupcake Wars this Sunday, September 9th at 8pm/7pm central to see if Janell from One Sweet Slice wins the $10,000 prize.
You may need a few One Sweet Slice cupcakes on hand to eat while watching…and then a few more just in case you need to celebrate.
You can find this delicious little cake and cupcake shoppe online and offline:
One Sweet Slice
1644 W. Towne Center Dr, Suite D6
South Jordan, UT 84095
801.727.4275
…


Feel free to "like" is this REALLY my life? on Facebook. It won't earn you an extra entry in any giveaway but it will give you warm fuzzies. Even better.
Don't forget to sign up for free is this REALLY my life? updates via RSS or email so you don't miss a single awesome post.
…