These old-fashioned iced oatmeal cookies are one of my most-requested recipes thanks to a soft, chewy, perfectly-spiced oatmeal cookie topped with a thin layer of vanilla icing.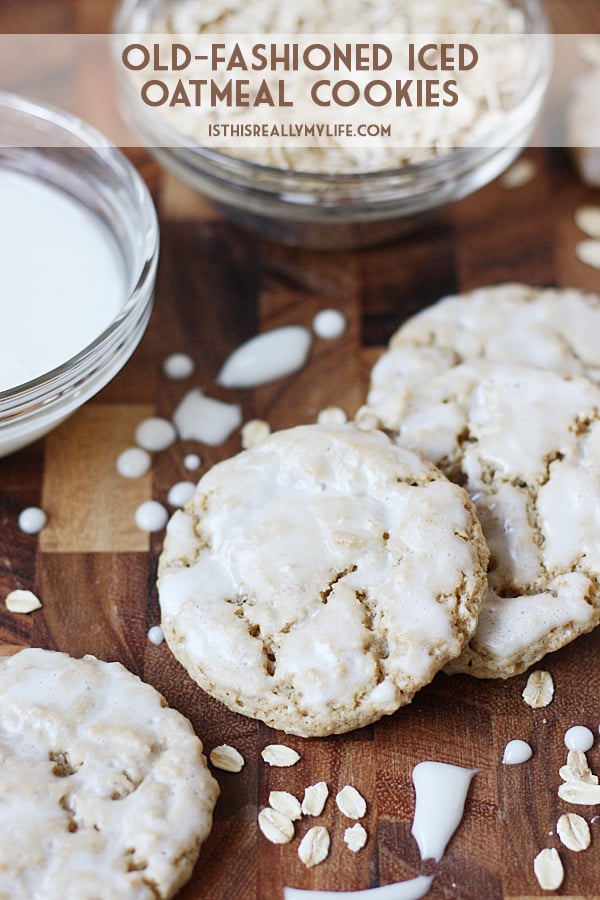 These old-fashioned iced oatmeal cookies are my family's latest favorite cookie recipe. We made a batch, inhaled them, and promptly decided we needed to make more.
The next day.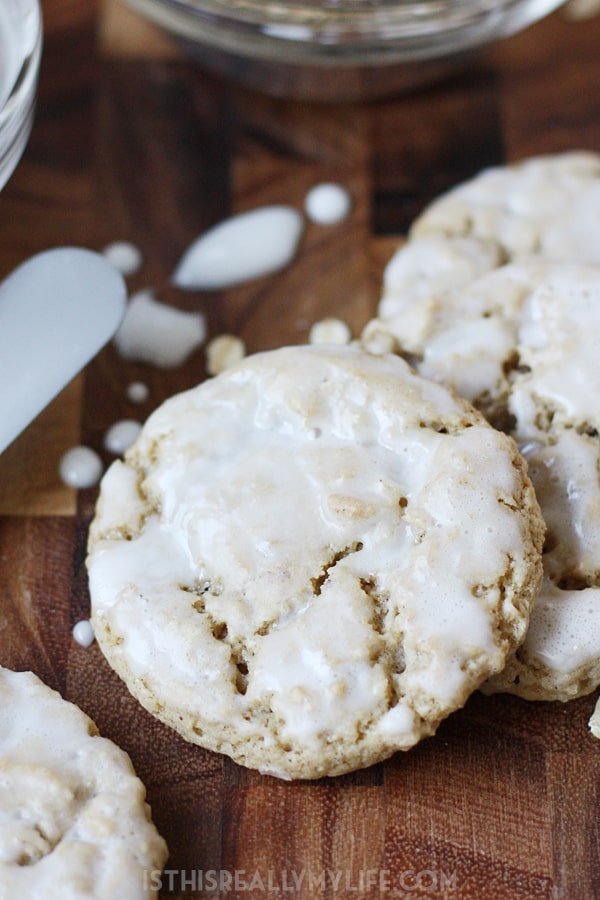 If you're a fan of those Mother's Iced Oatmeal Cookies, you're going to love this recipe. These cookies are a million times better—and I'm sure each iced oatmeal cookie is calorie and fat free because they're made from scratch.
Oh, the lies I tell myself…
We made the icing a little thin; I think next time we'll thicken it up a bit so we get even more of that icing goodness in each bite.
I used a medium cookie scoop on this batch and thought them the perfect size, but if you love diving into a bag of Mother's Iced Oatmeal Cookies, try the OXO small cookie scoop. Mini cookies mean you can eat twice as many!
Printable recipe for old-fashioned iced oatmeal cookies below.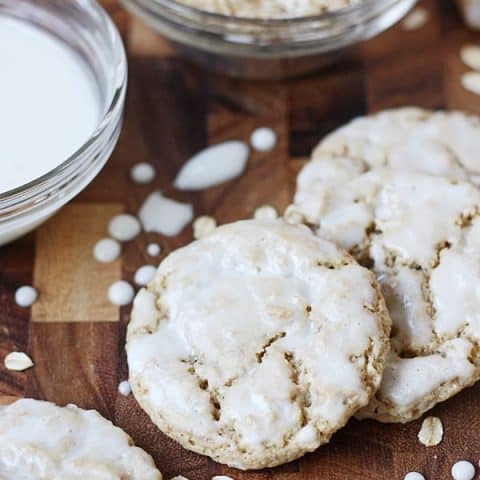 Old-Fashioned Iced Oatmeal Cookies
Yield: 36

Prep Time: 10 minutes

Cook Time: 15 minutes

Total Time: 25 minutes

Reminiscent of Mother's Iced Oatmeal Cookies but a million times more delicious!
Ingredients
Cookies
2 cups old-fashioned oats
2 cups all-purpose flour
1 T baking powder
1 teaspoon baking soda
2 teaspoon ground cinnamon
½ teaspoon ground nutmeg
1 teaspoon salt
1 cup unsalted butter, melted
1 cup granulated sugar
½ cup packed light brown sugar
2 eggs
Icing
2 cups powdered sugar
3 - 5 T milk
Instructions
Preheat oven to 350 degrees and lightly grease cookie sheet.
In a food processor or blender, pulse/blend oats until partly ground. (Ground oats should be coarse, not a fine powder.)
Add flour, baking powder, baking soda, cinnamon, nutmeg and salt. Mix until combined.
In a large bowl beat melted butter and sugars. Add eggs one at a time, beating well after each addition. Add dry ingredients and stir until thoroughly combined.
Drop dough by rounded tablespoons onto prepared cookie sheet. Bake 14 to 16 minutes until lightly browned.
Cool cookies for 5 minutes on sheet before moving to a wire rack to cool completely.
Once cookies are completely cooled, whisk together powdered sugar and milk until smooth and desired consistency. Gently frost each cookie and allow glaze to set before storing. (We liked dipping the tops of the cookies in the glaze and then flipping them over to set.)
Store in an airtight container for up to one week (if they last that long).
Nutrition Information:
Yield: 36 Serving Size: 1
Amount Per Serving: Calories: 150Total Fat: 6gSaturated Fat: 3gTrans Fat: 0gUnsaturated Fat: 2gCholesterol: 24mgSodium: 149mgCarbohydrates: 23gFiber: 1gSugar: 14gProtein: 2g