My good friend Quinn and I were trying to make a new co-contributor thing work for a great website but it just didn't come together. In the end we decided it wasn't in the cards and gracefully (hopefully) passed on the opportunity to write for this fab site. Our feature was going to be a monthly post on a delicious meal perfect for whatever season or holiday was coming next.
The plan for April was a yummy glazed ham, red potatoes, asparagus, rolls and fruit trifle, a wonderful Easter dinner. I was in charge of the potatoes, asparagus and rolls. When our co-contributing dinner plan fell through, I was left with the ingredients for three side dishes. So what's a mom to do with asparagus in the fridge, potatoes in the bag and rolls in the freezer but no main dish? She improvises. And yes, this really is my life and this really was tonight's dinner: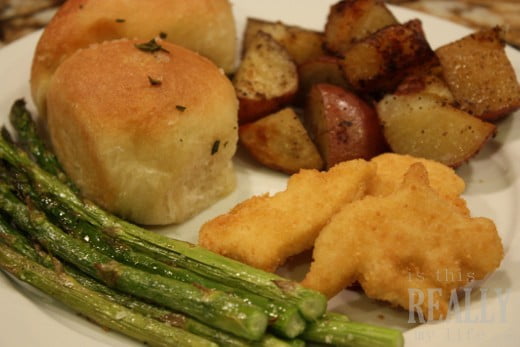 …
Let me break it down for you: broiled asparagus from Redhead Recipes; roasted red potatoes from my good friend Kim (recipe below); buttered rosemary rolls from The Pioneer Woman; Dino Nuggets from Costco.
When we finally sat down to eat at 7:30 p.m., (I started on everything way too late), the family—okay, mainly Nathan—had a good little chuckle over the presentation. Hey, at least there was protein on the plate!
At least everything was super tasty. I believe Nathan's words after he bit into one of The Pioneer Woman's rosemary rolls were, "These are deadly." (Said while giving me this look like "seriously, hide the rest of them before I eat every last one.") The asparagus was good although the tips, which are usually my favorite part when steamed, were a little on the dry, tickle-your-throat side and not my favorite. I probably broiled them too long. The potatoes totally rocked and the rolls melted in all our mouths. And the Dino Nuggets? Not a single claw was left on plate or pan.
For broiled asparagus a la Redhead Recipes, you can find the original recipe here.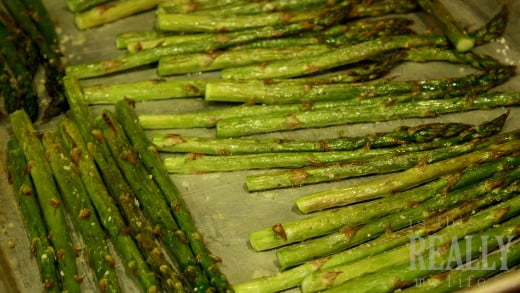 …
For the "melt in your mouth way too good to eat just three" buttered rosemary rolls a la The Pioneer Woman, check out the recipe here. (We'll be making these at least two more times this week.)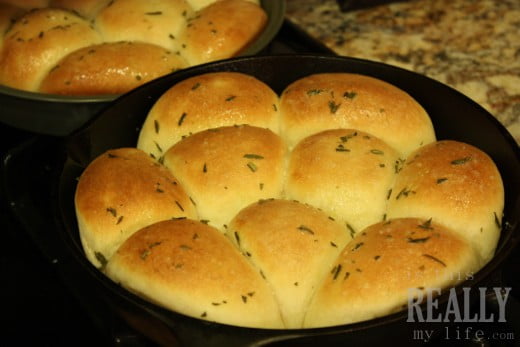 …
And for the roasted potatoes recipe, here's the recipe! I tweaked it a bit since I cut the potatoes into large chunks rather than leaving the smaller ones whole as Kim often does.
Roasted Red Potatoes
red potatoes (I used about 2/3 of a bag)
1 teaspoon salt
1 teaspoon pepper
3 heaping teaspoons minced garlic
2 tablespoons olive oil
Combine ingredients in a large bowl and toss until potatoes are coated.Place in a lightly greased baking dish. (Stoneware casserole dishes work great for these!)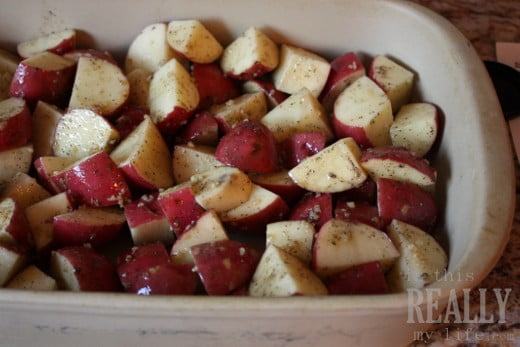 Bake, covered, at 325 for 1 1/2 hours, stirring halfway through. Remove foil and bake 30 more minutes or until potatoes are brown. (Can you tell I started them when it was still daylight and they came out when we'd switched to tungsten light?)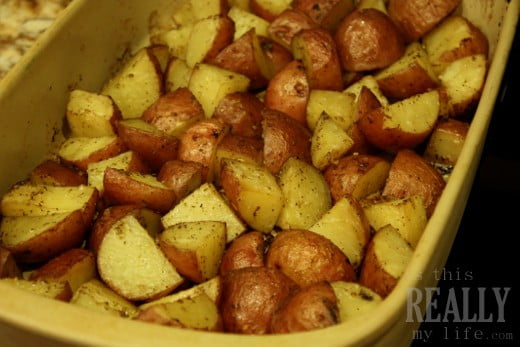 NOTE: While typing up the recipe I realized there was a reason our potatoes had tasted a bit on the spicy side…I believe my brain took the 3 teaspoons of minced garlic and transferred it to the salt and pepper. Tell me if this bowl of red potatoes looks like it has way more than 1 teaspoon each of salt and pepper: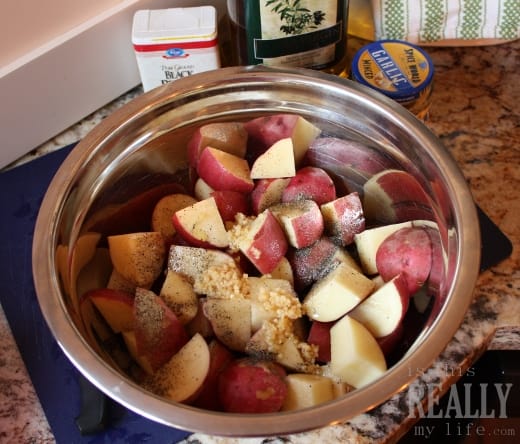 Yeah, that's what I thought. Don't get me wrong; they were really, really good but definitely not for the faint of heart…or tongue.
And now I must go eat another buttered rosemary roll. Can't help it. They're calling my name. (Fortunately the Dino Nuggets aren't this late at night.)