Though I enjoy a nice bowl of macaroni and cheese, be it homemade or (gasp!) Velveeta, the classic mac & cheese dish is child's play when it comes to Noodles & Company's new line of grown-up macaroni and cheese dishes.

…
First, let me say I'm a fan of Noodles & Company. My favorite menu item is the Penne Rosa pasta (spicy tomato cream sauce, mushrooms, tomato, spinach and wine, Parmesan or feta topped with chicken breast) with a side of flatbread, a Diet Coke and a large chocolate chip cookie.
…
Of course there's more to their menu than pasta. You'll find a variety of Asian (Bangkok Curry, anyone?), Mediterranean and American. It's this American section I'd like to address—more specifically that Wisconsin Mac & Cheese. That little bowl of creamy cheesiness has grown up!
…
Last week Livi and I joined my good friend Steph and her husband for a tasting at Noodles & Company in Sugarhouse (Salt Lake City, Utah).
…
On the menu was the company's special-edition gourmet Mac & Cheese flavors:
Truffle Mac with Baby Portabellas (aka "Fancy Pants") ~ Signature Mac & Cheese sauce spiked with white truffle oil, sauteed baby portabella mushrooms and topped with parmesan cheese, house-made toasted breadcrumbs.
Bacon, Mac & Cheeseburger (aka "Hearty") ~ Signature Mac & Cheese mixed with crumbled oven-roasted meatballs and crispy bacon, topped with cheddar-jack cheese, house-made breadcrumbs, Roma tomatoes and green onions.
Southwestern Chili Mac (aka "Spicy") ~ Smothered with spicy red chili, crumbled oven-roasted meatballs and topped with cheddar-jack cheese and diced green onions.
Are you drooling yet? If not, let me show you some of the other dishes we sampled before we even dove into the new Mac & Cheese: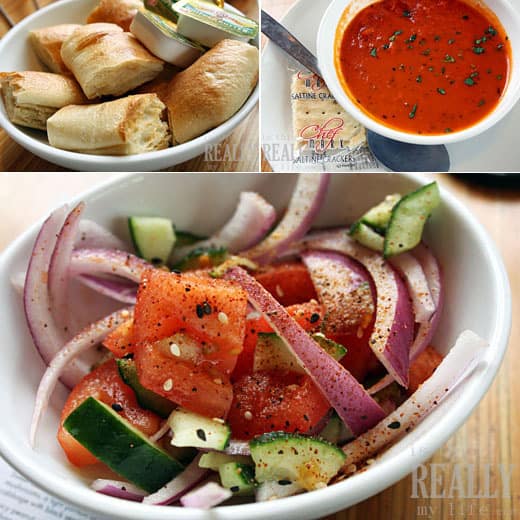 Clockwise from top left: Ciabatta Roll, Tomato Basil Bisque Soup, Cucumber Tomato Side Salad
…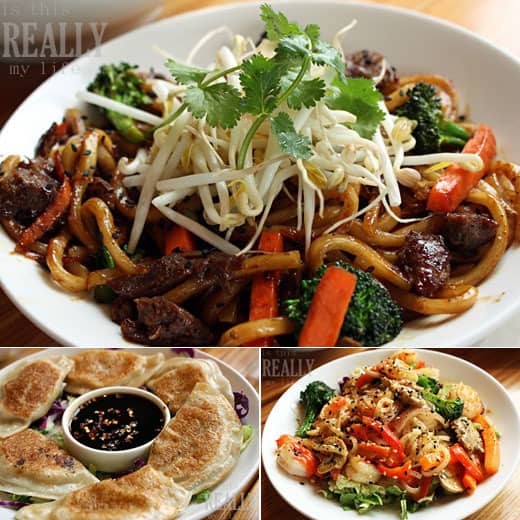 Clockwise from top: Pad Thai, Bangkok Curry, Potstickers
…
You'd think we'd be plenty full after all that delicious food, but of course we saved room for the real rock stars of the show, those fancy schmancy Mac & Cheeses! Here are the photos I quickly snapped before we dove into—and devoured—all three dishes plus the original Wisconsin Mac & Cheese (a blend of cheddar and jack cheeses, cream and elbow macaroni).
First the original Wisconsin Mac & Cheese:
…
Next, the Truffle Mac with Baby Portabellas:
…
Followed by the Bacon, Mac & Cheeseburger:
…
And rounded out by the Southwestern Chili Mac:
…
The definite winner for me was the Truffle Mac—that dish had me wishing I had a tubful waiting at home for me. It was creamy and decadent and likely the most "adult" of all three dishes. Being super mature for my age, it's no wonder that was my favorite. But I enjoyed all three, cross my heart and hope to eat lots more.
Livi preferred the classic Wisconsin Mac & Cheese as evidenced by her nearly licked-clean bowl:
…
Go ahead and grab a napkin to wipe the drool off your chin, but before you rush to your local Noodles & Company, let me tell you a few more nifty things about them (you can learn even more here):
All dishes are

fresh

and

made-to-order

. They prep and chop their vegetables daily.
Menu items are as

authentic

as possible. For example, theThai Curry Soup is made from more than 30 authentic ingredients including galangal, kefir lime, lemongrass, red chili, tamarind and coconut fried shallots. Awesome!
A huge selection of combinations are

400 calories or less

.
No pre-packaged food; even the breadcrumbs are

made from scratch

.
Ingredients are

sourced locally

whenever possible.
You can order at a counter but eat with

real china and real silverware

, no tip necessary!
One more thing before you head out to grab your own bowl of Truffle Mac (or Indonesian Peanut Saute or Pesto Cavatappi or Chicken Noodle Soup), Noodles & company offers a fab to-go menu. Their square bowls feed 4 to 6 people and also fresh and made-to-order and they've even created a mini worksheet so ordering their square bowls is easy peasy Mac & Cheesy!
Oh, and I almost forgot. Remember that chocolate chip cookie I mentioned at the beginning of this post? They have those plus Snoodledoodle Cookies (very snickerdoodle-like) and ginormous Rice Krispy Treats. I brought those home and share with the kids. (Okay, truth be told, I divided the Rice Krispy treat four ways for them and ate the two cookies in one sitting.)
…
P.S. The Noodles & Company Sugarhouse location has a Coca-Cola Freestyle machine. If that doesn't seal the deal, I don't know what will.
…
Disclosure: Livi and I received a sampling of Noodles & Company's menu items, including their delicious new selections of macaroni & cheese, and gift cards for a handful of future bowls in exchange for this review. Of course you know by now I'm completely honest in my reviews, especially before the caffeine kicks in.