A few weeks ago I was invited to attend a hard hat tour of the new location for the Natural History Museum of Utah. Slated to be open in late 2011, the new museum is going to be AWESOME! Here's a rendering of what it will look like brand-spankin' new: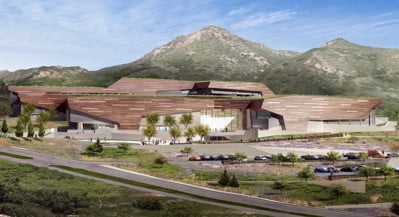 Named the Rio Tinto Center, the new home for the Natural History Museum of Utah is still under construction (hence the "hard hat tour" part). The new building will allow UMNH to "properly steward and showcase the more than 1.2 million natural history objects for the benefit of future generations."
Located in the foothills between Red Butte Garden and Utah's Hogle Zoo, this new NHMU building will feature:
Double the gallery space showcasing all new exhibits
Three times the special exhibits and events space
Hands-on activities for children and families
"Green" building—a model for sustainable development
Copper ore from Utah's Bingham Canyon mine covering the Museum's exterior
You can tell it's going to be a truly, truly magnificent structure even behind all the scaffolding, construction equipment, dirt, dust and hard-hatted workers decked out in their hot orange vests (double meaning intended).
Let's do a quick game of I Spy so you can get a sneak peek of NHMU's soon-to-be new digs!
I spy the head honchos (and honchesses) of the Natural History Museum of Utah and the construction company giving us the lowdown on the building…and reminding us "safety first!"
I spy some new-fangled material I think is for the parking lot? Heck, I can't remember, but it was super "green" and super cool!
I spy some very large, very orange diggers behind a spray-painted sign trying to tell me something.
I spy some yummy copper exterior covering.
I spy quite a few orange-vested blogger and a really, really tall three-story entrance. What you don't spy is the plan for a two- or three-story glass-enclosed case featuring some of the museum's displays. I can hardly wait!
I spy a circular story room. By the way, a completely smooth circular room is very hard to construct. And no, I don't know that from personal experience. My experience is with padded rooms, not circular ones.
I spy some funky rebar. I thought funky rebar was worth spying, don't you?
I spy a gorgeous view from the top of the building…
…and a gorgeous crafty blogger who totally one-upped us with her stylin' purple flower clip.
Last but not least, I spy a fabulous group of bloggers who know how to rock a hard hat, safety goggles and an orange vest.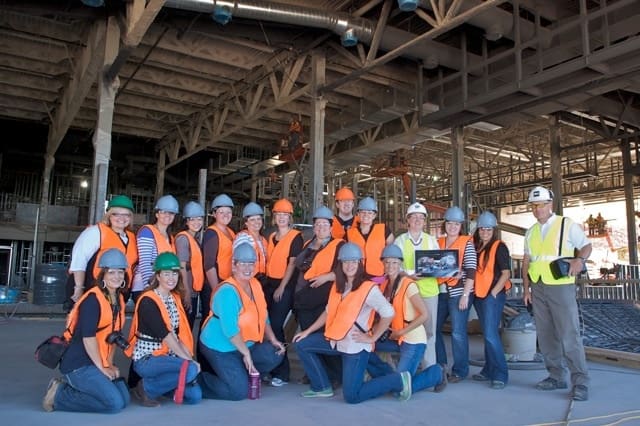 If you want to spy some other fun behind-the-scenes pics like this:
or this:
… check out the Natural History Museum of Utah's Flickr group. (And yes, that's a smoking sign next to the women's outhouse.)
Now for the what's in YOUR basement part!
Question: Does your basement have fossils, a Ceratopsian puppet or hands-on activities about the natural world in which we live?
Didn't think so. That's why you need to visit NHMU's "What's In The Basement?" gala on Saturday, October 9th, from 9:30 a.m. to 5:00 p.m.
You will get to
Peek inside the basement and back-of-house collections area to see first-hand what it takes to pack and move 1.2 million objects to a new location.
See discoveries from the Year of the Dinosaur and come face-to-face with their Ceratopsian puppet. (I have no idea what that is but it sounds like something George would love!)
Check out the mount making shop. It will also be open to the public

for the first time ever

and will have portions of the building's new exhibits on display. Visitors will be able to see the Utah Minerals exhibit mounted on the wall, which features "eye-fetching minerals like pyrite from Park City, variscite from Fairfield, malachite from Washington County and Flourite from Piute County to name just a few of the 50 Utah minerals set to be mounted."
Play around with hands-on activities for the entire family.
This is your last chance for this event, so don't miss it! Regular admission prices apply. You can find out more info at www.umnh.utah.edu/basement
On another, tastier note…
After our tour we were treated to lunch and goodies from Corner Bakery Cafe, my new favorite place to eat. I love it far more than Paradise Bakery for sure. Their panini, salads and sandwiche are all good. I particularly love their breakfast panini with side of fresh fruit and their seasonal BBLT sandwich. I've never seen so much bacon on a BLT or BBLT before! And their chocolate baby bundt cake melts in your mouth. At least, it melts in my mouth nearly every time I go because I have to have one with a side of the sour cream coffee cake.
And a bag of mini cookies for the kids is a must too. Everything is pretty much a must.
A big THANK-YOU to the Natural History Museum of Utah, Mr. Construction Men and Corner Bakery Cafe for a wonderful event! And to Vanessa for getting a bunch of women bloggers to wear hard hats and safety googles for a good two hours!