This post is part of a new series written by my daughter Madison. She has the absolute coolest taste in music. Post may include affiliate links to support my Diet Coke habit.
Hello again, readers of my mom's blog!
I got a lot of positive feedback on my last post so I figure I must be doing something right. Or my taste in music is fantastic…Yeah, it's definitely that second one.
For this week's music, I came up with it while I was driving home from work Saturday. Ever since I started doing this post thing, I'm constantly listening to the music that's on and trying to write a post based around it. My posts shouldn't be as long as my first one, especially since it was an intro to my new feature.
Anyway.
This week I chose two artists who sound really similar—that and I just couldn't pick one song.
The first one is "Mess Is Mine" by Vance Joy. A little bit about him (creds to Wikipedia again) is that his real name is James Keogh. He's not an independent music writer (he signed with Atlantic Records) but he's pretty cool regardless. You are probably more familiar with his song "Riptide" which was voted number 1 on the 2013 Triple J Hottest 100.
.
Vance Joy: Mess Is Mine
.
(Yes I know it's an audio video. The original music video is inappropriate.)
The second artist is Milky Chance. I love their song "Stolen Dance" which was how I was first introduced to their music. Though that song is great, I picked "Stunner" by them for this week because I love the way their voices sound in this song. Fun fact about them (thanks, Wikipedia), their song "Stolen Dance" released in April 2013 peaked number 1 in Austria, France, Belgium, Switzerland, Poland, Czech Republic, and Hungary. Also, I can play this on the ukulele, so, ya know, no big deal.
.
Milky Chance: Stunner
.
If you liked those songs, another one I like from Vance Joy is "Snaggletooth" and from Milky Chance, "Flashed Junk Mind."
Thanks for listening!
.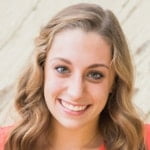 .
~ Maddie
xoxo
.
Past New Music Mondays:
.

"like" is this REALLY my life? on Facebook. It won't always earn you an extra entry in a giveaway but it will give you warm fuzzies.
Don't forget to sign up for free is this REALLY my life? updates via RSS or email so you don't miss a single awesome post.
.