This post is part of a new series written by my daughter Madison. She has the absolute coolest taste in music. Post may include affiliate links to support my Diet Coke habit.
Hello, everyone!
This week's music post is one of my all time favorite bands. They were one of the bands I first fell in love with when I was trying to transition into indie music. Two Door Cinema Club. The Northern Irish group consisting of Alex Trimble, Sam Halliday, and Kevin Baird (thanks, Wikipedia) formed in 2007.
The songs I chose for today are "What You Know" and "Sun." The first one was the first song I remember liking from them, and the second one I discovered while doing an English project on the Great Gatsby. We had to create a playlist of songs to describe characters or event in the book.
.
Two Door Cinema Club: What You Know
.
Two Door Cinema Club: Sun
.
Thanks, everyone!
.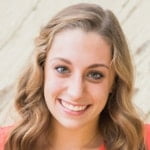 .
~ Maddie
xoxo
.
Past New Music Mondays:
.

Feel free to "like" is this REALLY my life? on Facebook. It won't always earn you an extra entry in a giveaway but it will give you warm fuzzies.
Don't forget to sign up for free is this REALLY my life? updates via RSS or email so you don't miss a single awesome post.
.