Why a recipe for definitely non-festive Nerds cupcakes at the end of November? Because sometimes your dear friend Steph has a baby shower during the holiday season and her favorite candy is Nerds and you love that Steph so much you'll do anything to make her baby shower a success...even baking cupcakes with one of your least favorite candies.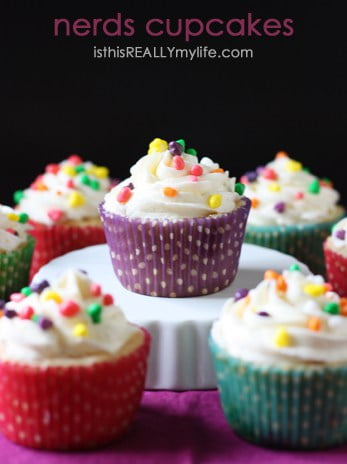 Though Nerds are at the bottom of my candy list (Twix is at the top followed closely by Kit Kat), these Nerds cupcakes turned out ridiculously cute and tasty—so tasty, in fact, I may have eaten more than one.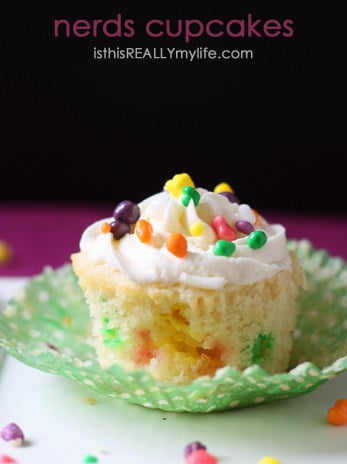 Basically I took your typical funfetti cupcake and kicked it up a fruity notch or two (or three). I did try a new vanilla frosting recipe (you cook part of the frosting first--crazy!) but wasn't as big a fan as I'd hoped. I've substituted my favorite vanilla buttercream frosting in its place, but feel free to use your preferred vanilla frosting.
Printable recipe for Nerds cupcakes below.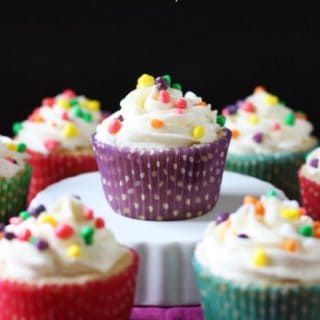 Nerds Cupcakes
Yield: 16

Prep Time: 20 minutes

Cook Time: 20 minutes

Total Time: 40 minutes

A twist on your typical funfetti cupcake, these vanilla cupcakes feature Nerds "sprinkles" and a vanilla buttercream frosting.
Ingredients
Cupcakes
1 cup unsalted butter, softened
½ cup shortening
3 cups sugar
5 eggs at room temperature
3 cups all-purpose flour
½ teaspoon baking powder
¼ teaspoon salt
1 cup buttermilk at room temperature
2 teaspoons vanilla
½ cup Nerds candy plus more for sprinkling
Frosting
3 cups powdered sugar
1 cup butter
1 teaspoon vanilla extract
1 to 2 tablespoons whipping cream
Instructions
Cupcakes
Preheat oven to 350 degrees. Line cupcake pan with cupcake liners.
In a large bowl, cream together butter and shortening until light and fluffy. Slowly add sugar one cup at a time, mixing well between each addition. Add eggs one at a time, also mixing well between each one.
In a separate bowl, sift together flour, baking powder, and salt. Add to butter and shortening mixture alternately with buttermilk, beginning and ending with dry ingredients. Add vanilla extract.
Beat batter on high speed for about 5 seconds to fully incorporate all ingredients. Stop mixer and scrape down sides and bottom of bowl. Gently fold in Nerds candy.
Fill cupcake liners ½ to ⅔ full. Bake for 18 to 20 minutes or until a toothpick inserted in the center comes out clean. Remove and allow to cool slightly in pans before removing to a wire rack. Cool completely before frosting.
Frosting
In a large bowl, beat butter until light and fluffy. Add sugar and mix on low speed until well blended. Increase speed to medium and beat for another 3 minutes.
Add vanilla and cream and continue to beat on medium speed for 1 minute more, adding more cream if needed for consistency.
Top cupcakes with frosting and sprinkle with extra Nerds candy.
Notes
White cake recipe adapted from The Best White Cake Recipe by Add a Pinch.
Nutrition Information:
Yield: 16 Serving Size: 1
Amount Per Serving: Calories: 640Total Fat: 32gSaturated Fat: 18gTrans Fat: 0gUnsaturated Fat: 12gCholesterol: 125mgSodium: 197mgCarbohydrates: 85gFiber: 1gSugar: 64gProtein: 5g


Other cupcakes you might enjoy baking (and eating):