After perusing my January 2011 issue of Real Simple magazine, I came across this little tidbit: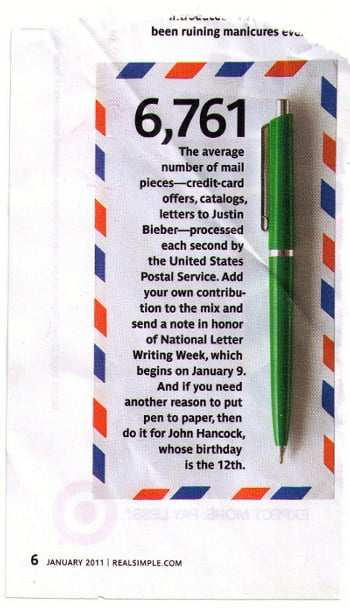 I swear 1,274 of those pieces were Victoria's Secret catalogs alone. And half of those were in my mailbox. (The other 5,487 were letters to Justin Bieber.)
I love the idea of National Letter Writing Week. How long has it been since you wrote a letter to a friend or family member? I'm talking a real letter—signed birthday cards, happy anniversary notes and generic baby shower thank-yous* don't count. For me it was November when I found a a humorous card perfect for a good friend. Two months later and I think it's high time I hit the card aisle again.
By the way, does anyone else find the fingers a little rusty when it comes to writing? My typing muscles are well toned; my writing muscles…not so much. I think it's time I gave those muscles a weekly workout, and National Letter Writing Week is a great place to start. I have a feeling a lot of you need a little letter-writing workout as well, so here's my challenge (and a nice giveaway to go with it):
Put pen to paper,

monogrammed stationary, Hallmark card or heck, even a postcard from your local grocery store,

and

write someone a heartfelt note

. Stick a stamp on that baby and add it to the thousands of mail pieces processed each second by the United States Postal Service.
…
You will make someone's day—quite possibly her week and month—and burn at least four or five calories in the process. And if the warm fuzzies you'll feel when you send that note aren't reward enough, how about a fun little giveaway:
One super cool t-shirt** (see photo) and a $25 gift card to Restaurant.com!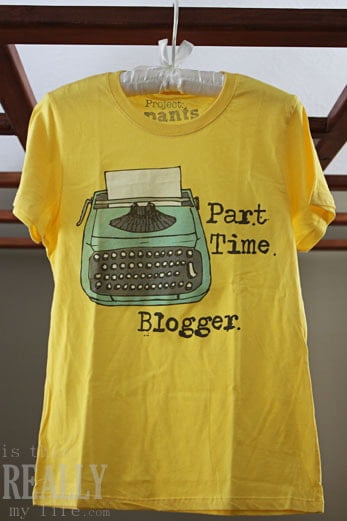 You can wear your "Part-Time Blogger" tee while choosing the local restaurants on which you'll spend your Restaurant.com gift card (after mailing that handwritten letter, of course).
To enter this giveaway, accept and complete the challenge mentioned above. The note or letter need not be physically mailed by Saturday at midnight, but it does need to be signed, sealed, stamped and ready to be delivered. Then leave a comment telling me you completed the National Letter Writing Week challenge. I'd love it if you also told us to whom you're sending your deep thoughts!
For extra entries you can do any/all of the following. Please leave a separate comment for each one you do (each one earns you an extra entry).
~ Write (and send) multiple letters. Leave a separate comment for each signed, sealed and stamped note you wrote.
~ Write a heartfelt and much deserved note to a family member and leave it somewhere he or she can easily find it (pillow, jewelry box, wallet, sock drawer). It may not get processed by the USPS, but it will mean a lot to someone special. Leave a separate comment for each note you write.
~ "Like" ITRML on Facebook.
~ Follow ITRML on Google Friend Connect ("won't you be my neighbor?" in sidebar).
~ Subscribe to ITRML.
~ Tweet about this giveaway and leave the URL of your tweet.
Though National Letter Writing Week ends midnight on Saturday, I am giving you a week to complete the challenge. This challenge/giveaway will end Thursday, January 20th at midnight. Good luck!
* My friend Jenny just wrote an awesome post this week: "How to Write a Thank You Note." It's worth your time, so check it out!
** The tee is a size large and seems to run true to size. If bright yellow isn't your thing (or large isn't your t-shirt size), wear it behind closed home-office doors with your favorite pajama pants or give it to your part-time blogging friend.
*** Disclosure: I purchased both the Restaurant.com gift card and Part-Time Blogger t-shirt, so I'm pretty much my own sponsor on this one. Oh, and I purchased a matching tee for myself.

Mailboxes photo by Uiruriamu, shared via Flickr.