For quite a few years I have been making these homemade dinner rolls, and for quite a few years they've been one of the most requested recipes by family, extended family and friends. I'm sure even strangers would request them if they happened to stop by, knock on the door and ask if we had any freshly baked rolls in the house. We pretty much double fist them, especially if homemade jam is within reach. (Oh, and Steph? We need more jam.)
Though not my original recipe, I've kept these homemade rolls a closely guarded secret. I'll admit it—I kinda like being a little famous. But it's time I finally got over my selfishness (and ever-so-slight amount of pride) and share this recipe with you. I'm just sorry I didn't get this roll recipe posted in time for Easter dinner. It's okay, though. You don't need a special occasion to make them. They go well with any dinner and are delicious as leftovers for lunch the next day. (I'd say dinner too but trust me, if you're lucky enough to have leftovers for lunch, they'll be gone by dinner.)
Oh, and these rolls freeze really, really well. Just defrost on the counter and warm in the microwave. I've made them ahead for Thanksgiving (doubling and tripling the recipe) and you couldn't tell they'd been frozen. You think Easter candy is dangerous to have around the house...just wait until you make these babies. Good luck eating just one...or two or three.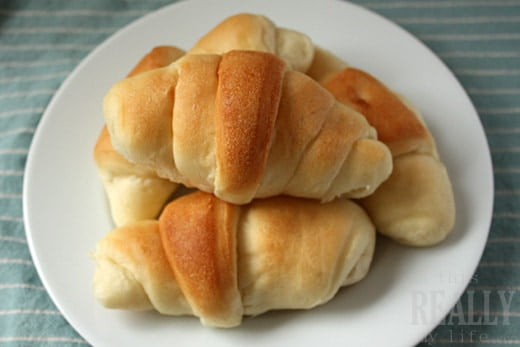 Note: I make these as crescent rolls but you could just as easily to cloverleaf, knot or Parker House rolls. You could even use this same bread dough recipe and make cinnamon rolls!
Em's Famous Dinner Rolls
1/2 cup warm water
1/2 cup warm milk
1 egg, lightly beaten
1/3 cup butter, softened
1/3 cup sugar
1 tsp salt (I prefer Real Salt Fine Sea Salt)
3 3/4 cup unbleached all-purpose flour
2 1/4 tsp active dry yeast (or 1 .25-oz. package)
2 T butter, softened
Place water, milk, egg, butter, sugar, salt, flour and yeast in the pan of a bread machine. Select dough cycle and press start. (My dough cycle includes a 1-hour or so rise cycle.) When cycle is done, turn dough out onto a lightly floured surface. If dough is extra sticky, add a little flour until it is smooth and elastic.
Divide dough in half and roll each half into about a 12-inch circle. Spread 1 T of the butter over the entire circle of dough. Cut each circle into 12 wedges. (If you'd like larger rolls, go for 8 wedges instead. I like them small because then I feel like I can eat more without the added guilt.)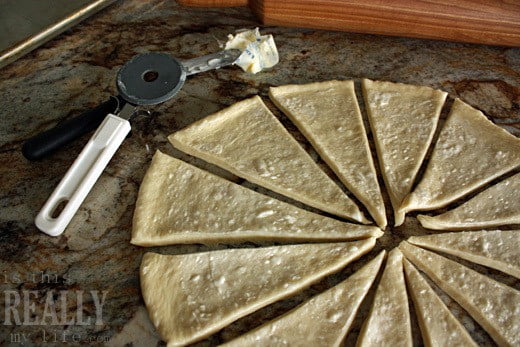 ..
Roll wedges tightly but gently starting at wide end.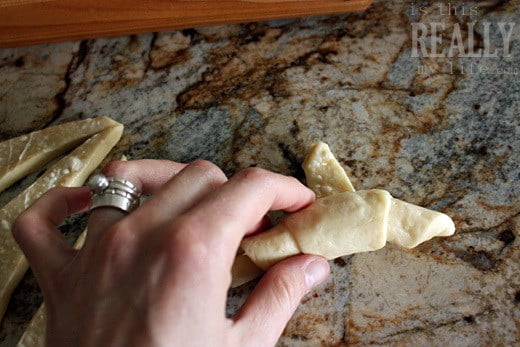 ...
Pinch the pointed end to seal it, which will (hopefully) keep the rolls from unwinding while baking.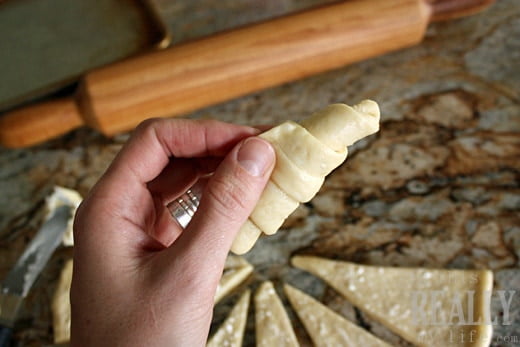 ...
Place rolls pointed side down on a lightly grease baking sheet. Cover with a clean kitchen towel and let rise for about 1 hour or until nearly double in size. Preheat oven to 400 degrees and bake for 10 to 12 minutes or until golden. (Sometimes mine only need 8 minutes, so watch them carefully!) Serve warm, preferably with a side of homemade jam.