Disclosure: I was provided with a copy of Motherhood Realized for this review. All thoughts, opinions and highlighted sections are 100 percent honest and all mine.
As much as I love to read, the only time I pick up a book is when I'm traveling.
If I do it any other time, I kind of forget I have kids. And a husband.
I love it when we go on a road trip and Nathan does all the driving because I can get in quite a few hours of quality reading time. I'm blessed to be able to read in the car without getting carsick. I chalk it up to reading in the car at a very early age and fighting the slight nausea.
Multiple trips from California to Utah make for miles of practice, my friends.
Flying sans kids is another great opportunity for inhaling the printed page. During my recent trip to Dallas to visit a dear friend, I started and finished Where'd You Go, Bernadette? (a fun little read) and began reading Motherhood Realized: An Inspiring Anthology for the Hardest Job You'll Ever Love.
...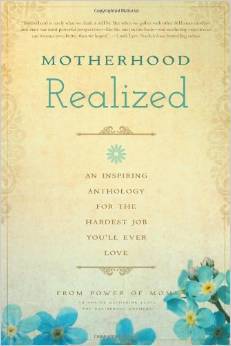 ...
Motherhood Realized is an anthology featuring some of the best and most moving stories from Power of Moms. The stories are all about motherhood—its ups and downs, joys and sorrows. And most important, its humor.
I don't normally go for the feel-good, self-help, self-actualization type books. I'm more of a fiction reader as fiction works well with my limited attention span. (I blame it on my age and constant lack of sleep.) But Motherhood Realized had me at its first story. Here's my favorite excerpt from "Watching You" by Catherine Arveseth:
You are exactly who your children need. No one can fill your shoes. No one can give what you have to offer. No one can love or know your child like you do. That is the privilege of being a mother.
And this from "'Good Mom' Redefined" by Allyson Reynolds:
Remember that being a 'good mom' is ultimately about the relationship you develop with your children and the important life skills you pass on to them, not the outward, superficial things we often associate with the definition of a 'good mom.'
. . .
When you start where you are, you put the past in its place and allow yourself to experience success little by little. When you focus on the things you're already good at, you get a boost of confidence that encourages you to learn new things. And when you do what you love to do, uou usually do it well, creating a sense of contentment as well as energy for the less enjoyable things that still need to get done.
But wait, you'll love what April Perry says in her story "Your Children Want You!"
My mother didn't specialize in home decor or gourmet cooking, and she didn't lift weights or run marathons. But she makes me feel like I am the most important, wonderful person ever born. If I could pick any mother in the whole world, it would be my mom.
. . .
Of course we want to learn, improve, exercise, cook better, make our homes lovelier, and provide beautiful experiences for our children, but at the end of the day, our children don't want discouraged, stressed-out mom who is wishing she were someone else.
Can I get an AMEN!
I have taken a highlighter to nearly every story in Motherhood Realized because I've found something that's resonated with me. The stories speak to my soul, reminding me why I love being a mom even if it is the hardest job EVER.
They also remind me that I'm good enough, smart enough, and gosh darn it, my kids like me.
If you're looking for a great Mother's Day gift for your mom, grandmother, sister or girlfriend, this is it. Even the busiest of moms will find the time to catch snippets of stories—and a snippet is all a woman needs to realize (i.e., remember) how awesome this motherhood thing really is.
To learn more about the book and where you can purchase a copy, visit http://powerofmoms.com/motherhood-realized/. You can even receive a free chapter by email.
I guarantee you'll want all the chapters...and a highlighter.
...


Feel free to "like" is this REALLY my life? on Facebook. It won't always earn you an extra entry in a giveaway but it will give you warm fuzzies.
Don't forget to sign up for free is this REALLY my life? updates via RSS or email so you don't miss a single awesome post.
...