And guess what? I'm not the only one.
Okay, so that's not news. Mormon bloggers have been a source of (sometimes heated) discussion over the past couple years. (Don't believe me? Check out "Why I Can't Stop Reading Mormon Housewife Blogs" from Salon magazine.)
But this post isn't about whether or not our blogs portray what really goes on in Mormon homes.* To be honest, I have yet to make a green Jell-O salad with shredded carrots or refinish a dresser I picked up at the local thrift store. I'm pretty sure those things aren't even on my bucket list.
Green Jell-O aside, Mormons have received a lot of attention lately. I'm almost positive it's due to our humanitarian service in the wake of Hurricane Isaac or our crazy amazing genealogy efforts like the 132 million names recently indexed from the 1940 U.S. census.
Wait, what? There's a Mormon running for President? And some stage production in New York? Ah, now I get it.
With the recent spotlight on members of The Church of Jesus Christ of Latter-Day Saints, not everything you read paints a positive—or true—picture of our religion. That being said, though we believe the gospel of Jesus Christ to be perfect, people are not. Funny how easy it is to forget that.
In an effort to combat all the negativity and uplift and inspire, Mariel from Or So She Says asked a group of Mormon bloggers to share their testimonies about the church and a few of our most favorite scriptures.
...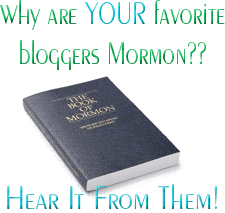 For the record, here are mine:
...
The project was a good exercise for me. Though I've been a member my entire life, I've only shared my testimony on a handful of occasions—and usually surrounded by other members (i.e., testimony evening at girls camp). I had to really think about what I believed and how best to convey that via the written word. I discovered my testimony of the gospel of Jesus Christ is a simple one...no life-changing experiences or challenges to my beliefs.
But simple is what I have, and that's enough for me.
I've had the chance to read through quite a bit of the packet and am amazed by some of the stories. While reading them, my heart was touched and my testimony strengthened.
If you've ever wondered why I'm Mormon—or why anyone is Mormon—now is your chance to find out. Because this project involves thoughts and stories dear to our hearts, we are making it available only to those who truly wish to read them. On that note, please respect our beliefs as I promise to do the same.
Here's how it works:
If you are genuinely interested in learning more about why many of your favorite bloggers are Mormon, send an email with your name and address to info@halfscratched.com.
Here's what you'll receive:
A packet filled with the personal thoughts of the following bloggers:
...
...
Along with the blogger packet, you will find our favorite scriptures and a free copy of The Book of Mormon. Why a copy of The Book of Mormon? It would be pretty difficult to truly understand us without it. It is, as we like to say, the keystone of our religion. From Mariel:
The Book of Mormon is another testament of Jesus Christ. It is the ancient records of prophets who lived in the Americas before, during and after Christ's time on earth. Honestly, I think it's the coolest book ever.
And FYI, if you do request a packet, I will not use your address for any purpose other than sending your packet. If missionaries show up on your doorstep, blame it on thank someone else.
Oh, and if you think a few bloggers sending copies of The Book of Mormon to their readers is a bit crazy, how about famed singer Alex Boye giving a copy to Prince Charles? Alex Boye is also featured in an ad taken out in the playbill for the LA production of The Book of Mormon Musical. How crazy awesome is that?
Speaking of Alex Boye, one of Madison's favorite YouTube videos is Alex singing Coldplay's "Paradise"...in Swahili.
...
...
* If you've been a reader for a while now, you know I try to keep it as real as possible. This really IS my life.
...


Feel free to "like" is this REALLY my life? on Facebook. It won't earn you an extra entry in any giveaway but it will give you warm fuzzies. Even better.
Don't forget to sign up for free is this REALLY my life? updates via RSS or email so you don't miss a single awesome post.
...