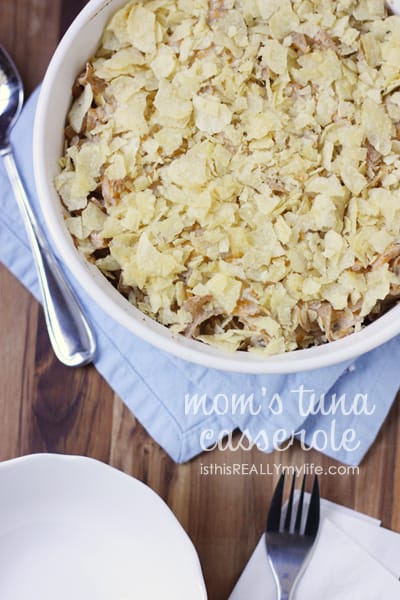 I'm pretty sure every family has its own variation of the classic tuna casserole recipe. Growing up, my mom made her tuna casserole a couple times a month and I can still remember how creamy and cheesy it was. And filling.
I haven't made her tuna casserole in ages because the last time I made it, I was about 3 month pregnant and everything but graham crackers and peanut butter made me nauseated. Funny how that works.
Then I was given the challenge to create a custom back-to-school recipe using Bumble Bee tuna—now in these super awesome pouches that don't require draining (yippee!). I knew right away I would attempt a (slightly) healthier version of my mom's tuna casserole.
I may have thrown some crushed potato chips on top because I can handle only so much healthy.
This recipe has only a handful of ingredients: whole grain egg noodles, cream of mushroom soup, skim milk, cheddar cheese, onion, pepper and the star of the dish, Bumble Bee albacore tuna. You don't have to use albacore, but I find it a little less "fishy" than its counterpart.
And that's important when you have family members who don't love tuna.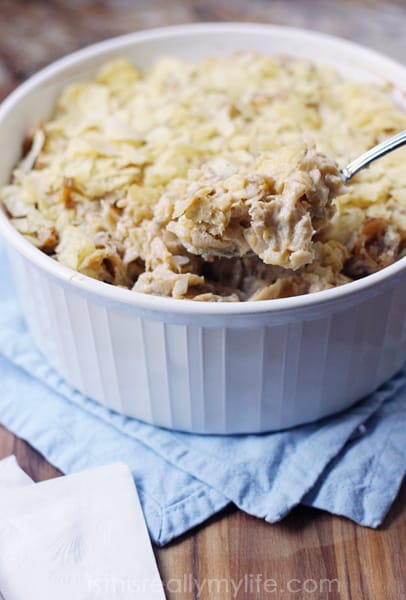 The crushed potato chips are optional. (My mom always topped it with Parmesan cheese.) And you can vary the amount of pepper and onion and/or try a medium or sharp cheddar. The tuna casserole possibilities are endless!
While I used cans of Bumble Bee albacore tuna, you could just as easily use these super handy (and super adorable) pouches of Bumble Bee Premium Albacore Tuna in Water. The ones pictured below are single serving size—perfect for my 14-year-old who loves tuna and crackers for lunch.
But they also come in a 5-ounce size...and remember, NO MESSY DRAINING!
Hallelujah!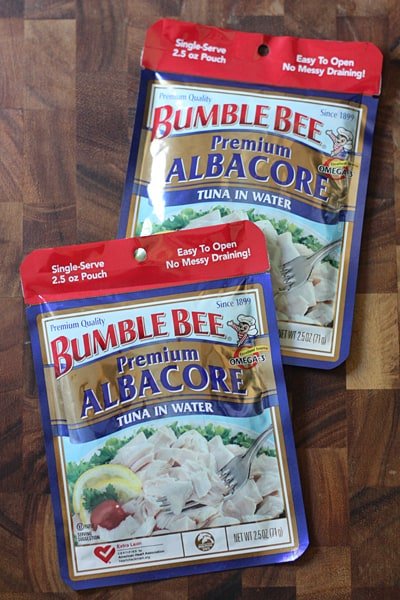 Not a fan of tuna casserole? Bumble Bee has a ton of tuna recipes. I think I'm going to try the Thai chili tuna spring rolls next!
Below you'll find a printable version of my mom's tuna casserole recipe. Feel free to make it as healthy or non-healthy as you'd like (or your family will allow).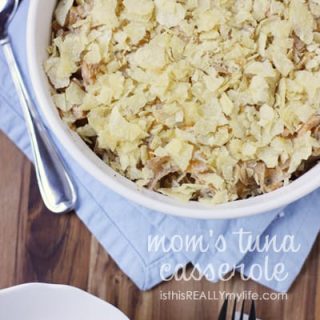 Mom's Tuna Casserole
A (slightly) healthier version of my mom's tuna casserole. Feel free to change it as you'd like. For example, choose medium or sharp cheddar, try white pepper or use regular egg noodles instead of whole grain. You could even go with low-fat cheese and 98% fat-free cream of mushroom soup if you want to make the recipe even healthier.
Ingredients
1 package whole grain egg noodles
2 cans reduced sodium cream mushroom soup
¼ to ½ cup skim milk
2 (5-oz) cans Bumble Bee albacore tuna in water, drained*
1 cup chopped onion
2 ½ cups grated low-fat or fat-free cheddar cheese
1 tsp pepper
Crushed potato chips or Parmesan cheese (optional)
Instructions
Preheat oven to 350 degrees.
Cook noodles al dente according to package directions. Drain and set aside.
Combine soup and enough milk to make a thick sauce. Add tuna, onion, cheese and pepper; mix until thoroughly combined.
Top with crushed potato chips or Parmesan cheese (optional).
Bake for 35 minutes or until heated through and bubbly on top.
Notes
* You can also use 2 (5-oz) pouches or 4 (2.5-oz) pouches of Bumble Bee Premium Albacore Tuna in Water. Heck, you could even cut the tuna in half if you so desire.
What's your favorite tuna recipe—a classic tuna casserole or perhaps a loaded tuna salad sandwich? Do share!
I was selected for this opportunity as a member of Clever Girls Collective and the content and opinions expressed here are all my own.