I love a good soup recipe especially if it's easy and this chicken tortilla soup is no exception. My mom sent me this soup recipe a couple weeks ago and we made it right away. It was a huge hit with the family and the LDS missionaries we were hosting.
Of course, missionaries will eat just about anything so that may not be the best endorsement!
...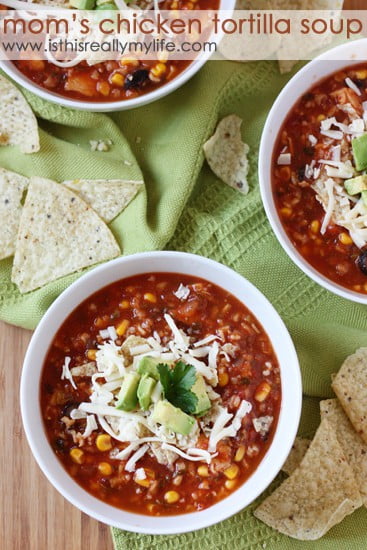 ...
Though the recipe asks you to crumble the chips in the bottom of the bowl and top them with the soup, feel free to sprinkle them on top—whatever floats your boat!
Printable recipe for Mom's chicken tortilla soup below.

Mom's Chicken Tortilla Soup
Easy and hearty and a total crowd pleaser!
Author:
Emily ~ isthisREALLYmylife.com
Ingredients
1 (49.5-oz) can chicken broth
2 (16-oz) jars Archer Farms Traditional Picante-Style Salsa from Target
¾ cup uncooked brown rice
1 can whole kernel corn
1 small onion, chopped
1 (2.25-oz.) can sliced black olives
1 (12-oz.) package grilled chicken strips or boiled breasts cut into bite-size pieces
¼ cup finely chopped fresh cilantro (optional)
1 to 2 cups shredded Monterey Jack cheese
1 avocado, cubed (optional)
Tortilla chips
Instructions
Boil broth in large pot. Add salsa, rice and onion to broth. Cook 20 to 30 minutes until rice is tender.
Add chicken, olives, corn and cilantro. Cook until heated through, about 10-15 minutes.
To serve, break tortilla chips into bowl and ladle soup over chips. Top with cheese and cubed avocado.
...
Other soups you might enjoy...
...


Cafe Zupas Wisconsin cauliflower soup
...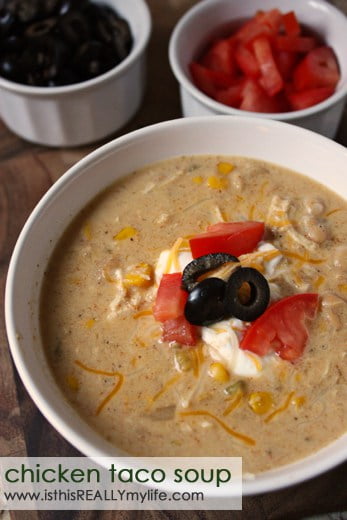 ...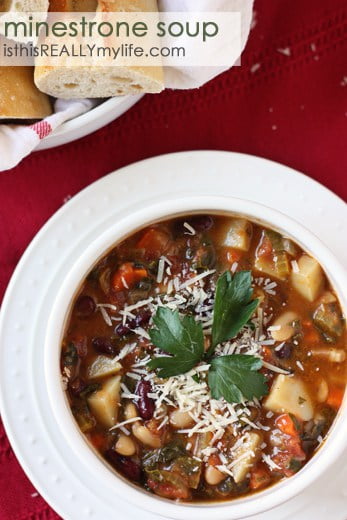 ...



...
Feel free to "like" is this REALLY my life? on Facebook. It won't always earn you an extra entry in a giveaway but it will give you warm fuzzies.
Don't forget to sign up for free is this REALLY my life? updates via RSS or email so you don't miss a single awesome post.
...