Avoid the lost and found with adorable custom labels that are perfect for personalizing everything from clothing to water bottles.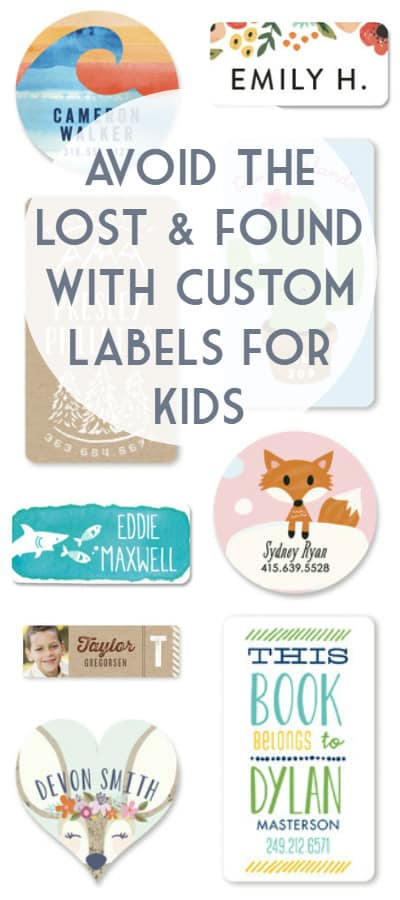 .
Disclosure: This is a sponsored post for Minted and may include affiliate links to help support my Diet Coke habit.
.
During the final days of school, the office staff piled the collection of lost and found items on a table as a last call to come claim that hoodie, lunch box, water bottle or beanie misplaced months earlier. The pile was HUGE and filled with some pretty nice things.
I'm not gonna lie—I was tempted to snag a Quiksilver hoodie for George.
The lost and found collection at our rec center is almost as impressive and we're only halfway through summer. With all the swimming and day camps and tennis lessons, I imagine it will be a mountain before mid August. I've decided no matter the time of year, it's a given your child will forget that water bottle you lovingly filled with ice water or the lunch box packed with their favorite snack or the jacket you'd hoped they'd wear. (Why is it they never do?)
Lucky for you I've discovered an easy, affordable and adorable solution: custom name labels from Minted.
.


.
Minted's colorful stick-on name labels are waterproof, dishwasher safe, made from non-toxic materials and perfect for pretty much any item leaving your home. They're also super affordable at only $16 for a sheet of 72 labels.
Just think of the possibilities! You can label things like:
Bottles and sippy cups
Lunch boxes and other food containers
Notebooks and journals
Pencil boxes
Sports equipment
Tech gadgets
Clothing and shoe tags
.
Imagine all the uses—day camp, scout camp, school, tennis lessons, play dates at the park, play dates in the neighborhood, after-school sports, daycare, pool parties, field trips, church… Heck, I may even get some for my oldest so she can label her food while at college. It sure would have helped when I had roommates!
Here are a few of my favorite designs:
.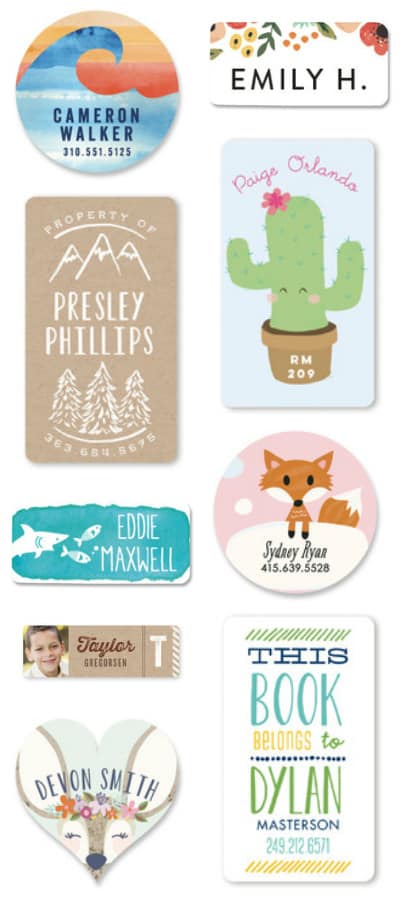 .
Isn't the cactus adorable? And notice how one one of them you can add a photo. Minted offers quite a few label designs you can customize with a photo of your child.
Want to know what else I loved? THESE.
.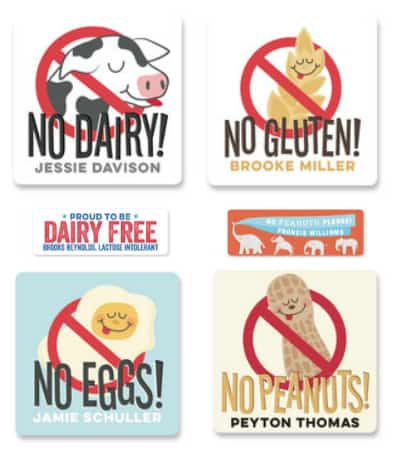 .
Wouldn't it be great if you could place one of these allergy-specific labels front and center on everything?
Not only can you customize labels with your child's name, contact info and photo, you can also personalize the labels by choosing from a variety of unique designs in six different shapes:
Circle
Clothing tag
Curved frame
Heart
Rounded rectangle
Rounded square
.
Are you ready to start labeling everything your child owns? Minted is going to help you get started by giving away one (1) $150 Minted credit to one lucky ITRML reader!
To enter the giveaway, CLICK HERE. The giveaway is open to only U.S. entrants and ends 11:59 p.m. MST Sunday, July 17, 2016.
.
Looking for more fun ideas? Try browsing my best of Is This Really My Life Pinterest board. I guarantee you'll find quite a few!
.
.

Feel free to "like" is this REALLY my life? on Facebook. It won't always earn you an extra entry in a giveaway but it will give you warm fuzzies.
Don't forget to sign up for free is this REALLY my life? updates via RSS or email so you don't miss a single awesome post.
.