These mini fruit pizzas were originally post on All Things Delicious. A big thank-you to Brooke for the guest post. If you haven't yet visited All Things Delicious, you're missing out!
I recently hosted a baby shower for my little sister. I chose turquoise and strawberry red for the shower colors and carried that strawberry red theme into the dessert buffet with mini fruit pizzas. Though you can top these babies with all kinds of fresh fruit—blueberries, mandarin oranges, kiwi, bananas—I went with diced strawberries. (Kind of a no-brainer due to the whole strawberry red thing.)
I love how simple yet pretty they turned out:
The possibilities are endless for these mini fruit pizzas. Add some fresh blueberries with the diced strawberries and you have the perfect dessert for your 4th of July picnic!
Don't tell, but I may still have a small tub of the frosting hidden in my fridge in case of PMS emergency.
Printable recipe for mini fruit pizzas below.
…

Mini Fruit Pizzas
These mini fruit pizzas are easy and fun. Add fresh blueberries for your 4th of July party or throw in kiwi, mandarin oranges or diced bananas!
Author:
Emily ~ isthisREALLYmylife.com
Ingredients
Cookies
2¾ cup all-purpose flour
1 tsp baking soda
½ tsp baking powder
1 cup unsalted butter, softened
1½ cups granulated sugar
1 egg
1 tsp vanilla extract
Frosting
2 (8-oz.) packages cream cheese, softened
½ cup unsalted butter, softened
2 to 4 cups confectioner's sugar
1 to 2 tsp vanilla extract (to taste)
Toppings
Diced fresh fruit such as strawberries, blueberries, bananas, peaches or kiwis. You can also top them with mandarin oranges (drained).
Instructions
Cookies
Preheat oven to 375 degrees. In a small bowl combine flour, baking soda and baking powder.
In a large bowl cream butter and sugar until light and fluffy (about 2 minutes). Beat in egg and vanilla. Gradually add the dry ingredients and mix until thoroughly combined.
Roll rounded tablespoonfuls of dough into balls and place on ungreased cookie sheet.
Bake 8 to 10 minutes or until edges are set and lightly golden. Let stand on cookie sheet 2 minutes before moving to wire racks to cool completely.
Frosting
In a medium bowl, cream together cream cheese and butter until smooth and creamy. Add vanilla.
Gradually add the confectioner's sugar until frosting reaches desired consistency. Store in refrigerator until ready to use.
…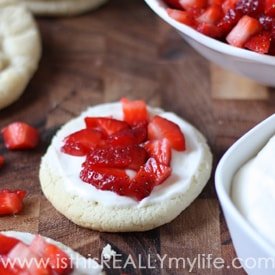 …
Also in the dessert buffet lineup at my sister's shower were these drool-worthy desserts:
…
…
…
What can I say? I love dessert.
And now I'm craving mini fruit pizzas AND cupcakes. *sigh*
…


Feel free to "like" is this REALLY my life? on Facebook. It won't always earn you an extra entry in a giveaway but it will give you warm fuzzies.
Don't forget to sign up for free is this REALLY my life? updates via RSS or email so you don't miss a single awesome post.
…