I thought everyone knew you could microwave s'mores but apparently not everyone does. When I suggested it to my parents while in California, they looked at me like I was crazy.
They do that a lot.
Not everyone has a fire pit at home, and not everyone goes camping regularly (hello! that's so totally us!), so microwaving s'mores is a great alternative to the classic cooking method of roasting marshmallows over an open flame.
Making s'mores in the microwave is also a great way to eat s'mores all year long no matter the weather (or enjoy a late-night snack once the kids are in bed).
.

.
We like to mix things up when we make s'mores. Here are some of our crazy fun ideas. Instead of your typical s'more, try:
Keebler Fudge Stripes cookies, dark chocolate-covered graham crackers or Girl Scout Samoas in place of your standard graham crackers.
Reese's Peanut Butter Cups or the newer Reese's candy bar-style squares instead of Hershey's chocolate candy bar.
Something caramel flavored like pieces of a Caramello bar or Ghirardelli caramel squares.
Toasted coconut marshmallows or Jet-Puffed's flavors of SwirlMallows rather than plain marshmallows.
Brownies instead of candy bars or candy pieces.
.
Now that you have your fixings, here's how you go about microwaving them. Be careful—it's pretty tricky.
…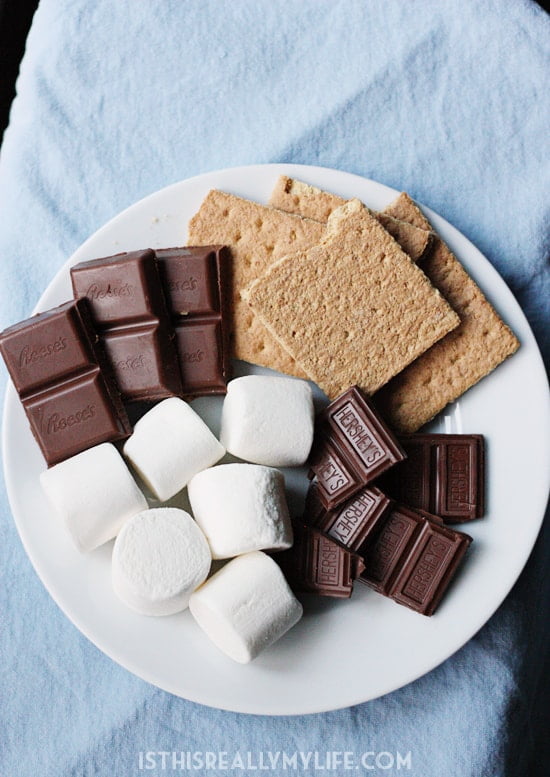 .
Who am I kidding? Microwave s'mores are ridiculously easy. We even let George try his hand at making one and our kitchen survived.
Printable recipe for microwave s'mores below.

Author:
Emily ~ is this REALLY my life?
Ingredients
Graham crackers
Large marshmallows
Chocolate
Instructions
Place a single graham cracker square on a microwave-safe plate or paper towel. Top with a large marshmallow.
Microwave 15 to 20 seconds on high power or until marshmallow starts to puff.
Remove from microwave and top with your candy or chocolte of choice followed by a second graham cracker square.
Let sit just long enough for chocolate to melt and then eat that ooey gooey streat ASAP.
Notes
We love to mix things up with our s'mores by trying fun combinations. Here are some ideas for changing up your typical s'more. Instead of the same old, same old, try: * Fudge Stripes cookies, chocolate-covered graham crackers or Samoas in place of typical graham crackers. * Reese's Peanut Butter Cups, Caramello bars or Ghirardelli squares instead of Hershey's chocolate. * Toasted coconut marshmallows or Jet-Puffed SwirlMallows in place of your regular marshmallows. * Your favorite brownie recipe instead of candy.
…
P.S.
Feel free to
"like" is

this REALLY my life? on Facebook
. It won't earn you an extra entry in a giveaway but it will give you warm fuzzies. Even better.
P.P.S. Don't forget to sign up for free is this REALLY my life? updates via RSS or email.
…