Before you get the wrong idea, I'm talking about granite, marble, travertine and terrazzo. And the best place to find custom stone is MGS by Design (aka Granite Gurus) in Vineyard (aka Lindon), Utah.
I kind of wish my kitchen were in need of a makeover because the stone at MGS by Design is absolutely lovely. If only I could remember the names Aimee rattled off to Stephanie and me during our visit. (Maybe Aimee will leave a comment telling us the name of each gorgeous piece. I'll DM her on Twitter begging asking her to do so.)
But wait, there's more.
...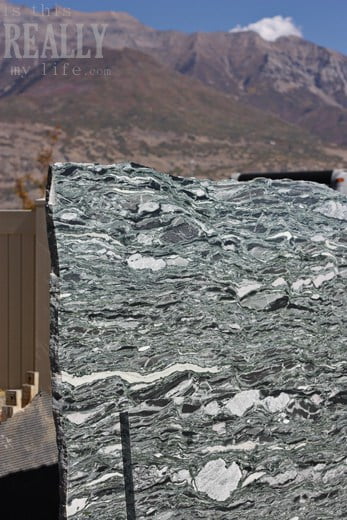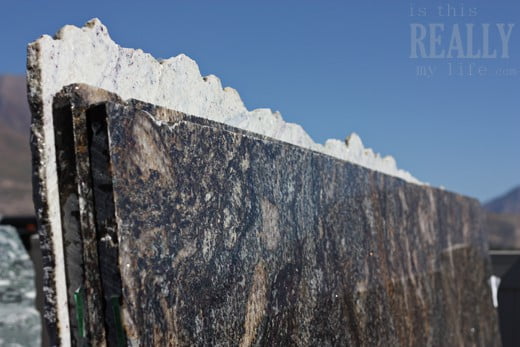 ...
What really stole my custom-counter heart was the gorgeous terrazzo. Can you spot the one made from Tiffany lamp cuttings?
I totally call dibs on the terrazzo in the bottom left with the lovely shades of blue.
Of course, this one is Aimee's favorite and I can totally see why. How fun is that little bit of terrazzo?
The MGS by Design shop is almost as impressive as the custom counters they design. I say almost because we're talking large, noisy Italian machinery versus granite counters for multi-million dollar homes.
If granite or marble isn't your style, maybe one of these stones will suit your fancy:
Here's something I learned that totally blew me away:
The estimate for Steph's custom kitchen counters came in lower than Home Depot.
LOWER, people.
I would never have guessed it. Like ever.
You know what that means, right? MGS by Design should be your first—and totally last—stop when considering custom stone counters no matter the project (home, office, outdoor, LDS temple; no, seriously, they've done temples).
If you visit their website you can check out the project gallery or get educated by reading their granite FAQ. For ever more fun (and lots of pretty pictures), check out their blog at GraniteGurus.com.
Have a granite/marble/terrazzo-related question? Send a 140-character or less tweet to @GraniteGurus. Aimee loves helping people get stoned...I mean, stone.
You can find MGS by Design here:
426 East 1600 North
Vineyard, UT 84057
801.722.0050
Website ~ http://www.mgsbydesign.com/
Facebook ~ https://www.facebook.com/MGSbyDesign
Twitter ~ http://www.twitter.com/GraniteGurus
Blog ~ http://www.granitegurus.com/
...


Feel free to "like" is this REALLY my life? on Facebook. It won't always earn you an extra entry in a giveaway but it will give you warm fuzzies.
Don't forget to sign up for free is this REALLY my life? updates via RSS or email so you don't miss a single awesome post.
...